Family, Faith, Teammates Helping Pearson Persevere Through Injury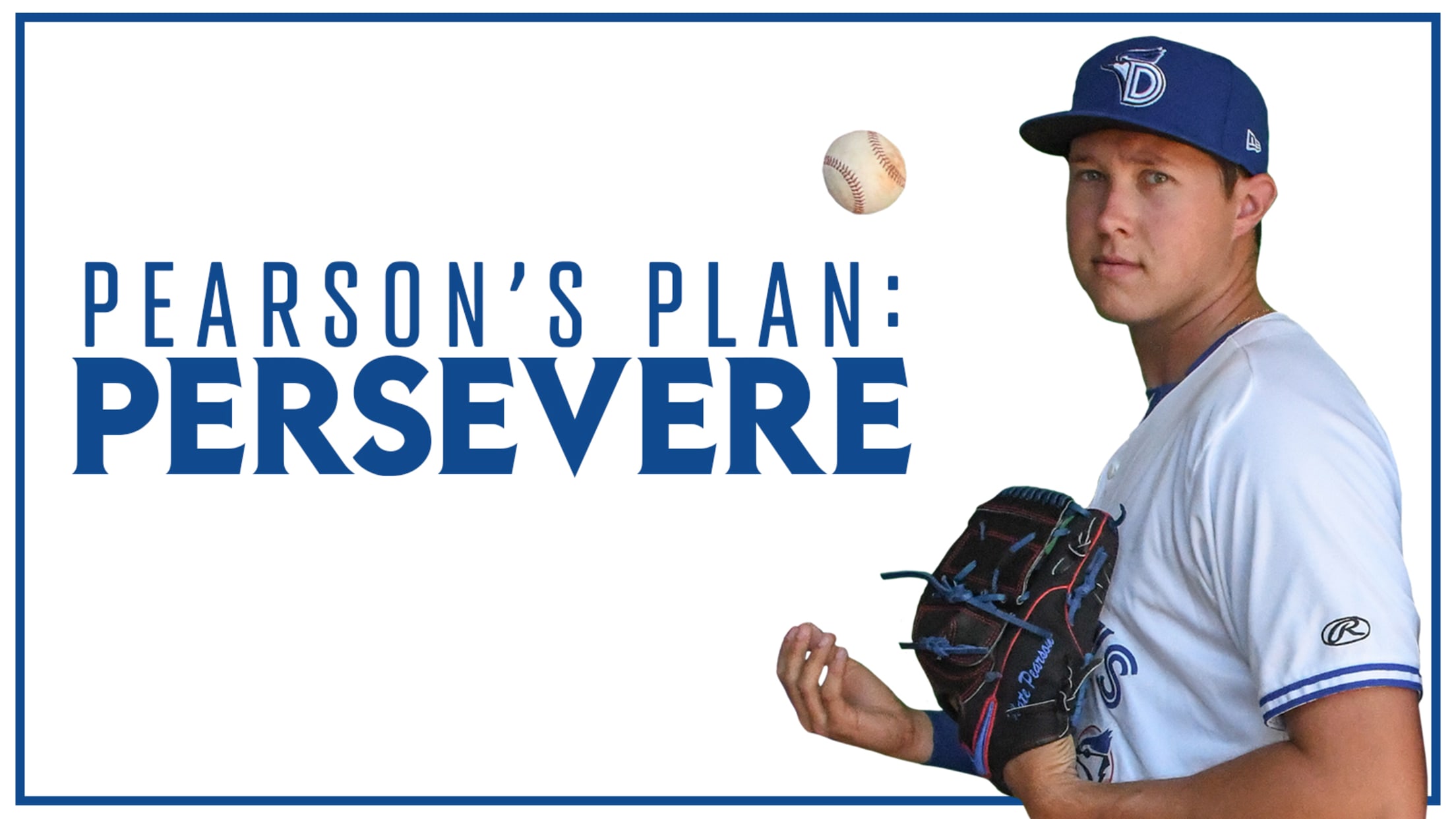 Four-tenths of a second.That's how long it takes a human to blink.That's also how long it takes a 100-mph fastball to travel from the pitcher's hand to home plate, giving hitters literally the blink of an eye to track the pitch, decide if it's a strike, and swing at it.
Four-tenths of a second.
That's how long it takes a human to blink.
That's also how long it takes a 100-mph fastball to travel from the pitcher's hand to home plate, giving hitters literally the blink of an eye to track the pitch, decide if it's a strike, and swing at it.
The human eye can not actually process information that quickly, meaning that the time-tested true baseball cliché "See ball, hit ball" is just that: a cliché. The best hitters don't actually watch the ball as it approaches home plate and hopefully makes contact with their bat. Instead, their brains project where the baseball will cross the plate based on a snapshot their eyes have sent to their mind of the ball just after it left the pitcher's hand.
Having a general idea of where the ball is going to end up (the strike zone) makes it possible for hitters to anticipate where the ball will likely end up and make contact.
On the other end of the equation, the pitcher, standing five or more feet in front of the pitching rubber after releasing the ball, has no such frame of reference to predict where a batted ball hit back at them will end up. Quite literally, a ball hit back at a pitcher with an exit velocity (the speed the ball leaves the bat) of 100 mph is nearly scientifically impossible for the pitcher to see and react to, giving them little to no chance of catching or dodging a line drive hit back at them.
Blue Jays top pitching prospect Nate Pearson was on the wrong end of this unfortunate reality earlier this season when Bradenton outfielder Tyler Gaffney hit a 96-mph fastball back at him with an exit velocity of exactly 100.0 mph in his first start of the season on May 7th.
"I didn't see it. It just hit me," Pearson said recently from the Blue Jays clubhouse, his right wrist in a cast. "I didn't really know what happened. I was shocked and didn't even know where it hit me until my arm really started hurting."
The ball connected with Pearson's throwing arm about two inches above the knobby bone that connects the forearm to the hand on the right side of his wrist.
"When the pain started, it felt like I'd got shot. It was really painful. I knew it wasn't good and probably was broken right away. It was definitely scary."
A trip to the emergency room while his teammates played on confirmed his fears. His right ulna, one of two parallel bones that comprise the forearm, was broken. After spending the first month of the season on the disabled list with a strained intercostal muscle, Pearson's long anticipated first start of the 2018 season had lasted just an inning and two-thirds and would be his last start for at least 6-8 weeks as his arm healed.
"It just stinks. I got injured right when we broke camp and missed a month with that. I worked my way all the way back to get back with the team and first start…this just stinks that it happened."
While the disappointment and frustration is clear in Pearson's voice when he talks about the injury, his determination is much more prominent in his tone as he continues.
"Everything happens for a reason and I just have to trust it. I'll learn something from it and move on. I've always been goal-driven. Ever since I was a little kid, I've written down my goals. I do everything I can to achieve them. Obviously, I have to modify my goals for this season, but the plan is still the same. The plan is to get up there and have an awesome career. This is just a little bump in the road."
The top pitching prospect in the Blue Jays system has grown accustomed to facing down bumps in the road and overcoming them. In high school, he had screws inserted in his arm after an injury and received little draft interest with a fastball that sat in the low 90s. He decided to go to a junior college close to home in Florida with the goal of turning himself into a professional prospect.
"I learned how to take care of my body and get better as a pitcher at college. I started learning more stuff to put in my routine. Health reasons, everything started working, it all started clicking for me."
After two years of collegiate baseball, he held a 1.89 ERA and had struck out 151 batters in just 114.0 innings. His fastball had jumped from the low 90s to an easy 100 mph. Still, he lacked exposure at the junior college level and wasn't considered a major draft prospect. To get scouts' attention, Pearson and his agent set up a private showcase before the draft and he lit up radar guns, being clocked at 102 mph and even hitting 103 on some scouts' guns.
"I knew all the scouts and a lot of GMs were going to be there. I knew if I was going to make it happen, if I wanted to go in the first round, I had to do really well. I had a few weeks to prepare for it and that was my main focus. Luckily, it paid off."
Another goal set, another goal met for Pearson, as the Blue Jays selected him with the 28th pick in the first round of the 2017 MLB Draft. After a start in the Gulf Coast League, he reported to the Vancouver Canadians and dominated, vaulting himself to the top of Blue Jays pitching prospect lists. He opened his professional career with seven straight scoreless outings, throwing 18.0 straight shuout innings before being scored upon. In the playoffs, he was even better, striking out 10 batters in just four innings against Spokane in the semi-finals before providing Vancouver with four one-run innings against Eugene in the championship.
"I learned that it's still fun. It's still baseball. It's the same game I've been playing since I was little," Pearson said about transitioning to professional baseball with Vancouver. "We had a lot of great guys on that team that made it as fun as possible. Every single game was a pretty good time."
A year later in Dunedin, returning from the emergency room with the bad news that his arm was broken, it was those same teammates that helped Pearson get through it.
"Every single one of them came and asked me how I was doing and said they were praying for me. It was nice to hear. It's a tough pill to swallow, but those guys being there for me was nice."
It's been weeks since the injury and Pearson's work ethic has been constant. He was back at the stadium the same night as the injury and back working out the next morning. He hasn't stopped since.
"I'm doing everything I can to stay in shape so when I get this off, it's not a slow process to get back," he says gesturing at his cast. "I'm doing everything I can with my lower body. I can't hold any weights, but I can have weighted vests on, anything to help my legs stay in shape. I can run, so I've been killing cardio, doing a bunch of core stuff. I'm doing everything I can, whatever they'll let me do. I've been working my butt off at it."
Despite the limitations his cast presents, he's often the first player at the stadium in the morning, working out in the weight room before his teammates arrive. When the team takes the field for batting practice in the afternoon, he's back in the weight room, doing additional work before joining his teammates in the dugout for the game. When the team goes on the road, instead of staying back and avoiding the long bus rides and nights in minor league hotels, he's right there with his teammates traveling on road trips and trying to learn as much as he can while watching the team play.
"I can do most of my stuff on the road. They want to keep me with the team and I'm glad to be able to do that and to stay around my friends on the team. There's always something to learn from it. Always something to take away from stuff that unfortunately happens. I'm still looking. I'm still learning."
Staying around the game and his teammates has helped him cope with the disappointment of his injury, and he's found additional support from being close to his family (he grew up 45 minutes from Dunedin in Odessa, FL) and diving into his faith.
"I go to church with my parents a lot. Now is a more important time to go more than ever. He saved me and everything I've had so far in life has been given to me by Him. It's been such a great blessing. He was with me earlier in my life when I had surgery on my arm and He helped me get through that. This is a very similar situation. I just have to trust Him, that He's got my back and knows the plan."
The cast will be off before the second half begins and Pearson will continue working in earnest to get back on the mound as quickly as possible. Recovering from the second arm surgery of his career, Pearson realizes that he can be a source of support and advice for players enduring injuries just like his teammates have been for him.
"Try to take something away from it. Try to find out and learn something about your body that you didn't know," Pearson says of the advice he gives to other players recovering from injury. "Even if you can't play baseball right now, focus on different aspects of your life. Grow. Always find ways to get better. Don't let whatever happened to you beat you or get you down. Stay positive and do everything you can so when you come back, it doesn't take any longer to get checked back in."
Pearson practices what he preaches, staying both upbeat and tenacious in his recovery. He has his sights set on a 2018 return but understands the organization will be cautious with his prized pitching arm. He knows that regardless of the time table, compared to the career he has waiting in front of him on the mound, this injury will pass like one of his fastballs: in the blink of an eye.