Q&A: Blue Jays Top Prospect Bo Bichette
Minors batting champ handles questions submitted by fans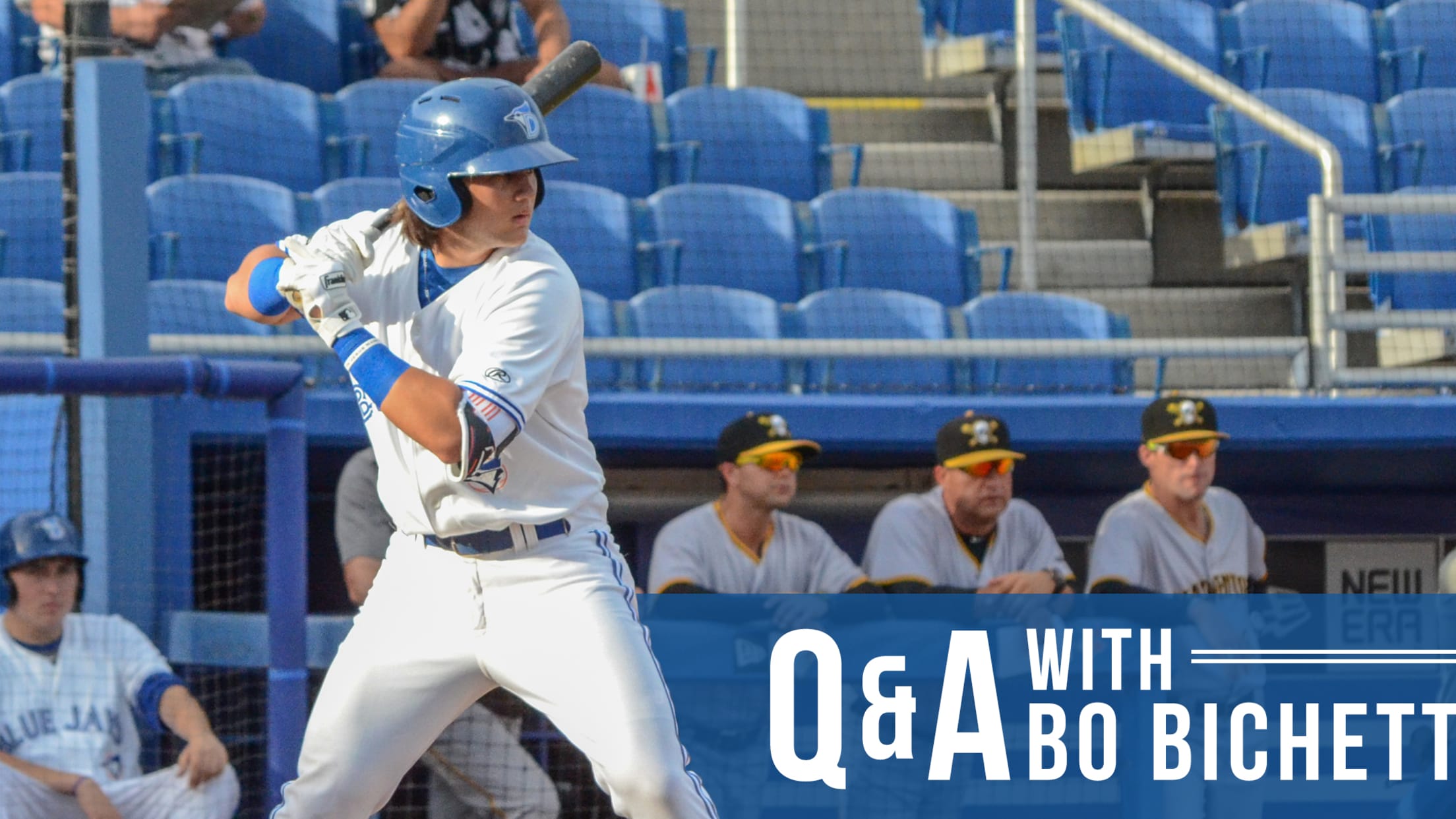 To say that Bo Bichette had a good year in 2017 would be an understatement. Entering the season with questions about his unorthodox swing and ability to stick at shortstop defensively, the budding star went above and beyond to quiet doubts, winning Minor League Baseball's batting title with a .362
To say that Bo Bichette had a good year in 2017 would be an understatement. Entering the season with questions about his unorthodox swing and ability to stick at shortstop defensively, the budding star went above and beyond to quiet doubts, winning Minor League Baseball's batting title with a .362 average between A Lansing and A+ Dunedin and turning heads with his glovework at short. Among his numerous accolades from the season, Bichette was named the Midwest League Most Valuable Player, won the MiLBY Award for Top Offensive Prospect, took home the Fan's Choice MiLBY Award for Breakout Prospect of the Year, was selected to the All-Star Futures Game, and will receive a championship ring for his efforts helping to lead Dunedin to a share of the Florida State League title.
With his whirlwind season behind him, Bichette has spent his off-season training for next year, spending time with his family, and raising money to help those with Type 1 Diabetes through SLAMT1D. He took a break from his schedule this week to field questions submitted by Blue Jays fans through Dunedin Blue Jays social media accounts.
Fan questions ranged from topics like his 4-time National League All-Star father Dante, to his relationship with fellow Blue Jays top prospect Vladimir Guerrero Jr., to how he maintains his head of near-shoulder length hair.
1. What was it like growing up with your father in the Major Leagues? (from Instagram-Doublejoe7_)
I actually didn't get to experience what it was like because he retired when I was three. Obviously though, he brings me a ton of experience and knowledge about the game that I feel gives me an edge in my career.
2. Your thoughts on being named one of the best prospects [in the MiLBY Awards] in the league? (from Twitter-BlueJays.Network)
It was a cool honor for sure. I set high goals for myself, so to have someone recognize the work you put in to the season is really, really cool.
3. Who was your role model growing up? (from Instagram-FL_Graphs41)
I never really had a role model, to be honest. But, I'd have to say my brother [Yankees prospect Dante Bichette]. He has always been there for me, so I've always looked up to him for the obvious little brother reasons.
4. What's it like playing alonside and being promoted with Vladimir Guerrero Jr.? (from Instagram _brookenaismith_) Is there a friendly rivalry between you and Vlad? (from [email protected])
Vladdy likes to have a lot of fun. He just loves to play ball. Being called up together, I think let us both know that we could be something special together if we keep working and getting better. I don't really think there is much of a rivalry, although we would both like to be better than the other, just like anyone should.
5. How do you take care of the flow? Shampoo and conditioner of choice? (from [email protected]_Leaguer)
Everyone thinks I take a good amount of time on my hair, but I really just roll out of bed and roll with it. I use Mane 'N Tail shampoo and conditioner.
Fans interested in participating in future player Question & Answers can follow the Blue Jays on Twitter, Facebook, and Instagram.