Bradley, Mead & White Added To 40-Man Roster Among Bevy of Rays Transactions
Mastrobuoni traded to Cubs, Madris DFA'd among other moves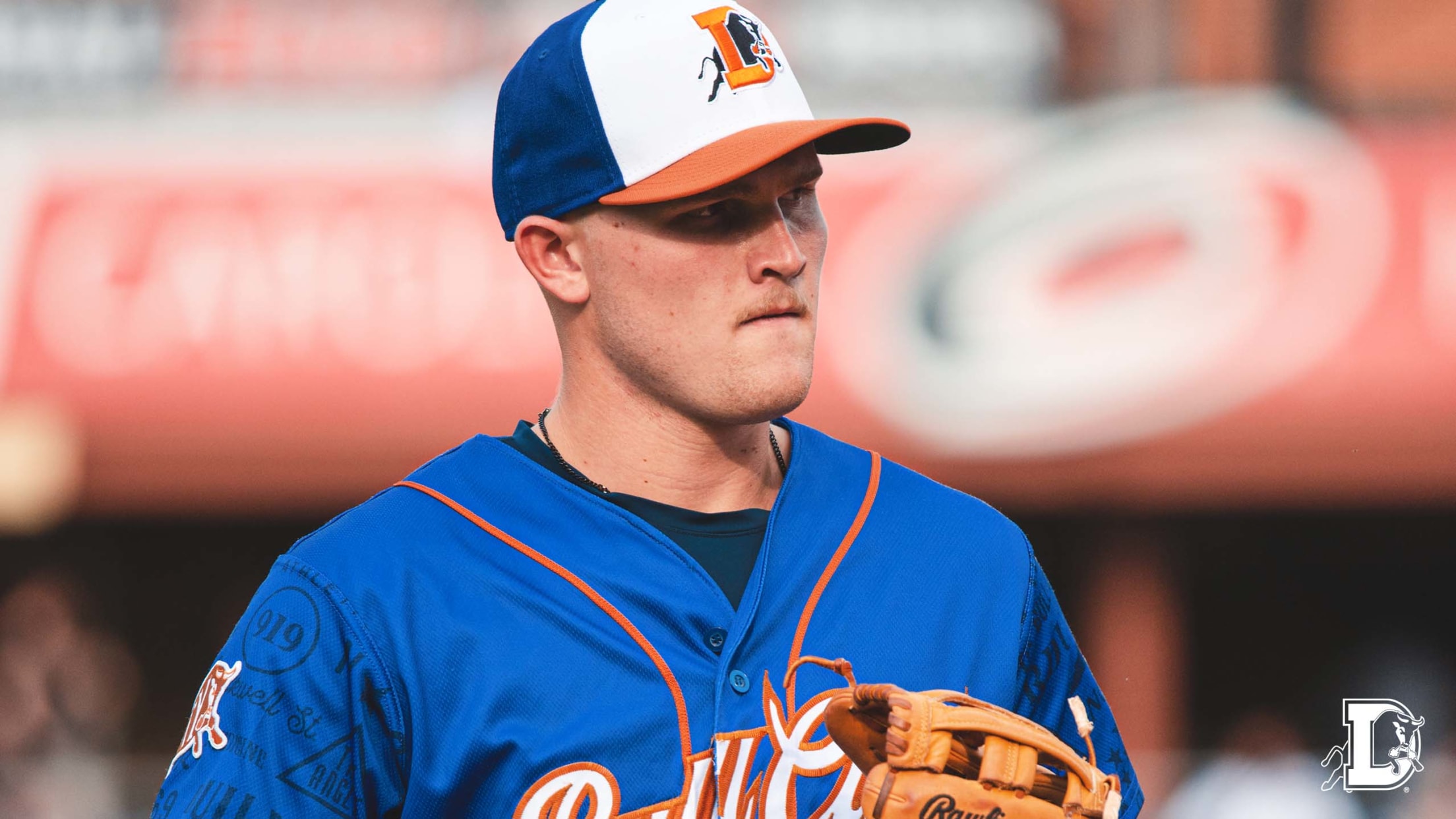 2022 Bulls infielder Curtis Mead was one of three former Bulls added to the Tampa Bay Rays' 40-man roster in a flurry of roster moves on Tuesday.
With 6:00pm ET on Tuesday evening the deadline to add Rule 5 eligible players to the 40-man roster, the Tampa Bay Rays announced a number of roster moves involving former Bulls players.
With 6:00pm ET on Tuesday evening the deadline to add Rule 5 eligible players to the 40-man roster, the Tampa Bay Rays announced a number of roster moves involving former Bulls players.
Among the five players added to Tampa Bay's 40-man roster were a trio of Bulls alums, including right-handers Taj Bradley and Colby White, as well as infielder Curtis Mead. In 12 starts with Durham this year after being promoted from Double-A Montgomery, Bradley posted a 4-3 record and 3.66 ERA (59.0 IP) along with 53 strikeouts, while White missed the entire season after undergoing Tommy John surgery in April. Mead, meanwhile, hit .278 (20-72) with the Bulls after being promoted from the Biscuits, adding three homers and 14 RBI in 20 games, missing time due to injuries.
In addition, the Rays announced a series of trades, sending International League All-Star infielder/outfielder Miles Mastrobuoni to the Chicago Cubs in exchange for right-hander Alfredo Zarraga. After winning the 2021 Triple-A National Championship with the Bulls, Mastrobuoni compiled a .300 average in 2022, adding 16 homers and 64 RBI in 129 games prior to being promoted to Tampa Bay for the final part of the season.
Infielder Xavier Edwards and right-hander JT Chargois were also acquired by the Miami Marlins on Tuesday, in exchange for former Duke standout pitcher Marcus Johnson, as well as right-hander Santiago Suarez. Edwards posted a .246 clip with five homers and 33 RBI over 93 games with the Bulls, helping lead the team to their Triple-A National Championship title.
Infielder Brett Wisely was also acquired by the San Francisco Giants in a deal that sends outfielder Tristan Peters. Wisely spent a large majority of the year with Double-A Montgomery, hitting .238 with no homers and two RBI in five regular season games with the Bulls before going on to play in the Triple-A National Championship Game in Las Vegas.
The Rays also announced infielder/outfielder Bligh Madris, as well as pitchers Javy Guerra and Ryan Yarbrough, have been designated for assignment.
Madris joined the Bulls as a late-season addition after being claimed off waivers from Pittsburgh and batted .317 with four homers and 15 RBI in ten regular season games. Combined between the International League Championship Game and Triple-A National Championship Game, Madris recorded six hits in nine at-bats, including four doubles, while driving in four runs. That included a four-hit effort to earn Triple-A National Championship Game Most Valuable Player honors.
Guerra was named the Rays' Minor League Reliever of the Year after accumulating a 2-0 record and 1.74 ERA (41.1 IP) in 43 outings with Durham, adding nine saves in ten attempts. In 17 appearances with Tampa Bay he owned a 2-1 clip and 3.38 ERA (16.0 IP).
Yarbrough also split time between Durham and Tampa Bay, tallying a 2-2 record and 4.55 ERA (27.2 IP) in seven starts with the Bulls. In 20 outings, including eight starts, with the Rays, he compiled a 3-8 record and 4.50 ERA (80.0 IP).
When a player's contract is designated for assignment that player is immediately removed from his club's 40-man roster. Within seven days of the transaction, the player can either be traded or placed on irrevocable outright waivers.
If the player is claimed off said waivers by another club, he is immediately added to that team's 40-man roster, at which point he can be optioned to the Minor Leagues (if he has Minor League options remaining) or assigned to his new team's 26-man roster. If the player clears waivers, he may be sent outright to the Minor Leagues or released.
Held each December, the Rule 5 Draft allows clubs without a full 40-man roster to select certain non-40-man roster players from other clubs. Clubs draft in reverse order of the standings from the previous season. Players signed at age 18 or younger need to be added to their club's 40-Man roster within five seasons or they become eligible for the Rule 5 Draft. Players who signed at age 19 or older need to be protected within four seasons.