Brady Williams Returns to Durham as Manager
Bulls skipper looks to lead team back to Governors' Cup Finals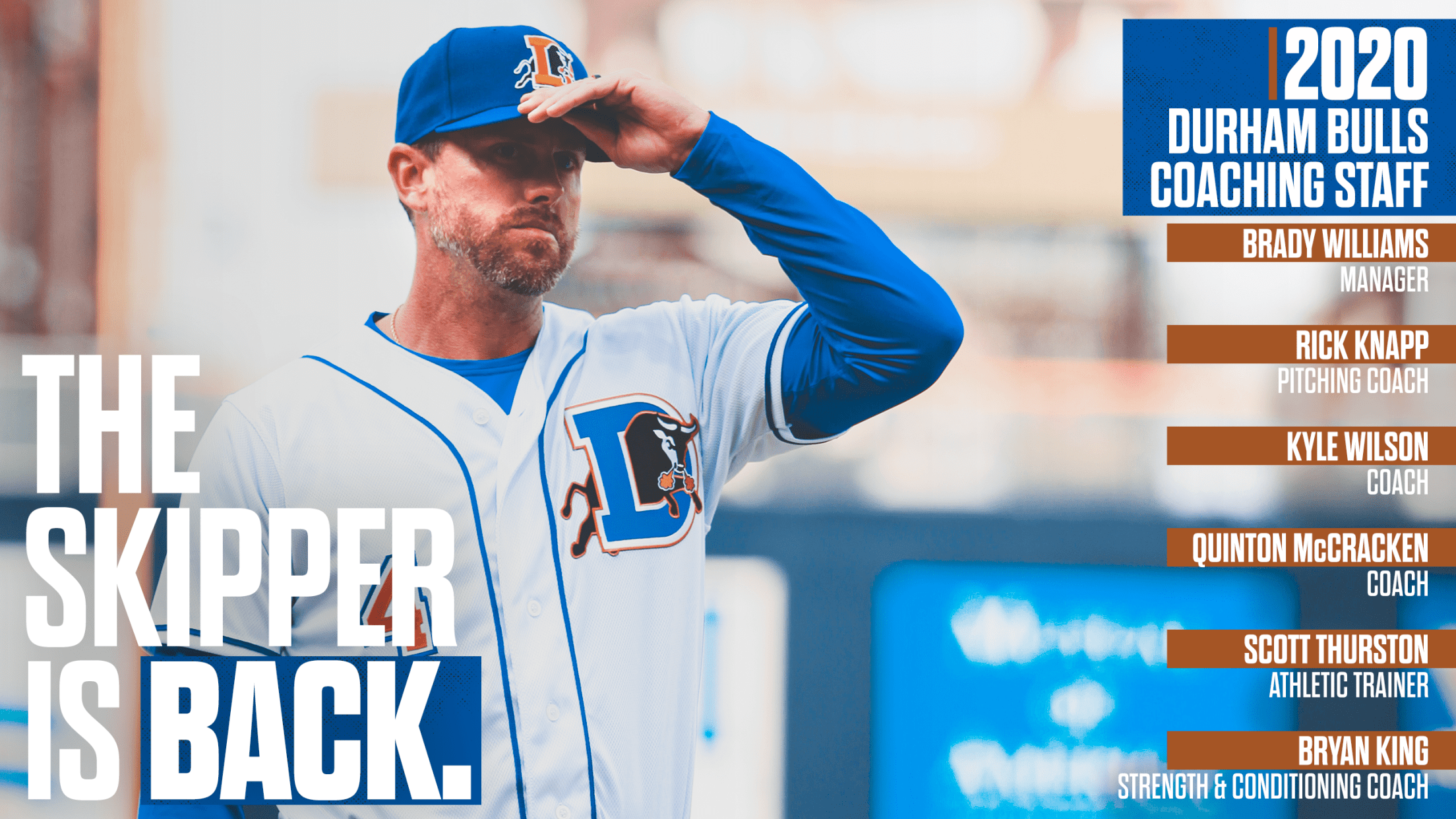 The Durham Bulls, in conjunction with the Tampa Bay Rays, have announced Brady Williams will be returning as manager of the Bulls. In his second season with the team, Williams looks to lead the Bulls to their fourth consecutive Governors' Cup Finals. Joining Williams on the Bulls coaching staff is
The Durham Bulls, in conjunction with the Tampa Bay Rays, have announced Brady Williams will be returning as manager of the Bulls. In his second season with the team, Williams looks to lead the Bulls to their fourth consecutive Governors' Cup Finals. Joining Williams on the Bulls coaching staff is Pitching Coach Rick Knapp, Coach Kyle Wilson and Coach Quinton McCracken.
Williams led the Bulls to their third straight Governors' Cup Finals, falling just short of winning a third straight title. In his first season at the Triple-A level, Williams coached the team to a 75-win season and the International League Wild Card spot. Prior to joining the Bulls in 2019, the 40-year old managed the Rays' Double-A affiliate Montgomery Biscuits for five seasons, leading the team to four consecutive playoff appearances.
Wilson will join the Bulls as hitting coach, replacing Dan Dement who was promoted to Minor League Hitting Coordinator. The 33-year old joins the Rays organization after spending the 2019 season as hitting coach of the Arkansas Travelers. Although drafted out of Hill College by the Chicago Cubs in the 31st round of the 2008 draft, he continued to NC State, setting a school record for stolen bases (30) in 2009. He was then drafted by the San Francisco Giants in the 24th round of the 2010 draft, but never appeared in professional baseball. He also owns The Performance Academy in Apex, a facility that provides comprehensive, cutting-edge training for athletes of all ability levels.
Knapp returns for his third season coaching the Bulls pitching staff. The team led the league in strikeouts (1,329) and had the second-fewest walks surrendered (443) during the 2019 campaign. The Bulls also led the International League in shutouts (10 - tied with Toledo) and recorded two team no-hitters, one at home and one on the road, in 2019.
North Carolina native and Duke Baseball alum McCracken is also back in Durham for a second straight season, after helping the Bulls to a third consecutive Governors' Cup Finals appearance. Prior to last season he was with the Rays organization as a player from 1998 - 2000.
Returning to Durham for a seventh season is the team's Strength and Conditioning Coach Bryan King, and back for a third season is the team's Athletic Trainer Scott Thurston. King joined the Bulls in 2014 after spending five seasons as the Major League Strength and Conditioning Coach for the Toronto Blue Jays. Thurston has been with the Rays organization since 2008, when he was named the Athletic Trainer for the Princeton Rays.
The Bulls look to start the 2020 season strong at their home opener on Thursday, April 9, 2020. Season memberships and group outings are available now at or by calling 919.956.BULL.