Bulls Host Wool E. Wellness Cooking Class in Partnership With Blue Cross And Blue Shield of North Carolina
Bulls front office staff & Wool E. Bull host cooking class at DBAP to promote healthy eating & balanced lifestyles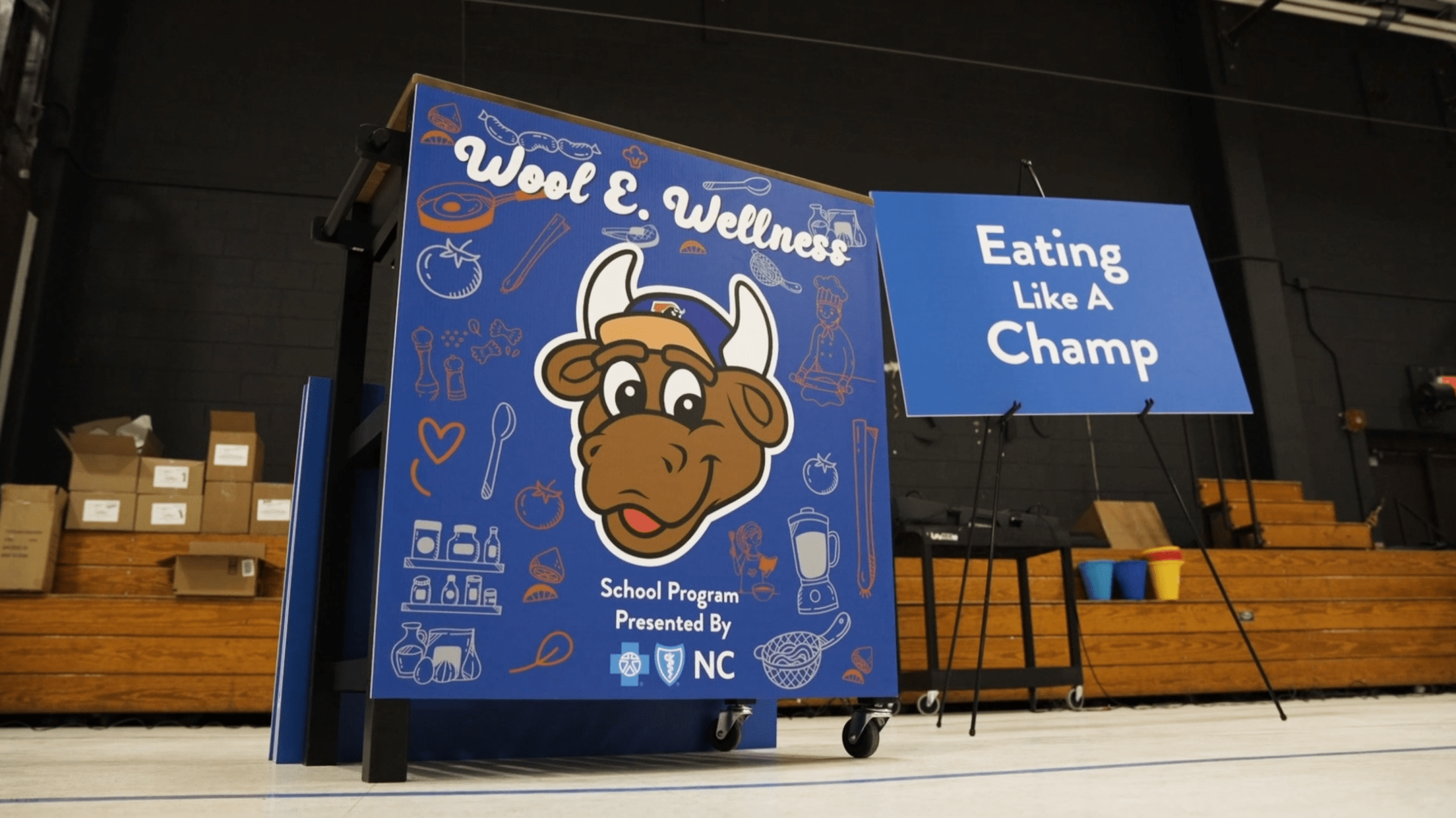 Earlier this month, the Durham Bulls in partnership with Blue Cross Blue Shield of North Carolina (Blue Cross NC) held an on-site cooking class as the culmination of their year-long Wool E. Wellness school program. "We have been thrilled to bring this program to the community" said Durham Bulls General
Earlier this month, the Durham Bulls in partnership with Blue Cross Blue Shield of North Carolina (Blue Cross NC) held an on-site cooking class as the culmination of their year-long Wool E. Wellness school program.
"We have been thrilled to bring this program to the community" said Durham Bulls General Manager Tyler Parsons. "It is a fun and engaging way to get kids thinking about their daily habits with food and we are so grateful to our partners Blue Cross NC for helping to put this together".
"Nutritious food, physical exercise and quality rest are the essentials of good health," said Cheryl Parquet, director, Community Engagement and Marketing Activation at Blue Cross NC. "By giving local youth more access to programs that encourage healthy habits, we're creating a stronger, healthier North Carolina."
Throughout this initiative, Wool E. Bull, joined by Bulls front office staff members, held assemblies at Durham County schools to promote healthy eating and balanced lifestyles through three fundamental pillars of the program:
Eat Like A Champ: Explaining the importance of a healthy and balanced diet
Play Hard: Emphasizing the benefits of exercise
Rest To Be The Best: Stressing the importance of getting enough sleep
All participants also received a recipe booklet featuring Wool E. Bull's favorite meals, a scorecard to keep track of their healthy habits, and a baseball-themed placemat to remind students of the importance of a well-balanced diet including protein, fruits, vegetables, grains, and dairy in their daily meals.
The on-site cooking class featured preparation of meals. After working together to prepare an appetizer, entrée, and dessert, participants were gifted a cookbook designed for young individuals to further encourage cooking at home with family and friends.
Durham returns home to Durham Bulls Athletic Park on Monday, May 29 to start a seven-game homestand with the Jacksonville Jumbo Shrimp, the Triple-A affiliate of the Miami Marlins. First pitch of the series opener is set for 5:05pm.
Tickets for that game and all 2023 Durham Bulls home games are available, and can be purchased at DurhamBulls.com, or by calling 919.956.BULL.
About Capitol Broadcasting Company
Capitol Broadcasting Company, Inc. is a diversified communications company which owns and/or operates WRAL-TV, WRAL Digital, WRAZ-TV, WRAZ Digital, WRAL-FM, WRAL-HD2, WCMC-FM, WCMC-HD1, WDNC-AM, WCMC-HD2, WCMC-HD3, WCLY-AM, WCMC-HD4, Microspace, CBC New Media Group and Wolfpack Sports Properties (a joint venture with Learfield) in Raleigh, NC; WILM-TV, WILT-LD and Sunrise Broadcasting in Wilmington, NC; The Durham Bulls Baseball Club, Bull City Hospitality, and the American Underground startup hub in Durham, NC; The Holly Springs Salamanders in Holly Springs, NC; and real estate interests including the American Tobacco Historic District in Durham, NC, and Rocky Mount Mills in Rocky Mount, NC; and Professional Builders Supply (an equity partnership) in Morrisville, NC.
About Blue Cross and Blue Shield of North Carolina:
Blue Cross and Blue Shield of North Carolina (Blue Cross NC), the leading not-for-profit health plan in North Carolina, is committed to making health care more affordable, easier to navigate and accessible for all. Since 1933, the health insurer has created programs and initiatives to provide North Carolinians the opportunity to be healthy. Blue Cross NC serves its customers and communities of more than 4.2 million members, including approximately 1.1 million on behalf of other Blue Plans. Blue Cross NC is an independent licensee of the Blue Cross and Blue Shield Association. Visit Blue Cross NC online at www.bluecrossnc.com. All other marks are the property of their respective owners.