Bulls Ride 'Pigs Miscues to 10-3 Win
Durham takes advantage of seven unearned runs in victory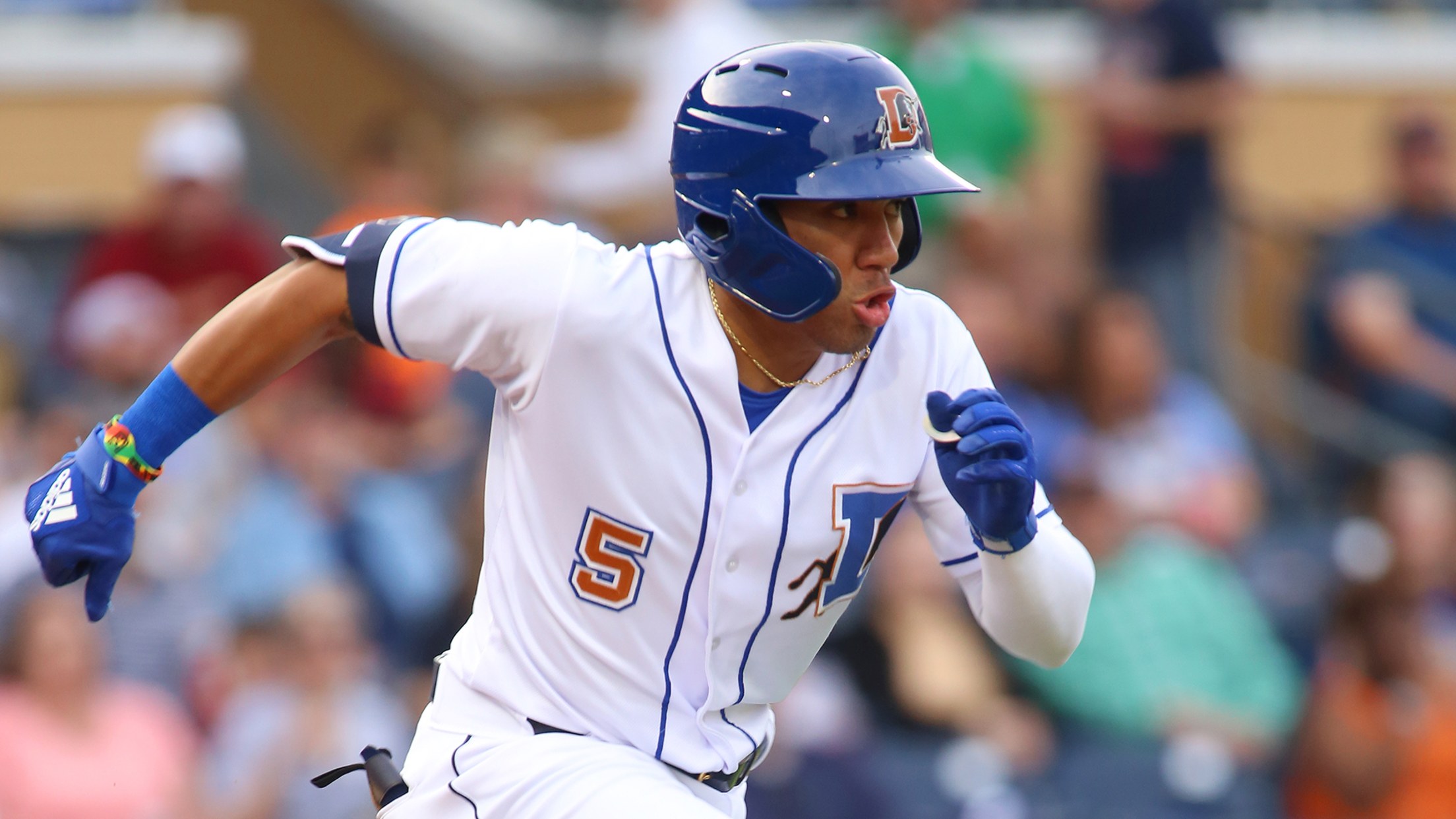 Kean Wong went 2-for-5 with two RBI and a run scored in Durham's 10-3 win Tuesday night (BrianFlemingPhotography.com)
DURHAM, NC - The Durham Bulls gained the momentum on a fielding error that scored two runs and rallied to beat the Lehigh Valley IronPigs 10-3 Tuesday night at the DBAP. Arturo Reyes (2-1) recorded his second straight victory for the Bulls, while Tyler Viza (0-2) suffered the loss.The IronPigs
DURHAM, NC - The Durham Bulls gained the momentum on a fielding error that scored two runs and rallied to beat the Lehigh Valley IronPigs 10-3 Tuesday night at the DBAP. Arturo Reyes (2-1) recorded his second straight victory for the Bulls, while Tyler Viza (0-2) suffered the loss.
The IronPigs were able to strike first in the fourth inning, beginning with an RBI-single from Deivy Grullon to take a 1-0 lead. The visitors added on, with a run-scoring groundout by Mitch Walding to make it 2-0.
The Bulls made a push in the bottom of the fifth inning, beginning with an RBI double by Kean Wong to start the scoring. Walding's two-run error put the Bulls in front for good, allowing two runs to score and giving the Bulls a 3-2 lead.
Another error by the IronPigs proved even more costly, as three more runs came in on a fielding error by Andrew Romine in the sixth inning, giving the Bulls a 6-2 lead. Wong and Mike Brosseau each tallied RBI-singles to increase the lead to 8-2 later in the frame, and another run came in on a passed ball from Grullon to make it 9-2. Nick Solak finished off the massive seven-run frame with another RBI single to take a commanding 10-2 lead.
The IronPigs were able to get a run back in top of the eighth inning thanks to a Lane Adams RBI single to make it 10-3. However, the rally was short-lived as the Bulls bullpen picked up Reyes, who went 6.0 innings, allowing five hits and two earned runs, while striking out seven.
The Bulls play game two of a three-game series on Wednesday night at 7:05. The game is part of a six-game homestand that includes a visit from the Rochester Red Wings beginning on Friday night.