Bulls Stumble in Two-Run Loss
Velazquez triples and scores, Field notches two hits in defeat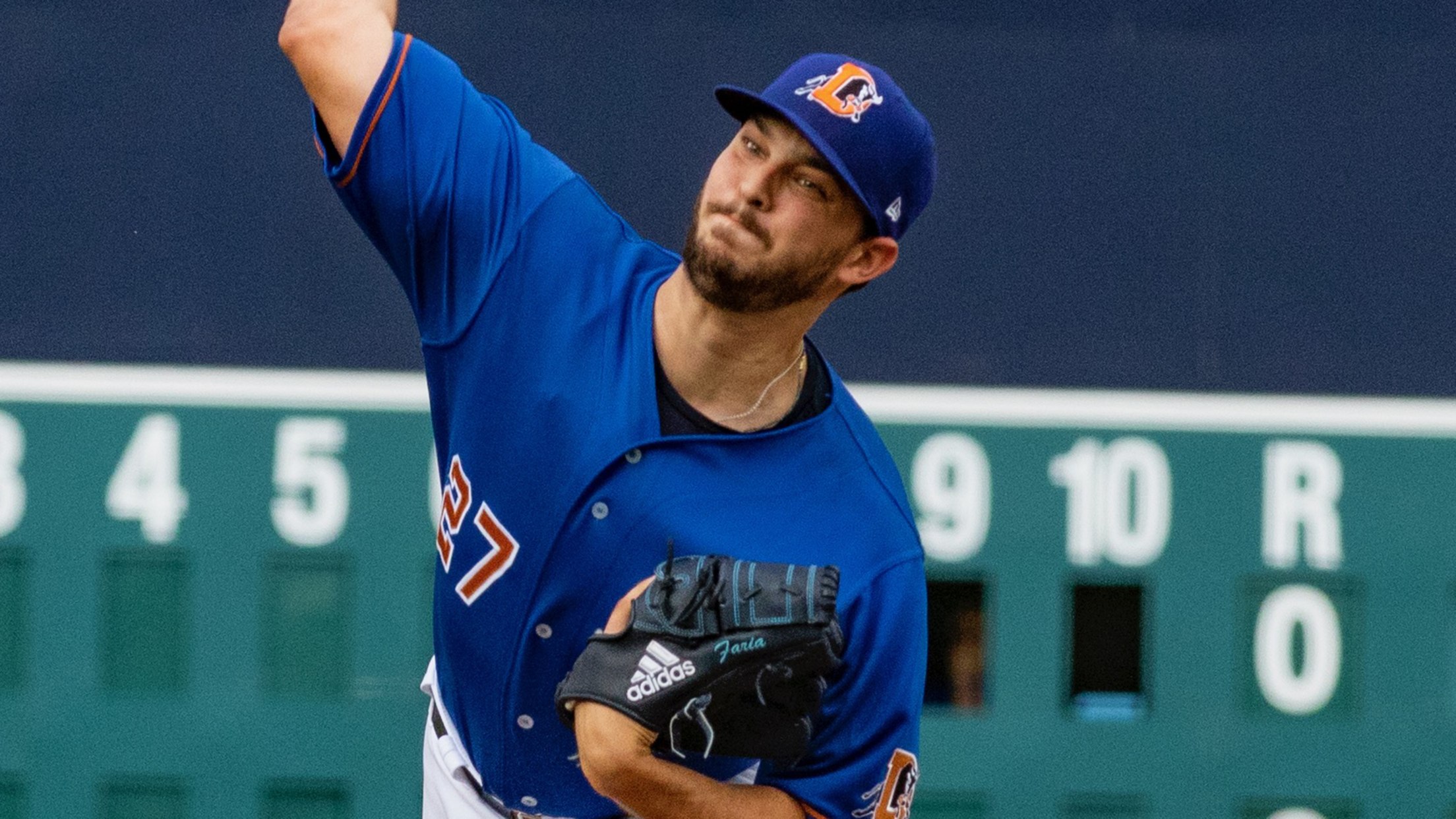 Jacob Faria dealt three scoreless innings in his first rehab start with Durham Thursday at the DBAP (Patrick Norwood/Durham Bulls)
DURHAM, NC - A four-run deficit was too much to overcome for the Durham Bulls as they fell to the Charlotte Knights 4-2 in the opener of a four-game series at the DBAP on Thursday night. The Bulls (51-38) managed just five hits on the evening, with Johnny Field tallying
DURHAM, NC - A four-run deficit was too much to overcome for the Durham Bulls as they fell to the Charlotte Knights 4-2 in the opener of a four-game series at the DBAP on Thursday night.
The Bulls (51-38) managed just five hits on the evening, with Johnny Field tallying a pair. Brandon Snyder singled and walked, joining Field as the only Bulls to reach base twice.
Locked in a scoreless tie entering the seventh inning, the Knights (41-49) scored two runs on four hits, including RBI from Jacob May and José Rondón to give the visitors a 2-0 lead.
Jordan Guerrero (W, 2-0) delivered 6.2 scoreless-innings, surrendering just two hits and one walk while fanning seven batters to earn his second win of the season.
In the eighth, the Knights extended their lead to 3-0 on an RBI ground out by former Bull Casey Gillaspie. Seby Zevala led off the frame with a single and moved to third on a double by Trayce Thompson, then scored on the 3-1 put out by Snyder to relief pitcher Mike Franco.
Later in the frame, former Bull Patrick Leonard drove in a run with a single through the hole at second base to stretch the Knights lead to 4-0.
Andrew Velazquez led off the home half of the eighth inning with a triple and scored on a wild pitch to cut the deficit to 4-1. Later in the frame, following back-to-back walks to Field and Michael Russell , Field moved to third on a wild pitch and scored on a throwing error by Zavala to cut the deficit to 4-2, which proved to be the final score.
Andrew Moore (L, 3-4) was handed a loss after allowing two runs on six hits over 3.1 relief-innings. Starter Jacob Faria tossed 3.0 innings in his second rehab start, first with Durham, since being placed on the disabled list by the Tampa Bay Rays on May 23.
Knights center fielder Jacob May finished 4-for-4 with one double and an RBI.
The Bulls continue a four-game series against the Charlotte Knights Friday night at 7:05 p.m. at the DBAP. Ryan Weber (5-3, 2.23) is scheduled to start for the Bulls against Spencer Adams (1-2, 2.97) for the Knights.