Durham Bulls to Host Stranger Things Night
Team to wear special uniforms for celebration of Netflix series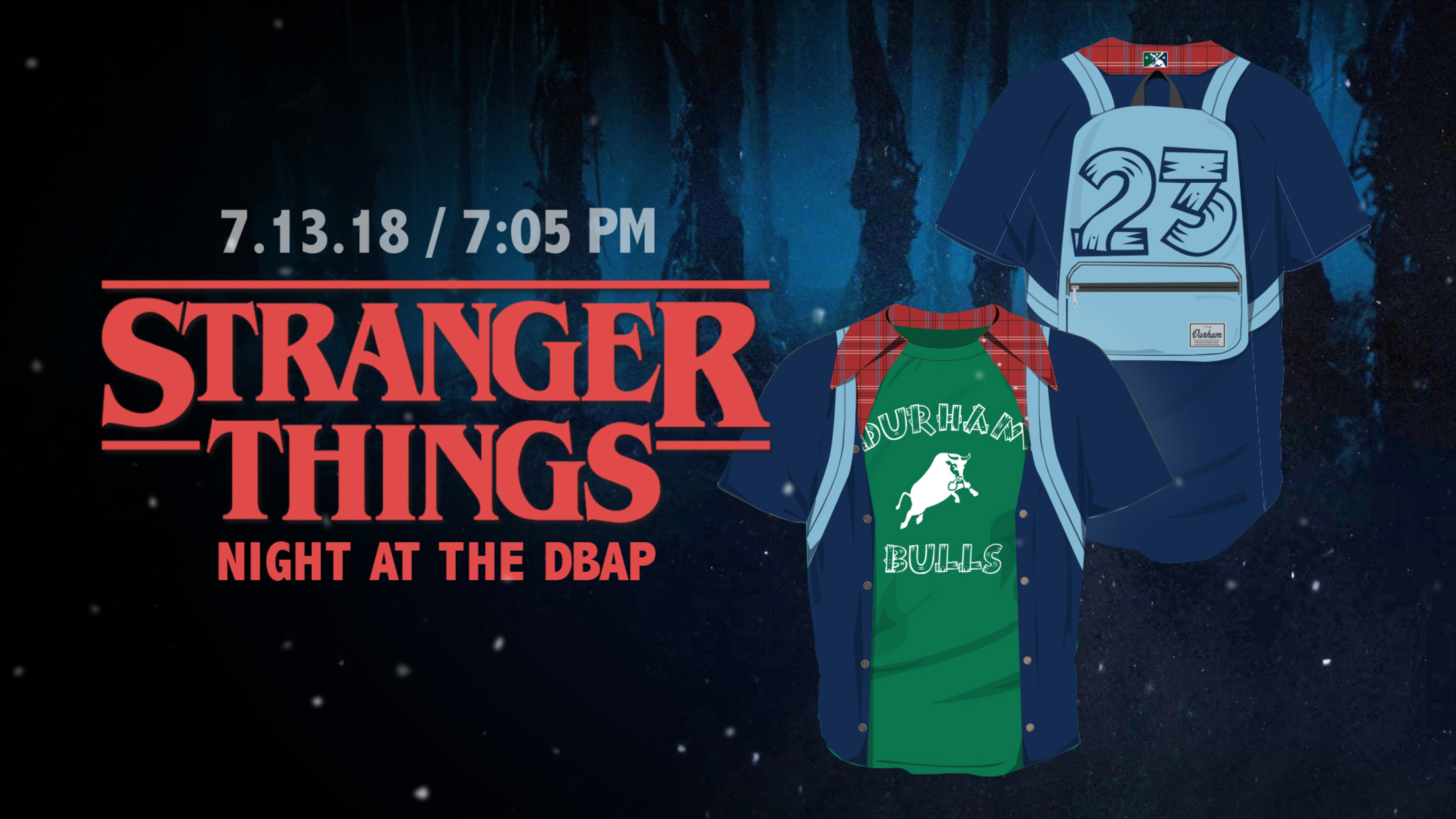 The Durham Bulls will host Stranger Things Night on Friday, July 13 at Durham Bulls Athletic Park, presented by RELAY. That evening when the team takes on the Charlotte Knights, the players will wear specially-designed uniforms while the ballpark will be full of references and promotions based on the popular
The Durham Bulls will host Stranger Things Night on Friday, July 13 at Durham Bulls Athletic Park, presented by RELAY. That evening when the team takes on the Charlotte Knights, the players will wear specially-designed uniforms while the ballpark will be full of references and promotions based on the popular Netflix sci-fi series.
The show, which takes place in the fictional Hawkins, Ind., was created by Durham natives and Jordan High School alumni The Duffer Brothers. Throughout the show's first two seasons there have been numerous references to Durham locales, including Jordan Lake, the Eno River and Cornwallis Rd.
The team's uniforms for the evening are based off the fan-favorite character Dustin Henderson, and feature his iconic hat and trusted backpack. Full details of the uniform can be found here.
Throughout the evening the team plans on highlighting some of the show's largest themes, including the Upside Down, waffles, Christmas lights and Demogorgons, while also paying tribute to some of the show's fallen characters. Additionally, fans are encouraged to dress up as their favorite character or wear their favorite 80's garb.
"Stranger Things is one of the country's most popular shows right now, and it's captured a very nostalgic piece of viewer's hearts," Durham Bulls Vice President Mike Birling said. "With the show's popularity, its Durham ties and its endless creativity, we couldn't wait any longer to host a night of this magnitude."
The team's uniforms will be auctioned off throughout the contest, and all proceeds will go to the Children's Research Institute at UNC Health Care. Following the game will be a Friday Night Fireworks show accompanied by an 80s-themed soundtrack. Tickets for the event start at $7.99 and can be purchased here.