Durham Falls to Charlotte on Opening Day
Early deficit too much as defending champions drop opener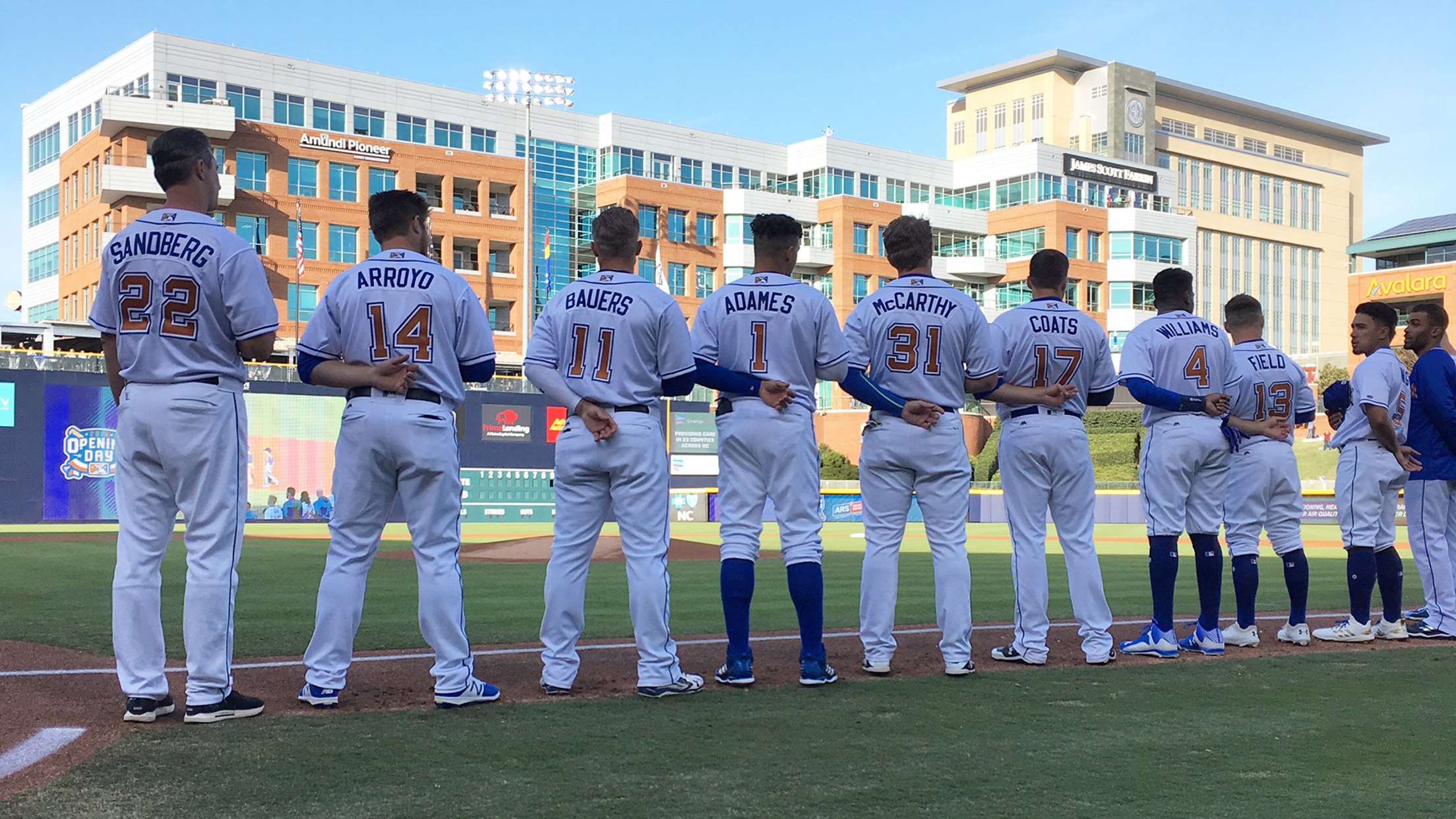 The Durham Bulls dropped the 2018 season opener 6-2 in front of 9,709 fans Thursday night
DURHAM, NC - Chih-Wei Hu (0-1, 6.75 ERA) allowed two runs on four hits in the top of the first inning and one more run in the third as the Charlotte Knights (1-0) got going offensively early against the Durham Bulls (0-1) en route a 6-2 win in front of
DURHAM, NC - Chih-Wei Hu (0-1, 6.75 ERA) allowed two runs on four hits in the top of the first inning and one more run in the third as the Charlotte Knights (1-0) got going offensively early against the Durham Bulls (0-1) en route a 6-2 win in front of 9,709 fans at Durham Bulls Athletic Park.
Charlotte took a 2-0 lead in the first inning on a sac-fly RBI from Ryan Cordell (0-for-3, RBI) and an RBI single by Matt Skole (2-for-3, RBI). Dylan Covey (1-0, 1.80 ERA) limited the Bulls to one run on three hits over 5.0 innings earning his first win of the season.
The Bulls were held to one hit through 3.0 innings -- a ground-rule double by Joe McCarthy (1-for-3, RBI) keeping Willy Adames (1-for-2, 3B, RBI) at third base, after Adames reached on a hit-by-pitch. Adames tripled in the fourth inning and scored on an RBI single by Jason Coats (1-for-3, RBI) cutting the deficit to two runs, 3-1.
Hu's night was done after 4.0 innings and 84 pitches, after allowing three runs on eight hits and one walk with six strikeouts. Hu made four starts with Durham in 2017 and tonight marked his ninth start in a Bulls uniform (three seasons). His last start for the Bulls came on Sept. 2, 2017 against Gwinnett when he tossed 2.0 scoreless innings.
Cody Hall was brought on in relief in the fifth inning and allowed one run on two hits leaving the Bulls down by three runs, 4-1 through five innings. Adam Kolarek made his first appearance in the seventh inning, working 1.2 innings, allowing one run on three hits, with one strikeout. In all, Bulls pitching posted 13 strikeouts on the evening.
In the bottom of the sixth, the Bulls cut the deficit to two after a leadoff double by Jake Bauers (1-for-3, 2B), the first of two doubles on the night. Bauers scored on a ground out to first by McCarthy to make it a 4-2 game in the sixth.
Charlotte recorded six runs on 14 hits, including a three-hit night for Patrick Leonard (3-for-4, 2B, 3 RBI) and five multi-hit performances. In all, the Knights had 8-of-9 batters record a hit with 11 runners left on base.
Charlotte added runs in the seventh and the ninth capping the win.
The Bulls and Knights face off again on Friday at the DBAP, with LHP Anthony Banda taking the mound for Durham opposite RHP Chris Volstad for Charlotte. First pitch is scheduled for 7:05 p.m.