Durham's Four-Run Eighth Keys Victory
Late outburst gives Bulls sweep of two-game set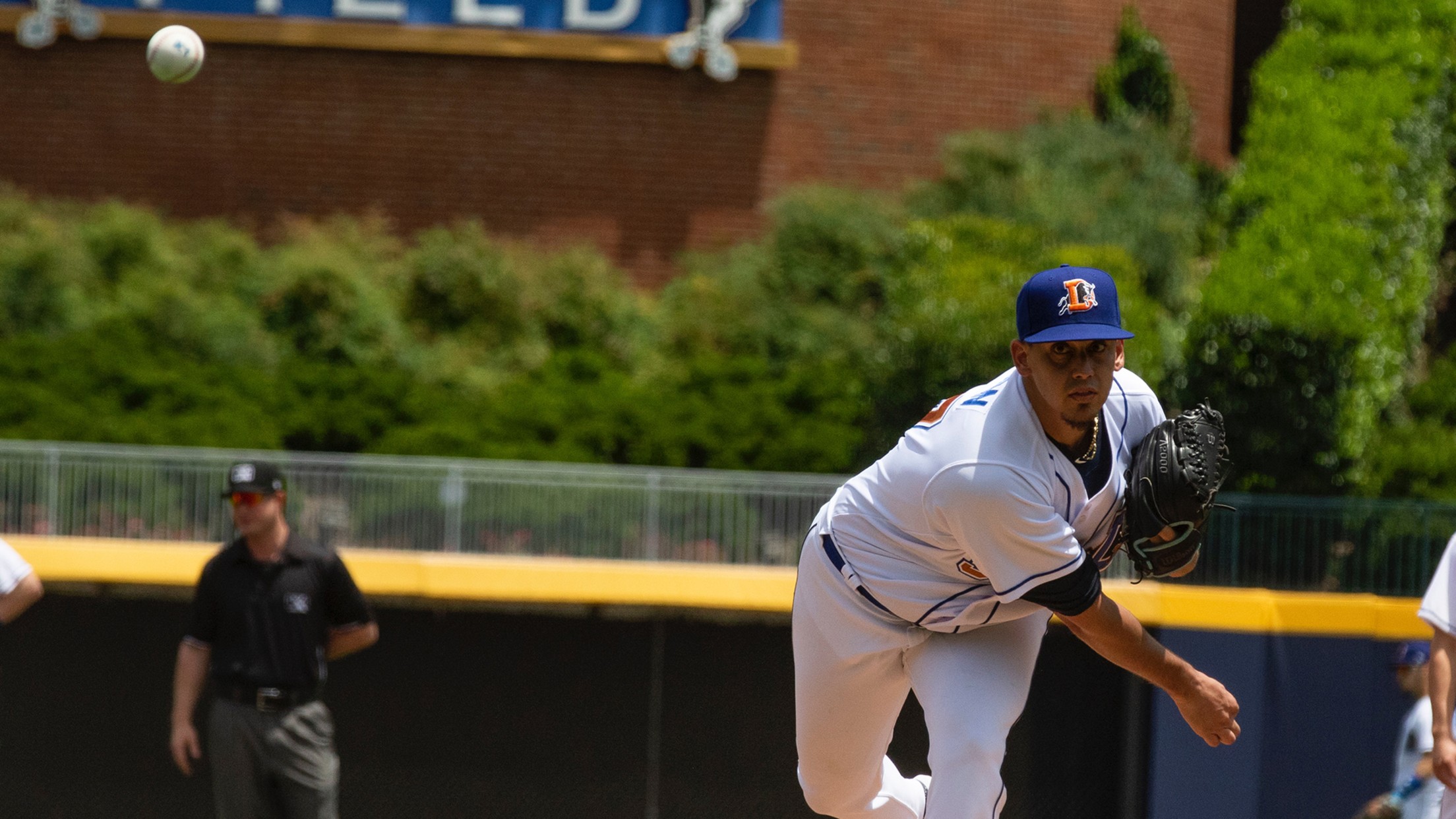 Jose De Leon struck out seven and allowed just one hit in 4.1 innings Tuesday afternoon (Patrick Norwood / Durham Bulls)
DURHAM, NC - The Durham Bulls scored four runs in the eighth inning and never looked back, defeating the Charlotte Knights 5-1 and securing the sweep of the two-game set Tuesday afternoon at the DBAP. Jake Faria (5-2) recorded the victory for the Bulls, while Thyago Vieira (3-2) suffered the
DURHAM, NC - The Durham Bulls scored four runs in the eighth inning and never looked back, defeating the Charlotte Knights 5-1 and securing the sweep of the two-game set Tuesday afternoon at the DBAP. Jake Faria (5-2) recorded the victory for the Bulls, while Thyago Vieira (3-2) suffered the loss for the Knights.
Tied at one in the bottom of the eighth, Jake Cronenworth delivered an RBI single to put Durham ahead 2-1. Jake Smolinski added another run on an RBI single to make it 3-1, and Nate Lowe silenced the Knights with a two-run home run to take a 5-1 lead. In the ninth Faria closed the door, allowing just one hit as the Bulls tied a season-best by moving 19 games above .500.
In what was largely a pitching duel, the Bulls scored the game's first run in the bottom of the second inning on an RBI single by Emilio Bonifácio. The Knights were able to strike back in the top of the seventh inning, with an Adam Engel RBI single to tie the game at 1-1.
Offense was a challenge to come by, with both teams combining for just eight hits and two runs in the first seven innings. The Bulls and Knights picked up strong performances from starters José De León and Héctor Santiago.
De Leon pitched his best outing since rejoining the Bulls on an MLB rehab assignment, going 4.1 innings, allowing just one hit and striking out seven. His bullpen picked him up once again, with Casey Sadler, Hoby Milner and Faria allowing four hits and one run, while striking out four.
After the completion of the two-game series with Charlotte, the Bulls begin a two-game series against the Norfolk Tides on Wednesday night at 7:05 at the DBAP.