Spring Fan Fest, Anthem Auditions March 7
Free event highlights Opening Week of sales, BP on-field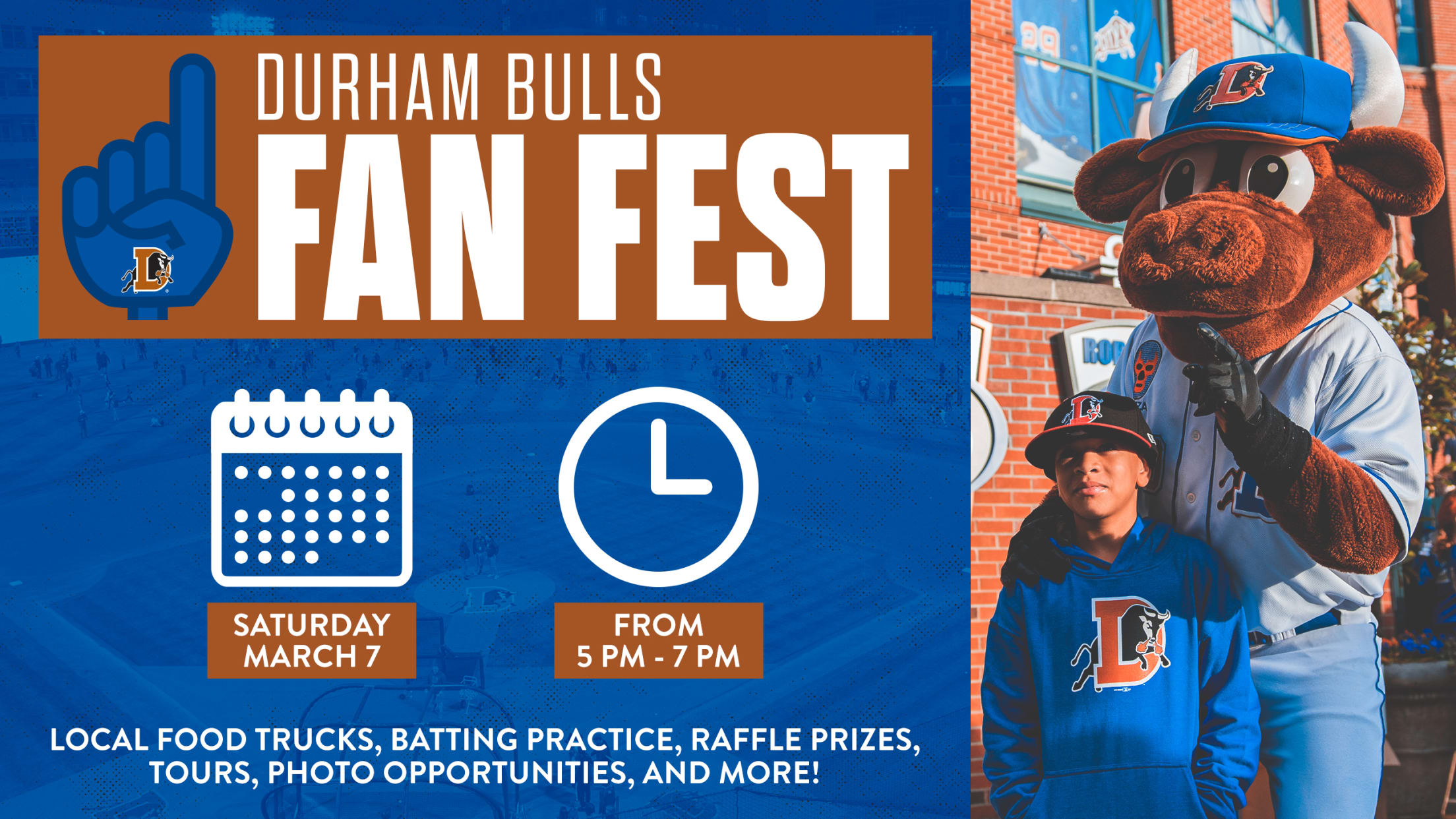 The Durham Bulls will host their 2020 Fan Fest on Saturday, March 7 from 5 p.m. to 7 p.m. at Durham Bulls Athletic Park. The free event provides fans a chance to take batting practice on the field and purchase single-game tickets for the 2020 season. Additionally, National Anthem auditions
The Durham Bulls will host their 2020 Fan Fest on Saturday, March 7 from 5 p.m. to 7 p.m. at Durham Bulls Athletic Park. The free event provides fans a chance to take batting practice on the field and purchase single-game tickets for the 2020 season. Additionally, National Anthem auditions will take place at the DBAP the morning of March 7 from 7:30 a.m. to 8:30 a.m.
The event will feature a free raffle for all fans in attendance, with grand prizes such as Bulls merchandise. Each fan in attendance will be given a raffle ticket upon arrival. Fans can earn more raffle tickets throughout the event in several ways, such as purchasing individual game tickets and packages along with retail purchases. Winners will be selected every 30 minutes, and the individual must be present to win.
Two batting practice sessions will be held at the event. All attendees 13 and older wishing to hit on the field will be able to line up from 5 p.m. to 5:45 p.m., and all fans 12 and under wishing to take batting practice may line up from 6 p.m. to 6:45 p.m. Each participant will get 3-5 pitches only. Guests will be required to sign a waiver to participate. Waivers are available here for completion prior to Fan Fest. Please print, complete and bring with you for Spring Fan Fest.
If a fan hits the world-famous bull in left field during batting practice, that fan will win Bulls season tickets. Among other activities, fans will also be able to meet Ripken the Bat Dog during Fan Fest.
The team's ticket representatives will be available to showcase available 919 Club member seating locations, and the Mako Medical Box Office will be open at 12:00 p.m. to provide fans an opportunity to purchase single-game tickets. 919 Club members in attendance will be granted access to the PNC Triangle Club 30 minutes prior to the event to pick up their membership package and giveaways. In addition to 919 Club packages and single-game tickets, a special Fan Fest Pack will be available only on March 7. Fans eager to secure single-game tickets for the 2020 season can do so beginning Monday, March 2 in an online-only sale, and tickets will become available by phone and in-person at the DBAP beginning March 7.
Other events/offers scheduled for Fan Fest include:

Fans that purchase a 919 Club package are entered into a raffle to win four (4) PNC Triangle Club tickets or a suite night for Opening Week (April 9 Opening Night excluded)
The Ballpark Corner Store will offer select merchandise at discounted prices in their rummage sale
Local food trucks American Meltdown, Stuft and Hot Chix will be in attendance on the outfield patio
Photo opportunities with Wool E. Bull, the Wool E. Wagon and his go-kart
Photo opportunities on the Durham Bulls Grounds Crew equipment in center field
Tours of the area inside the Blue Monster (left field wall)
Tours of the Durham Bulls Clubhouse
Special preview tasting of select new concessions items for the 2020 season
Beer, soft drinks and water will be available for purchase near Wool E. World
Face painting will be available, and a balloon artist will also be in attendance
National Anthem auditions will also take place at the DBAP the morning of March 7 from 7:30 a.m. to 8:30 a.m. for individuals wishing to perform the Star-Spangled Banner at a Bulls game in 2020. Performers who arrive after 8:30 a.m. will not be permitted to audition. Performers will have one minute and 30 seconds to perform the anthem, and lyrics must be memorized and performed in a traditional style.
Participants for anthem auditions may enter through the ballpark's left field gate and register upon arrival to perform on a first-come, first-sing basis. Singers may leave at the completion of their audition and will be contacted at a later date as the Bulls choose those who will perform at limited, select dates during the 2020 season.
The Bulls look to start the 2020 season strong at their home opener on Thursday, April 9, 2020 against the Charlotte Knights. Season memberships and group outings are available now at
durhambulls.com
or by calling 919.956.BULL.