'Wolves' Turnbull tosses four-hit shutout
Tigers No. 29 prospect fans 11 in first career nine-inning effort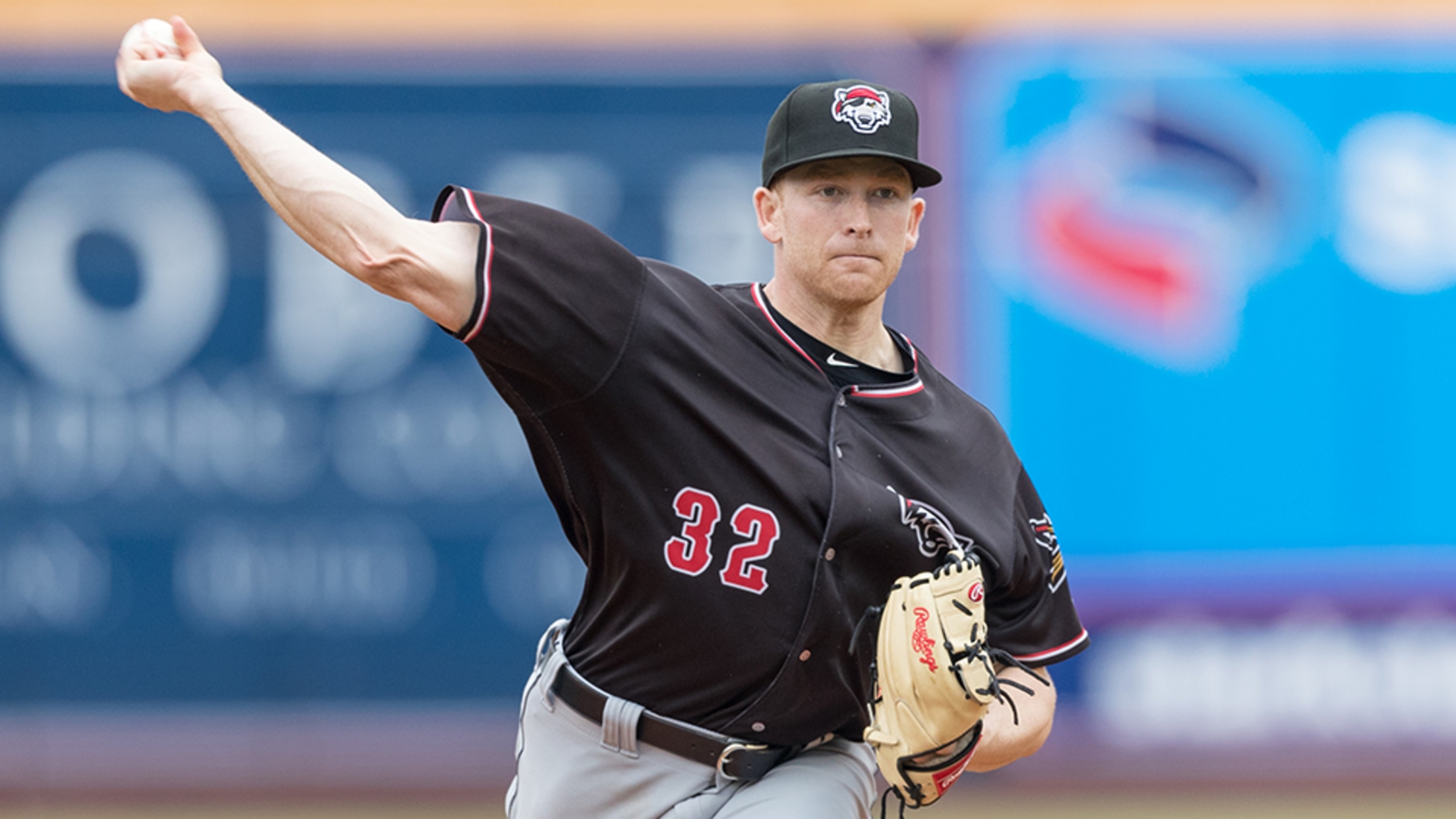 Spencer Turnbull's only other complete game was a six-inning loss in the Midwest League in 2015. (David Monseur/MiLB.com)
Ask Spencer Turnbull about nine-inning shutouts in his career and it doesn't take the University of Alabama product to recall March 30, 2013, his sophomore year against archrival Auburn.But after a couple of injury-marred seasons and coming off a six-walk performance, the 2014 second-round Draft pick didn't expect the next
Ask Spencer Turnbull about nine-inning shutouts in his career and it doesn't take the University of Alabama product to recall March 30, 2013, his sophomore year against archrival Auburn.
But after a couple of injury-marred seasons and coming off a six-walk performance, the 2014 second-round Draft pick didn't expect the next one to come on Sunday.
The Tigers' 29th-ranked prospect recorded his first nine-inning start as a pro, tossing a four-hitter and striking out 11 as Double-A Erie blanked Reading, 6-0, at UPMC Park.
"I just feel like a lot of hard work is finally paying off," he said. "It feels like I'm finally getting back to where I thought I could be after I got drafted, but I got thrown off for a while. Now I know I have extra in the tank when I need it. I haven't seen how far I could push myself in my professional career until today."
Turnbull (3-5) burst on the scene quickly, leading all pitchers in the Tigers organization with a 3.01 ERA in 2015, his first full professional season. But a shoulder injury limited him to 12 starts in 2016 and an ailing elbow sidelined him for a month last season.
Gameday box score
"Especially after that first injury, I felt this fear that when I came back, would I ever be the same?" he said. "The ball never felt like it came out the same. My mechanics changed, and it was a long journey to get back to the best version of myself. I had to have a lot of patience to stick through rehab and trust I would get better, but there was uncertainty with that, about what it would take to get better and how long."
Turnbull flashed signs of a complete recovery last month after a rocky April, throwing 11 scoreless innings over two starts. But he surrendered 11 runs over 9 2/3 innings in his next two outings, then walked six in 3 2/3 frames on Tuesday against Hartford.
"I don't know what happened in that start," he said. "I fell back into bad habits. It was just a weird day. I definitely wasn't doing what we had been working on after watching the video. It wasn't anything crazy this week in practice, just making sure my timing was back."
The right-hander said he made a full 180 over the last five days. Turnbull brushed off a couple of early baserunners as Phillies No. 15 prospect Cornelius Randolph reached on a throwing error in the first inning and Austin Bossart singled in the second. From there, Turnbull set down his next 11 batters, picking up his seventh strikeout early in the sixth.
The sixth was the only inning in which he allowed multiple baserunners. Malquin Canelo grounded a single to left with two outs and Jan Hernandez singled him to third. But Turnbull struck out Darick Hall, who has 13 homers across two levels this season.
The right-hander hadn't gone longer than six innings since Aug. 11. Although it was unspoken, he said his coaches were willing to give him a chance to go deeper.
"My fastball command was just better today and my sinker was the best it's been all year," Turnbull said. "I felt like I could throw that confidently for weak contact and mishits. Up until today, it had flashed good, but I wasn't able to command it.
"The curve is feeling better and my slider is what it is. I can't throw it quite as hard as I used to, but it's got better command."
Turnbull walked to the dugout after the seventh and was peppered by his coaches about how he was feeling. He said they'd be able to tell early in the eighth. After giving up a leadoff single to Jiandido Tromp, the Alabama native got Heiker Meneses to bounce into a double play. He fanned three of the last four batters and ended up throwing 80 of 115 pitches for strikes.
"Whatever I did today, I want to try and bottle that up and keep going that same way," he said. "I know now that to do that, I don't have to do anything extra. I know I can't expect this every time, but I have to keep the same mental approach, and this will help going forward. It gives me a lot of confidence, not that I'm not normally confident, but the results hadn't been there consistently."
The SeaWolves took a 1-0 lead into the seventh before providing Turnbull with some insurance. After Tigers No. 5 prospect Jake Rogers drew a leadoff walk, Harold Castro doubled him home. Castro took third on a sacrifice by A.J. Simcox and raced home on a wild pitch before Rogers capped the scoring with a three-run homer in the eighth.
Nathan Brown is a contributor to MiLB.com. Follow him on Twitter @NathanBrownNYC.