EL notes: Phils' Quinn starts off quickly
Reading speedster ready to put injuries in rear view, prove his value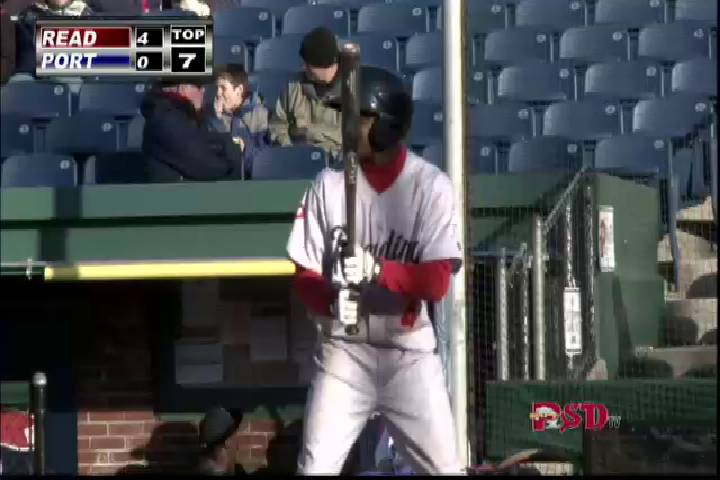 By Craig Forde / Special to MiLB.com | April 21, 2015 10:00 AM
It may have taken a couple extra days for Roman Quinn to begin his Double-A career, but once the Reading Phillies season kicked off, Philadelphia's No. 4 prospect was ready.
Inclement weather in Portland, which included snow, postponed the first two games of the season, but since then the toolsy outfielder has been on fire, collecting 14 hits, including five for extra bases, over his first nine games.
"That was my first time seeing snow," said Quinn, a native of Port St. Joe, Florida. "It was crazy."
"He had a real good spring," said R-Phils interim hitting coach Mickey Morandini. "He came in, had a little chip on his shoulder, and he's ready to go."
That metaphorical chip stems from a fractured bone in his left wrist, suffered when he was hit by a pitch in late June 2013, his first full professional season. After missing the rest of that year and the first six weeks of 2014 due in part to a torn Achilles' tendon, Quinn put together a solid 88 games with Class A Advanced Clearwater, hitting safely in 15 of the Threshers' final 18 games.
His efforts earned him a trip to Scottsdale, where he carried that momentum into the Arizona Fall League and was named to the Top Prospects Team after collecting 17 hits and 10 stolen bases in 18 games against some top-level talent.
"I learned a lot from the Fall League," said Quinn. "The competition was great; the pitching was great. Pretty much all the pitchers were Double-A and up, and some of them even got their starts in the Major Leagues that year. It was a good experience. The weather was beautiful -- no humidity -- which made it easy to play."
In the midst of all this, Quinn also changed positions, moving back to his natural center field position after Phillies No. 1 prospect J.P. Crawford took off at shortstop.
"I miss it a little bit," Quinn said of playing short. "I just feel back at home in center field since I started off there. I'm happy with where I'm at -- a lot more room to show off my speed and my range, too."
He's done just that in his first foray in the Eastern League, covering tons of ground with his blazing speed, which he recently showed off in New Hampshire, turning long fly balls into easy outs at the wall.
Quinn also uses that speed to his advantage on the base paths where, despite missing a decent chunk of his early career, he has 101 stolen bases, including a league-best seven this year.
"Obviously his speed is a game changer," said Morandini. "He changes the game when he gets on base. It's been fun to watch. He's been doing a great job. He knows he's fast, he utilizes his speed and he's getting better with every game."
Although he does feel that he still has much to prove, Quinn believes he's where he should be in his development and is trying to soak up as much knowledge as he can.
He's off to the best start of his career, flashing an early .378/.439/.622 slash line from the top of the order, and now feels in the proper mind-set to maintain the momentum, through good and bad times.
"I feel like I've always had a chip on my shoulder," said Quinn. "I feel pretty good coming back from the injury and everything. It really helped my mentally. During the process, it helped me find who I really was and I feel 100 percent now."
In brief
Free baseball: The Richmond Flying Squirrels needed 14 innings to dispatch of the Bowie Baysox, 3-2, in their longest season-opening game, which lasted four hours, 47 minutes. Two days later, the two teams played 14 frames again, this time with Bowie prevailing, 7-6, after four hours and 54 minutes of play. Richmond has played in three of the league's eight extra-inning games in the early going.
Seeing pitches: Harrisburg Senators third baseman Matt Skole leads the league in both strikeouts (16) and walks (10) through his first 11 games of the season. Last year he was second in the EL with 78 walks and tied for eighth in K's with 127. In 336 games, the Nationals' No. 22 prospect has 231 bases on balls and 330 whiffs.
Big Boyd: Despite an 0-1 record, New Hampshire hurler Matt Boyd (Toronto's No. 21 prospect) has yet to allow an earned run in two starts. That may only be overshadowed by his league-leading 18 strikeouts over just 9 1/3 innings. Boyd, who has allowed just four hits and four walks, picked up his loss as the result of an unearned run in the Fisher Cats' 4-1 defeat to the R-Phils on April 15.
Apprehended early: Kelby Tomlinson entered the season with 105 career stolen bases and a 78-percent success rate. Through nine games, the Flying Squirrels infielder is just 1-for-5 on stolen base attempts after getting gunned down in his first four tries of the season. Prior to this season, Tomlinson had never been thrown out on four consecutive attempts.
Craig Forde is a contributor to MiLB.com. This story was not subject to the approval of the National Association of Professional Baseball Leagues or its clubs.
View More