Krieger homers twice on five-hit day
Indians No. 25 prospect plates four runs for RubberDucks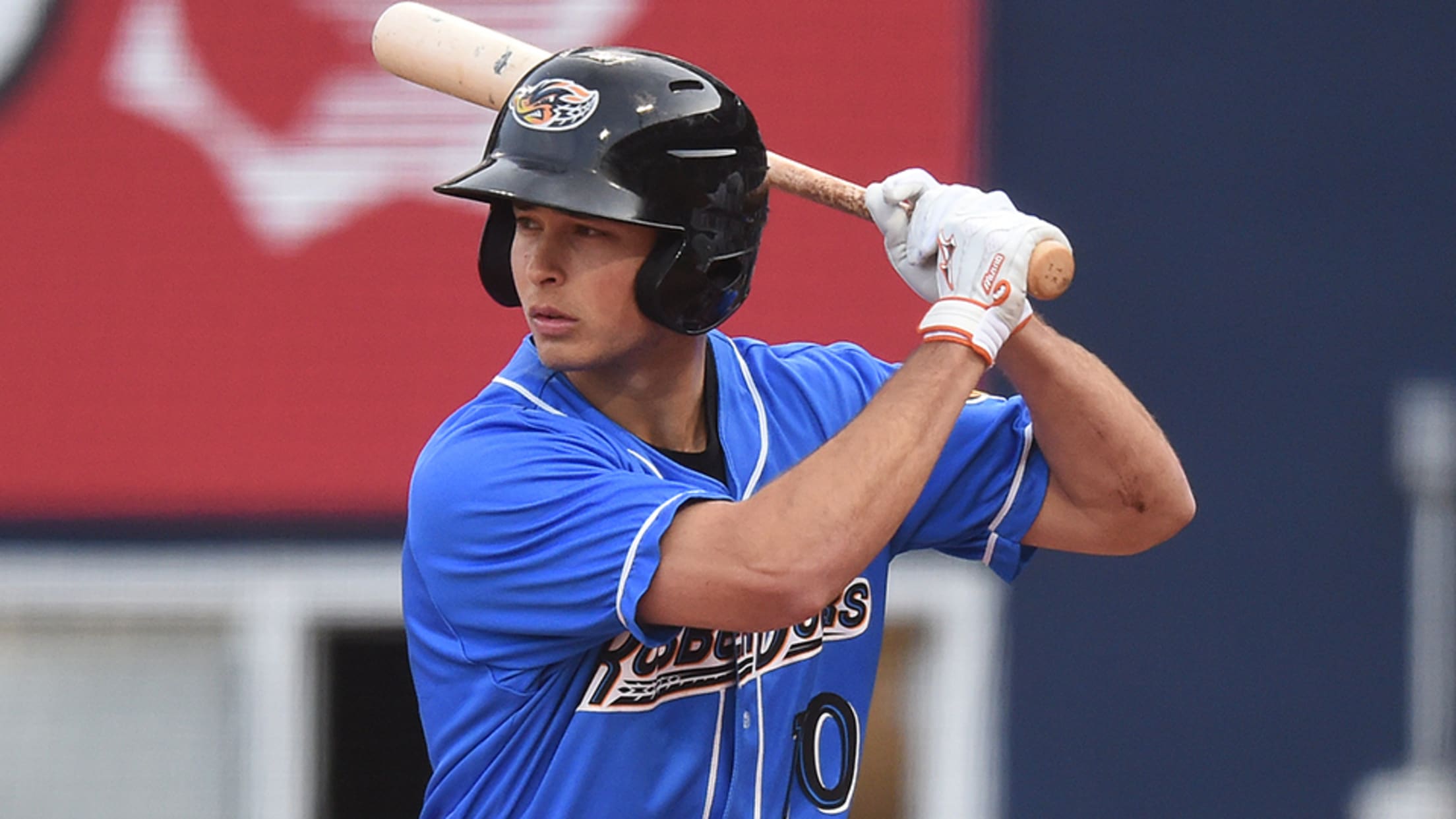 Tyler Krieger hit .225 with six home runs and 43 RBIs with Double-A Akron last season. (Kevin Pataky/MiLB.com)
The highs and lows of a baseball season are often extreme and dramatic. Tyler Krieger knows that for a fact. Cleveland's 25th-ranked prospect recorded the second five-hit game of his career Sunday, homering twice and driving in four runs as Double-A Akron fell to Reading, 10-7, at FirstEnergy Stadium. 
The highs and lows of a baseball season are often extreme and dramatic. Tyler Krieger knows that for a fact.
Cleveland's 25th-ranked prospect recorded the second five-hit game of his career Sunday, homering twice and driving in four runs as Double-A Akron fell to Reading, 10-7, at FirstEnergy Stadium.
"Any time you have a day like today is great," Krieger said. "You definitely feel a little more locked in at the plate."
Gameday box score
The 2015 fourth-rounder endured a nine-game hitless streak from May 22 to June 3 in which his batting average bottomed out at .193. But over the past two games, he has collected seven hits -- three of them long balls -- to boost his average to .210.
Performances like Sunday's somewhat assuage the pain from the slumps.
"Any time you're going through it, it's tough," Krieger said. "I think if you take those moments and learn from them, in the long run when you get to the other side of it, it's going to make you a better player."
In his first at-bat of the game, the 24-year-old lined an opposite-field single to left field. With one out in the third inning, he grounded a ball up the middle. The Clemson product next came to the plate with two outs in the fifth, jumping on a 2-1 pitch from Reading right-hander Ranfi Casimiro and driving it over the right-field wall for a two-run homer.
Krieger was most pleased by the fact that during that at-bat he laid off two balls down that he otherwise might have tried to hit. Instead, he got a pitch he could turn on.
"That was big for us in that situation," he said. "That kind of put us back in the ballgame, which was nice."
Two innings later, Krieger plated Indians No. 23 prospect Ka'ai Tom with another single up the middle.
The switch-hitter was not done, though. Facing Fightin Phils left-hander Jeff Singer, the California native led off the ninth with a line-drive solo shot to left on an 0-1 pitch. He previously accomplished the feat on April 23, 2016 for Class A Lake County.
"That was a fastball that was in my spot and I just kind of trusted the work I've been putting in and reacted," he said of his second homer.
Krieger said his confidence grew with each time he strode to the plate.
"Any time you go up to the plate and you've had success in your previous at-bats, you hope you can kind of step on the gas pedal and continue it onto your next one," he said. "I think I was able to do that. Hopefully I can keep building off this and continue to improve every day."
Krieger has been concentrating on an adjustment he's made recently with Akron hitting coach Kevin Howard and took solace in the fact that the work they'd put in paid off.
"That's been the main focus, just getting my direction [toward the pitcher] a little better," he said. "It just allows me to see the ball out of the hand a little easier and not chase pitches down in the zone, but get my pitch to hit in my spot, then go from there."
Nonetheless, the 6-foot-2 prospect is aware the results will not always be there.
"You can't get 20 hits in a day," Krieger said. "You got to take it one at-bat at a time. I've had some struggles and I'm trying to lean from those struggles to make me a better a player. I think focusing on my process and defining my own success instead of chasing results, I think things will start to turn."
In an effort to make that a reality, he plans on sticking with the routine he does every day in the batting cage. All that is left is to carry the work into the games. When Krieger comes to the plate, his plan is simple -- swing at strikes and put the barrel on the ball.
"Once you do that," he said, "it's kind of out of your hands."
Phillies No. 15 prospectCornelius Randolph went 3-for-4 with a double and scored twice while Darick Hall mashed a three-run homer.
Chris Bumbaca is a contributor for MiLB.com based in New York. Follow him on Twitter @BOOMbaca.