Family Bond Fuels Logan Allen's Quest For Greatness
The 21-year-old top prospect arrived in El Paso in August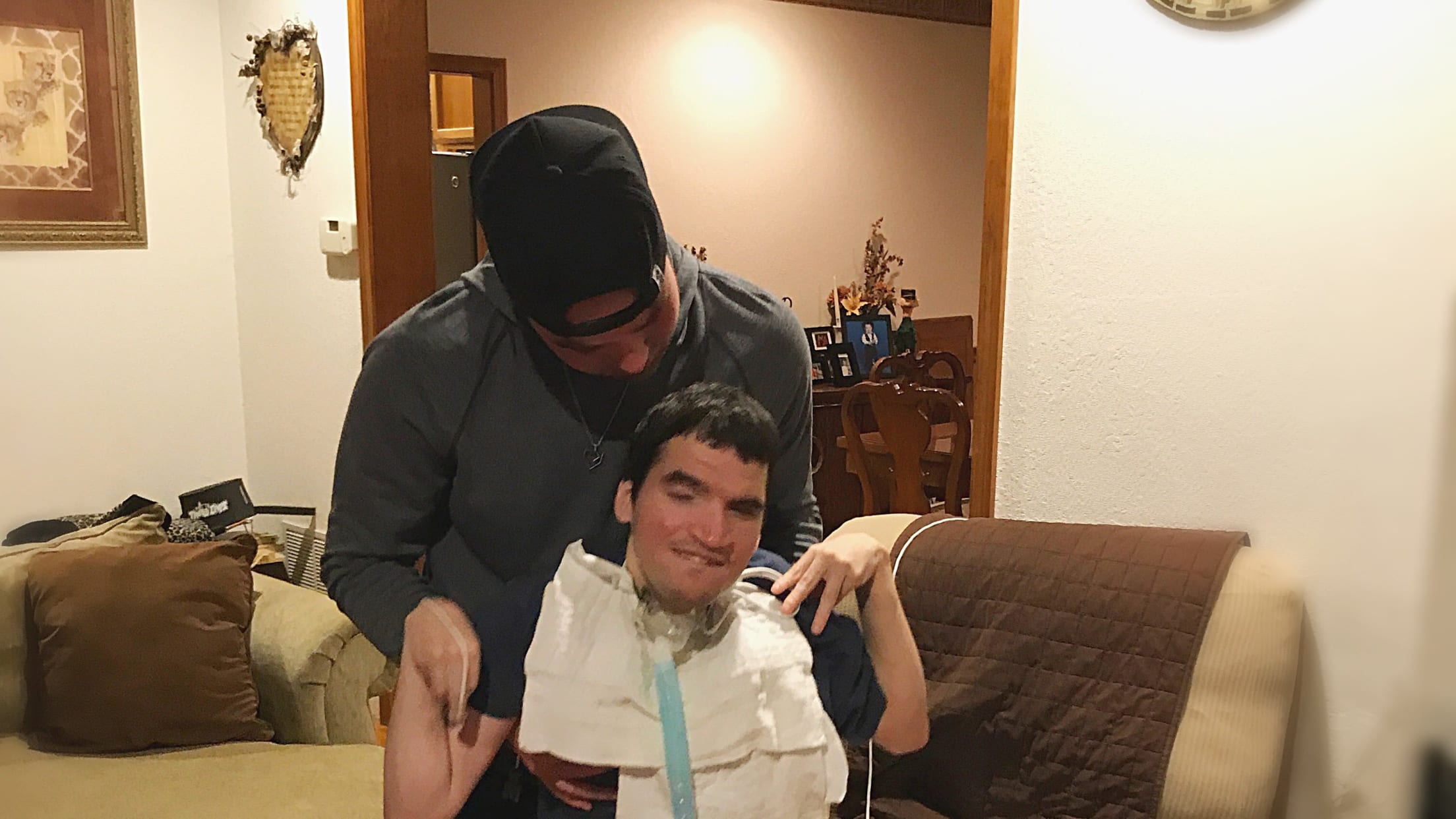 As soon as Logan Allen's first word was 'ball', he knew he would be a professional baseball player. Like most players, the 21-year-old left-hander has risen through the Padres' system methodically, but since he was a teenager, his path has been unique.Living in Asheville, N.C., Allen was enrolled at T.C. Roberson High
As soon as Logan Allen's first word was 'ball', he knew he would be a professional baseball player. Like most players, the 21-year-old left-hander has risen through the Padres' system methodically, but since he was a teenager, his path has been unique.
Living in Asheville, N.C., Allen was enrolled at T.C. Roberson High School, but made the difficult decision to leave home to attend the IMG Academy in Bradenton, Fla. Known for its ability to develop professional baseball players, Allen says the school not only furthered his baseball skills, but also made him a man.
"It taught me how to be an adult and be independent," Allen said of the IMG Academy. "I had a college schedule in high school and nobody was there to hold my hand."
"It was a very difficult decision to leave home, because I loved T.C. Roberson High School and it had a great baseball program," Allen added. "I just had a better opportunity down in Florida and with my family's support, it made the decision a little easier through all the growing pains."
From the time he left home as a teenager, Allen knew he needed the backing of his family to be successful. Up until the present day and moving forward, the left-hander credits his entire family with helping him to be the best he can be.
"I have my mom, dad, little brother and my older generally handicapped brother and they're a huge part of my life," Allen said. "They've always taken care of me and put me in a position to succeed and led me to where I am today. I'm forever grateful to them and I'll continue to do whatever I can to represent the name on the back of my jersey to the best of my ability."
On the surface, the Allen family is a tight-knit, supportive family. However, their bond goes much deeper, thanks to Logan's older brother, Philip.
When Philip was a child, he developed a condition that affected the capillaries in his brain, leaving him in a temporary coma and unable to walk or talk and without any motor skills. While some families might have allowed the condition to break them apart, Allen says it only made them stronger.
"My family did a great job of helping me stay positive even though the world is a pretty cruel place. When Philip was able to come out of the house with us, there would be a lot of dirty looks and comments made under people's breaths and it could have really screwed with some people," Allen said. "I learned to turn the other cheek and realized how much of a blessing my brother is and there's millions of people in the world who don't get to experience that. No one understands how close a family truly is until someone has a situation like my family does."
While Philip's condition has helped teach Logan and his family multiple life lessons, the left-hander says it has also improved his approach to the game of baseball.
"You're going to have those days where you get mad and those days where you don't pitch or hit well and there's a multitude of things that are going to happen. At the end of the day, it's not who you are, but what you do and that's something that's stuck with me when it came to a handicapped brother," Allen said. "If he was able to walk and talk, have the motor skills and play baseball, I can't imagine how happy he would be. Not that he's not happy now, but it puts everything in perspective. When I want to get mad after giving up six runs, it definitely helps bring you back to earth."
Regardless of how Allen is pitching, Philip is always tuned in to either the radio broadcast or MiLB.tv at their home, rooting on his brother.
"He has a jersey of mine from Fort Wayne, Lake Elsinore, San Antonio and now El Paso and he always has it on," Allen added. "He sits there listening and just smiles and I think his favorite thing is hearing an umpire yell strike, especially when he was able to come watch me play. Now, he can't really leave the house as much, but he still loves listening to the broadcast and it puts a huge smile on my face."
With the support of his family and his immense talent, Allen was recruited by multiple Division 1 schools, but ultimately decided to commit to the University of South Carolina. The left-hander committed mainly because of its proximity to his home in Ashville, as well as its International Business program.
After not being selected on day one of the June 2014 First-Year Player Draft, Allen began to get nervous. The next day, the Red Sox called him and let him know that they would be selecting him in the eighth round and would be giving him the money that he thought he deserved.
"On the second day of the draft, my family and I were sitting around a little computer in Bradenton, Fla. and I heard my name called. It was the first and last time I'll ever see my dad cry, so it's something I'll never forget."
While Allen ultimately did not attend college traditionally, the left-hander began his career with the Red Sox and has been balancing his career, while also taking International Business classes online.
After signing with the Red Sox, Allen's career on the field began with a bang. Allen pitched for the GCL Red Sox and Short Season Class-A Lowell, only allowing three runs in 24.1 innings (1.11 ERA), while walking one and striking out 26.
After the season ended, Allen went about his offseason without any worries. On November 13th, the lefty was en route to Fort Myers, Fla., the Spring Training home of the Red Sox, to train and put a down payment on an apartment with some friends for Spring Training. On the way to get his haircut, Allen received a phone call from the Red Sox that would change the course of his professional career.
"I was thinking 'what did I do' or 'did I do something wrong', but he said that he wanted to congratulate me on an outstanding first season and they were really proud of me and what I had done for the Red Sox," Allen recalls of the phone call. "I was still wondering what it was about, but I let him talk and then he said, 'You've been involved in a big-league trade'. I laughed a little, thinking they were just messing with the new guy. Then he said, 'No seriously, you've been traded'. My first reaction, I asked, 'Well, am I going somewhere cool?' I was told I was going to San Diego and before I could even thank him, he hung up. Next, the phone calls came rushing in. I got a call from A.J. Preller and Sam Ganey and Mark Prior and then two minutes later I was in the barber's chair, looking at myself on TV."
Although some players may view being traded as a negative, Allen took the news in stride, given that he was traded for one of the top closers in all of baseball, Craig Kimbrel.
"It was definitely a positive and something that will hold some value with me forever," Allen said. "There's something I can always say that I was traded for Craig Kimbrel. People liked me enough on the baseball field that they gave away Craig Kimbrel and got me, so it was pretty exciting."
While being traded can be daunting, especially after one year in professional baseball, Allen had a smooth introduction to the Padres, thanks to former IMG Academy teammate, Jacob Nix.
"(Jacob) Nix was my second phone call after the trade. First was my mom, second was Nix," Allen said. "He didn't believe me, but he helped me with the adjustment and because of him, I was almost too comfortable when I came in. He's a clown, but I love him to death. He will be the best man at my wedding someday. It was really nice having him to reach out to."
With the smooth transition to the Padres system off the field behind him, Allen began to see results on the field. The left-hander combined for a 3.47 ERA in 19 appearances in 2016 and a 2.95 ERA in 24 appearances in 2017, including a Midseason All-Star appearance with Fort Wayne.
Allen ended the successful year with High-A Lake Elsinore, but it was a conversation with one of his idols in the offseason that made the year complete.
"I was in Tampa during offseason having dinner with my agents and John Cena was sitting at the table next to us," Allen recalled. "He was absolutely my hero growing up, because I used to watch WWE like nobody's business. He had two friends sitting with him and one of them used to play with the Red Sox and he had recognized who I was. John got up and said 'Hey, when you're done with dinner, would you mind coming over here and hanging out with me for a little bit?' Just after I scrambled up the word 'yes', he just slapped me on the back and said, 'Ok cool, thanks Logan,'. We finished our dinner and then sat there until around 2:30 in the morning talking to him. We talked about baseball and my brother, because he was a big John Cena fan too. At the end of the night, he looked at me and asked what the odds were that I would make it to the big leagues. In my mind, it's 100 percent, but statistically the odds are slim. One percent of one percent get to the major leagues. He told me, 'I will bet you a signed one-dollar bill from me that you won't make it to the show.' We traded numbers and talked quite often ever since. Just quick texts every couple of days, even like a few days ago when he was in Japan filming, just saying 'I may be on the other side of the world, but I'm still just checking in'. He wanted me to get in touch with the Padres, so that when I make my major league debut, my first day at Petco Park, he wants to throw out the first pitch and settle the bet right there."
Allen continued to build off the success of his entire 2017 calendar year, by beginning the 2018 season with Double-A San Antonio. In 20 appearances for the Missions, all Allen did was pitch to a 10-6 record, with a 2.75 ERA, which included two separate Pitcher of the Week awards, a Texas League Midseason All-Star appearance and one very special start.
On May 31st in Tulsa, Allen tossed seven no-hit innings, while righty Jason Jester completed the final two for a combined no-hitter.
The left-hander was promoted to Triple-A El Paso on August 10th, but that didn't mean he was done collecting the Texas League awards. On August 30th, Allen was named the Texas League Pitcher of Year.
"I was very excited about that. You get accolades throughout your career, but I worked my butt off this year and to able to work as hard as I did and have the results to show for it, was incredible," Allen said of the award. "Especially when there were guys in that league that deserved it just as much, or more than I did."
Allen completed the 2018 season by making five starts with El Paso, going 4-0, with a 1.63 ERA, finishing tops amongst Padres minor leaguers in wins (14) and strikeouts (151), while coming in third in ERA (2.54).
While the left-hander hasn't made his major league debut yet, he's well aware of how close he is. While you can't think about it too much, he knows that when that day comes, between his mother, father, two brothers and WWE superstar John Cena he'll have a big section at Petco Park cheering him on.
"There are times it runs through your head and you think how close you are, but if you focus on it, you won't have much success at the level you're at. You can't look too far ahead or too far behind. Just stay in the moment and whenever that day comes, whether that's this year, next year or five years from now, it'll be something I'll never forget."