Franmil Reyes Taking The Baseball World By Storm
Right fielder earns his first MLB promotion on May 14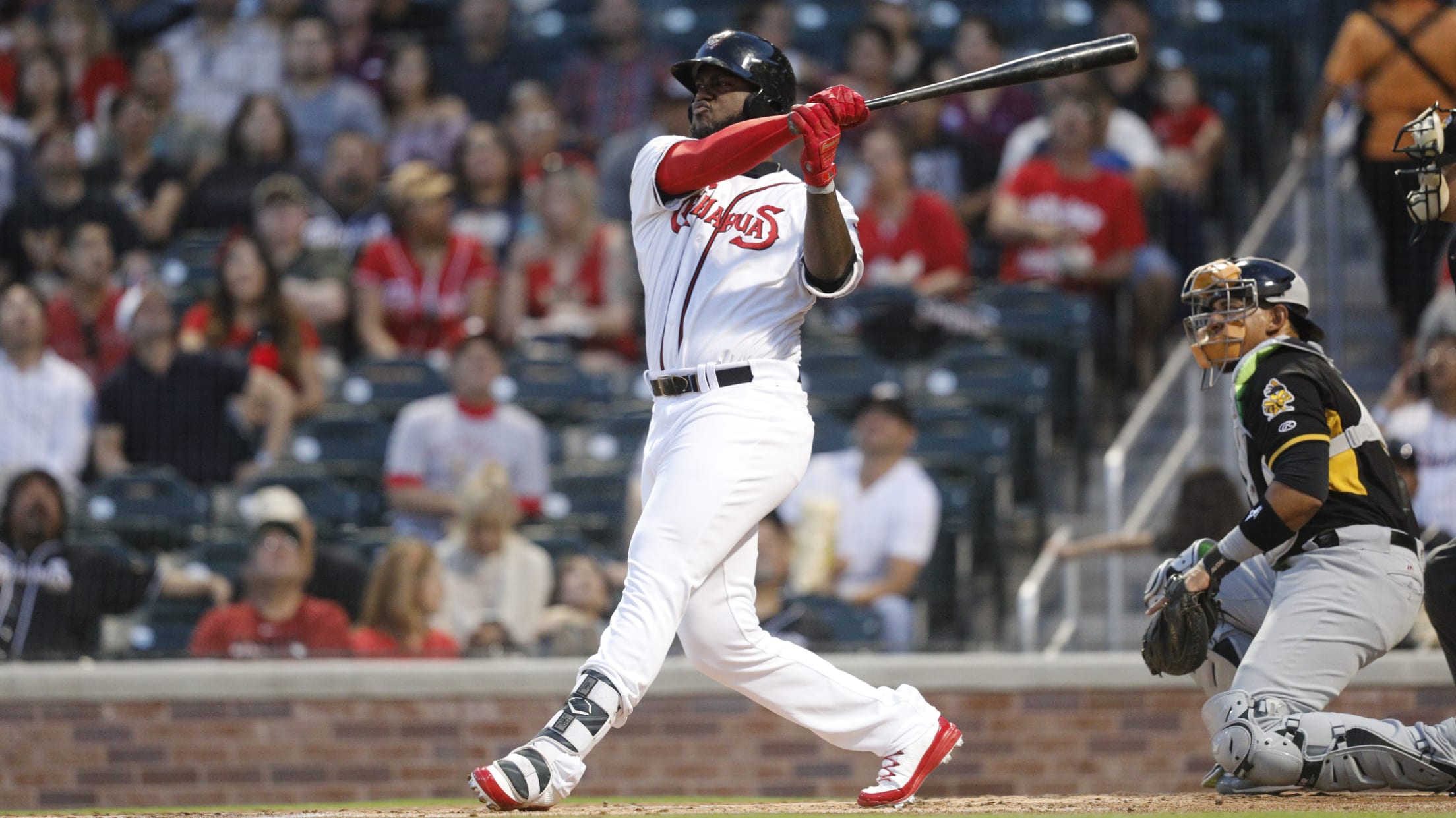 Leading the minor leagues in home runs in 2018 as of May 14, right fielder Franmil Reyes is taking the baseball world by storm. Left unprotected by the Padres and undrafted in the Rule 5 Draft this offseason, Reyes is leading the Pacific Coast League in home runs (14) and
Leading the minor leagues in home runs in 2018 as of May 14, right fielder Franmil Reyes is taking the baseball world by storm.
Left unprotected by the Padres and undrafted in the Rule 5 Draft this offseason, Reyes is leading the Pacific Coast League in home runs (14) and RBIs (38), while pacing the Chihuahuas in games played (34), batting average (.346), runs (34), hits (45), on base percentage (.442) and slugging percentage (.738) entering play on May 14.
Reyes stands a hulking 6-foot-5, 240 pounds and growing up in the Dominican Republic town of Palenque, he always knew he wanted to play baseball.
"I've always been around baseball since I was a little kid," Reyes said. "My mom played softball, one of my uncles signed with the Cincinnati Reds, one of my cousins signed with the Montreal Expos and one with Colorado. My house is right in front of the baseball field in my town, so it's always been an exciting game for me."
"Since I was five years old, we played baseball for fun," Reyes added. "Just being around players like Vlad (Guerrero), Francisco Liriano, Pedro Strop, Ivan Nova, Juan Uribe and other guys from my town, you see them going to the field, working and dressing well. You put it in your mind that I want to be like those guys. That's when it came to my mind that I want to play professional baseball."
Reyes' childhood was not all fun and games, however. He credits his mother for teaching him the qualities of hard work and leading by example.
"I see my mom as a symbol in life for me and my brothers," Reyes said smiling. "My mom has been through a lot and worked hard to give us food and a house. There's not a lot of words to describe my mom, I just love her too much."
Reyes has another role model that he leans on. Growing up in the same town as 2018 Hall of Fame Inductee Vladimir Guerrero, Reyes says Guerrero has taught him about both baseball and how to be a model citizen.
"Vlad is a big example for me, not only in baseball, but in the community. He is just an amazing person," Reyes remarked. "People look at Vlad as a great baseball player in many countries, but growing up in the same town next to a person like that, getting to know his personality, not just the baseball player, you get to know how important that person is."
Because of his relationship with the elder Guerrero, Reyes made a friend for life in his son, Blue Jays top prospect Vladimir Guerrero Jr.
"We text and talk to each other a lot. We have fun saying 'man we're almost there'. I give support to him and he gives support to me," Reyes said. "We've been friends since I can remember. Our families and friends play softball and have fun."
Both Guerrero Jr. and Reyes inked contracts in affiliated baseball, with Guerrero Jr. signing with the Blue Jays, while Reyes found himself with the Padres. Although Reyes has adjusted well to professional baseball in more recent years, he said the first few years were more of a struggle.
"Growing up in the Dominican, we play less games than in America," Reyes said. "We would play games only one or two days a week, instead of playing full seasons in high school and college. On other days we just practiced and we didn't get to see a lot of pitchers. The first few years, I just went out there and played. Now every year I'm improving my talent and I'm getting close to where I want to be."
In his first month at the Triple-A level this season, Reyes found himself hitting .255 on April 19th in Reno. With some coaching advice and small adjustments to his swing, Reyes became the hottest hitter on the planet, raising his average to .346.
"In the beginning of the season, I was coming back from a small injury in spring training. At the beginning of the season, I felt scared to swing and now I feel healthy," Reyes said. "The first series at Reno, one of my hitting coaches, Lance Burkhart, told me to get on top of the baseball. I turned my focus and that was what really got me on fire. The only way I could get on top of the baseball was to quiet my bat in my stance; I was moving it too much."
The turnaround for Reyes included an 11-game hitting streak and a nine-game hitting streak. During the nine-game hitting streak, Reyes collected multiple hits in eight straight games, three hits in four straight, three consecutive games with two home runs and hit eight homers total, earning himself the PCL's Player of the Week on May 7 and recognition from ESPN's SportsCenter.
"I started feeling comfortable in Reno. I worked with Lance and saw myself in a couple of videos and I was doing so well. I went to the cage and continued to work and that's what I've been doing. That week was a success and with God keeping me healthy, you will see more of me like this."
Even with the recent success, Reyes has constantly been thinking about getting the call that everyone wants.
"I will be the first big leaguer in my family and around the 12th from my town," Reyes added. "I know all of those other major leaguers talk really well about me. I heard Vladdy (Guerrero) saying 'Franmil will get there'. I'm not going to lie, I've been waking up at 5 or 6 a.m. dreaming that I got the call."
Reyes does not have to dream anymore, as his time has come. Today, the right fielder got the call that he had been dreaming of and he will board a flight from Reno to San Diego to join the Padres. When he lines up for his major league debut this week, Reyes will join that select group from Palenque, Dominican Republic to be forever recognized as a Major League Baseball player.