Humble and Kind: Luis Urias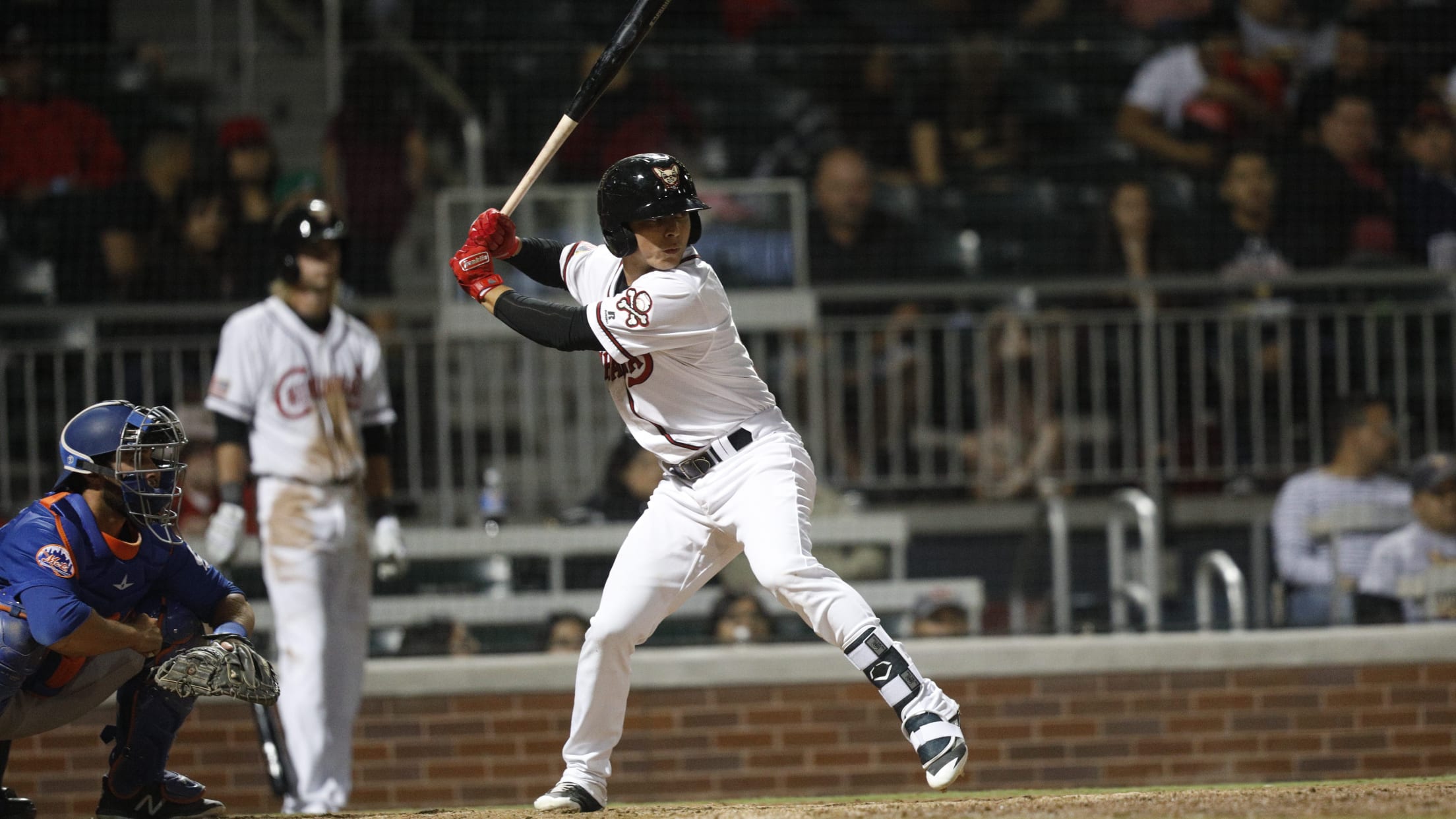 By: Larry BergIn late February my wife Bea attended a work-related training program in Phoenix to help her retain NERC certification as an electric system (grid) operator.
By: Larry Berg
In late February my wife Bea attended a work-related training program in Phoenix to help her retain NERC certification as an electric system (grid) operator.
Being the retired guy that I am, I decided to accompany her. And why not? From El Paso it's a leisurely and surprisingly short 6-hour drive on Interstate-10 through southern New Mexico and Arizona, then north from Tucson. The intense weekday traffic notwithstanding, I love the Phoenix area. It's a vibrant metroplex. Besides, Spring Training was about to commence and the trip would give me a chance to pre-scout some of the players in the San Diego Padres organization I could very well be introducing in coming months at picturesque Southwest University Park in downtown El Paso as I sit behind the announcer's microphone.
One cool but sunny morning while Bea attended class in Tempe, I made my way to the Peoria Sports Complex where the Padres and Seattle Mariners share a stadium. Behind the stadium, each team utilizes a number of beautifully manicured practice fields to hone their prospects' many skills. On Field P2, east of the stadium, I found about 20 young Friar hopefuls taking live batting practice. Players took turns hitting in an arched batting cage that covered home plate, with four or five of them taking 8-10 cuts at a time while the rest of the group shagged balls in the outfield.
Even from a distance I could easily spot lanky outfielder Travis Jankowski. His trademark shock of wavy, light-brown hair wagged under his cap as he chased down line drives. I recall him making numerous running catches in El Paso in 2018 in much the same visual fashion.
Around the cage were, among others, Franchy Cordero and Fernando Tatis, Jr. - the #2 prospect in all of baseball, according to MLB itself. Both Cordero and Tatis stand 6'3", so it is understandable that one might not, at first, spot Luis Urías - all 5'9" of him. He is also listed as weighing 185 pounds, but that must be soaking wet with rocks in his pockets. Yet, there he was, among the trees, taking his turn, taking his cuts.
Thankfully for Luis and ballplayers like him, even today (unless you are a pitcher) there is no overwhelming benefit for being tall in baseball. Hack Wilson, Joe Sewell, Phil Rizzuto, Kirby Puckett and Joe Morgan were all shorter than Urias and had spectacular Hall-of-Fame careers. In fact, a shorter player has a smaller strike zone and the pitcher must accommodate that smaller target. That seems to be a nice advantage for a diminutive hitter.
But while Urias is relatively small in stature, he has always loomed large as a hitter. So consistently so that he draws a remarkable statistical parallel with future Hall-of-Famer and retired Yankees icon, Derek Jeter. For their minor league careers (Jeter in the early 90s and Urias over the past four years), performance totals and averages compare as shown below.
The numbers are virtually identical. This is not to say that Luis Urias is the second coming of Derek Jeter. For starters, Jeter is another one of those 6'3" guys. Nor is it fair to expect that Urias will proceed to have the kind of amazing and consistently excellent 20-year career that Jeter had. Few players throughout history have. But it's also fair to say that it's not impossible.
The fact is, like Jeter, Urias has found a way to hit well at every level he has played thus far. He finds a way. He makes adjustments. Last year with the Triple-A Chihuahuas he was hitting a steady but relatively pedestrian .265 through the month of July before finding that special hitter's groove. He recorded a scorching .420 batting average in August with 11 multi-hit games in 24 played, before being called up to the Padres. There is no reason to believe he will not find that groove in the majors as well, once he makes the permanent transition to the big leagues. Just as Jeter did. Obviously, only time will tell.
Now, to say that 21-year-old Luis Fernando Urias Figueroa has impressive baseball skills goes without saying. He himself is listed as MLB's 23rd best prospect. Even more impressive, however, is his character. And I surmised that in one 3-minute conversation.
Following that February practice on Field P2, most of the players and coaches headed back to their lockers, or so I presumed. It was just past noon and I further presumed they were all on their way to find something to eat.
All but Tatis and Urias.
Those two sauntered into a facility near Field P2 that was filled with netted batting enclosures. After all of that, they were going to hit some more. Walking back to my truck to leave the complex, I passed an open door to that facility. On what looked like a park bench not ten feet inside sat Luis, pulling on a batting glove. I recognize him from any angle and distance, of course, having watched him play more than 500 innings in El Paso and having announced him as a batter more than 250 times.
I was compelled to say hello.
I walked through the door and toward the bench as he watched me curiously.
"Luis," I said calmly, trying to not look or sound like just another memorabilia-driven fan seeking what could one day be a valuable autograph.
"What's up?" he replied, still noticeably unsure of exactly who I was and what I wanted.
I introduced myself and told him I had called his name many, many times in El Paso for the Chihuahuas. He smiled and shook my hand with the grip of someone who firmly holds and swings a baseball bat several hours a day. We then had a short but amazing exchange.
"They say you may start the season playing shortstop for the Padres until Fernando [Tatis Jr] joins the club later in April," I noted - something he surely already knew. (This was before the Padres announced that Tatis would start for the Padres on opening day and that Urias would open the season back in El Paso).
In as humble a manner as you could possibly imagine from a 21-year old who is considered one of the best baseball prospects in the world, Luis responded.
"I just want to do whatever they ask me to do. Whatever I can do to help."
There was no bravado. No arrogance. No sign that this was a very young man with certain obvious talents and with every reason to display some selfish swagger because, if for no other reason, he was a very young man with certain obvious talents.
Then he really impressed me.
"So, are you from El Paso?" he asked. I was stunned. He didn't want to talk about his potential playing time or position or statistics. He was already done talking about himself and was interested in knowing a little something about me.
It seems so many celebrities and athletes are narcissistic, self-absorbed, unapproachable - full of themselves, as it were. Others are modest and thoughtful, treating people with respect, dignity and decency. Luis Urias is clearly one of the latter. And he seems to be well beyond his years in that regard.
We spoke that day like we had known each other for years. Five minutes later I was in my truck, pulling out of Peoria Sports Complex knowing I had just met a truly pleasant, intelligent and caring young man.
The next Derek Jeter? Again, only time will tell. To be fair, Luis won't even open the 2019 season with the Padres. So to offer a prediction is foolish. After all, wasn't Rick Reichardt supposed to be the next Mickey Mantle?
But aside from baseball and regardless of his age, was this a respectful and unpretentious human being?
Unquestionably.
Boston-based songwriter Lori McKenna wrote the song Humble and Kind and country music superstar Tim McGraw recorded and released it to radio in 2016. The repeating chorus goes like this:
♪♪ Hold the door, say please, say thank you. Don't steal, don't cheat, and don't lie.
I know you got mountains to climb, but always stay humble and kind.
When the dreams you're dreaming come to you. When the work you put in is realized.
Let yourself feel the pride, but always stay humble and kind. ♪♪
Somewhere and at some point in time, Luis Urias learned and embraced the essence of those lyrics. Perhaps he was taught humility and respect by his parents while growing up in Magdalena de Kino, in Sonora, Mexico. Or perhaps he gleaned it from older brother Ramon, who currently plays baseball for the St. Louis Cardinals' Triple-A affiliate Memphis Redbirds. My thought, however, is that it's probably just who Luis is.
Regardless, I'll be watching and rooting for him in El Paso and San Diego this summer. It is his time, after all. For now, playing middle infield for the Chihuahuas and Padres is his life. But no matter what happens with his baseball career, I expect that he will always, as Tim McGraw croons, stay humble and kind. He's an inspiration. And the kind of young man one wants to cross paths with on a Spring Training field in Phoenix in February and be so pleasantly impressed.