Emeralds Walk Off Over Everett Behind Roby's Ninth Inning Rocket
Sean Roby homers on the first pitch of the bottom of the ninth to pull the Emeralds back within a game of first place with a doubleheader on tap Saturday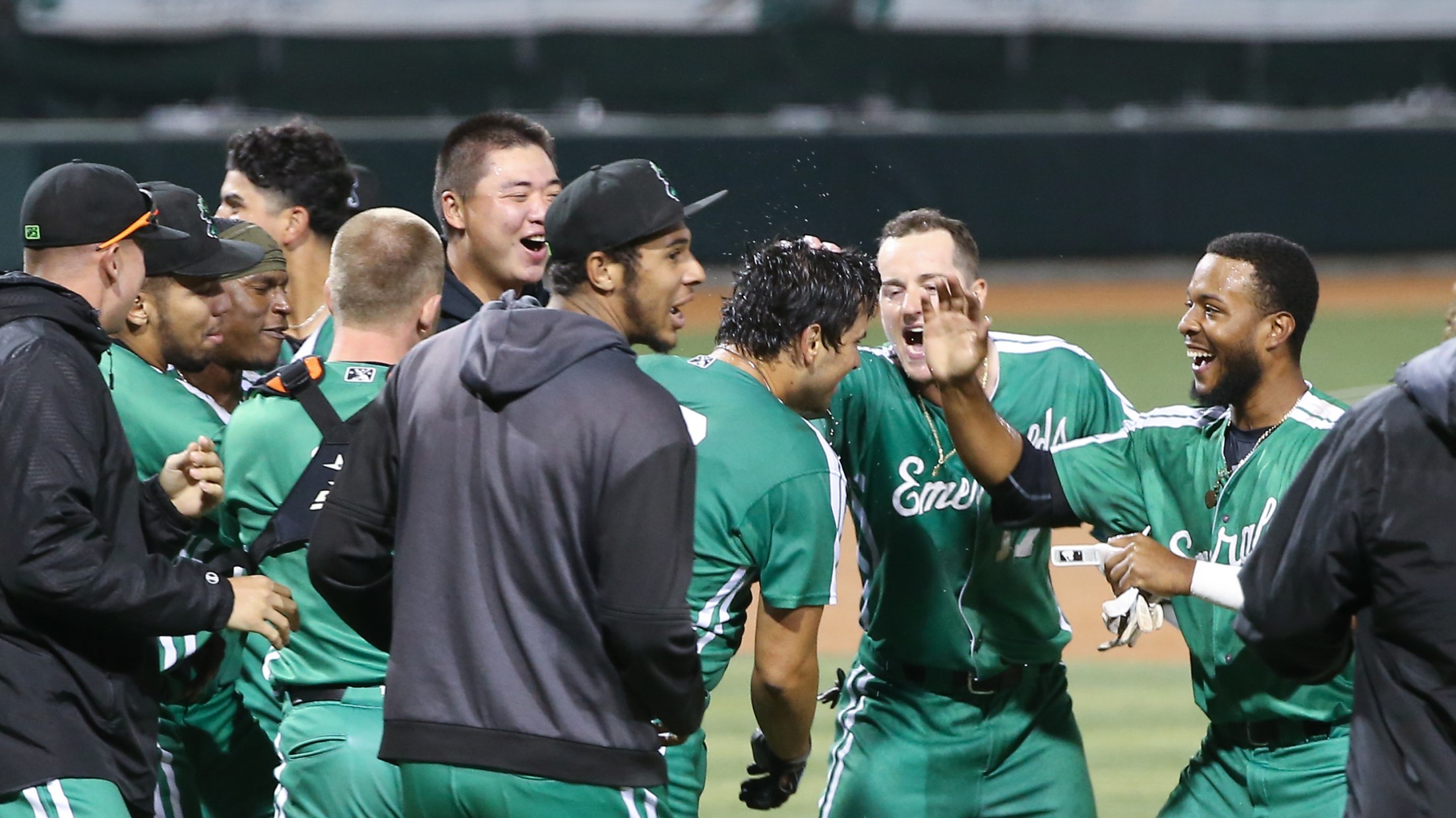 (Gary Breedlove)
The Eugene Emeralds (55-39) pulled back within a game of first on Friday and they did so in dramatic fashion as Sean Roby delivered a walk-off homer in the ninth to give the Ems an 8-7 win over the first place Everett AquaSox (55-37) at PK Park. THE DETAILS: -
The Eugene Emeralds (55-39) pulled back within a game of first on Friday and they did so in dramatic fashion as Sean Roby delivered a walk-off homer in the ninth to give the Ems an 8-7 win over the first place Everett AquaSox (55-37) at PK Park.
THE DETAILS:
Winning Pitcher: Austin Reich (2-0, 1.73 ERA): 3.0 IP | 0 H | 0 R | 1 BB | 5 K

Losing Pitcher: Peyton Alford (0-1, 9.00 ERA): 1.0 IP | 2 H | 1 R | 1 ER | 0 BB | 3 K

Save: N/A

HR(s): Eugene: Auerbach (11), Fitzgerald (18), Roby (16) | Everett: Marlowe (10), Gomez (6), Lavey (3)
HOW IT HAPPENED: For the fourth consecutive day, Everett's offense struck in the first frame to take the game's first lead, and on Friday they did so by plating a pair of runs via a Jake Anchia RBI single that was later followed by a Dariel Gomez sac fly which combined put the Frogs up 2-0 after three outs of play.
The Emeralds offense responded in a big way, though, and they wasted no time doing so. Leadoff man Brett Auerbach cut Eugene's deficit back to one to start the bottom of the first with his eleventh homer as an Emerald, and Tyler Fitzgerald went back-to-back in the ensuing at-bat with his league-leading eighteenth homer of the season to quickly tie the game at 2-2 through just two Ems batters.
Second batter = second run! ☑️

For the second straight night we have BACK-2⃣-BACK jacks as @Tyler_Fitz10 belts his High-A West leading 1⃣8⃣th homer. #GoEms x #SFGiants https://t.co/x13JG8lbCc pic.twitter.com/VKaZM4tT2L

— Eugene Emeralds (@EugeneEmeralds) August 21, 2021
Two batters later, after a Sean Roby walk and a wild pitch that advanced Roby to second, Marco Luciano put the Ems in front by singling to left and scoring Roby from second to make it 3-2, Ems.
A first-pitch single by Logan Wyatt in the next at-bat put two runners on, and two batters later Carter Aldrete brought both of them home by lacing a double into the left field corner to score both Luciano and Wyatt and push Eugene's lead to 5-2.
Kwan Adkins, the ninth batter in the Emeralds lineup, carried on right where Carter left off by also doubling to left field, scoring Aldrete to cap a six-run first inning for the Emeralds.
One inning later, Logan Wyatt added to Eugene's lead by singling home his collegiate teammate in Tyler Fitzgerald who had led off the inning with a single of his own, and the Emeralds held at 7-2 lead after just two innings of play.
It stayed a 7-2 game over the middle innings as Emeralds starting pitcher Ryan Murphy settled in nicely after a rocky first frame, similar to his last outing in Hillsboro. Murphy fired a strong 5.0 innings with seven strikeouts, including a stretch that saw him retire fourteen consecutive batters.
Five straight K's for @rmurph1008 to retake the @MiLB strikeout lead 👑#GoEms x #SFGiants pic.twitter.com/OEfNrqvVPo

— Eugene Emeralds (@EugeneEmeralds) August 21, 2021
However, the AquaSox offense roared back to life in the sixth after Murphy's exit. After retiring the first batter of the inning, Ems reliever John Russell ran into trouble in a big way as the Frogs got three homers in the sixth – a two-run homer from Cade Marlowe, a solo homer from Dariel Gomez, and a two-run homer from Justin Lavey – and all of the sudden a game that felt firmly in control instead quickly spiraled into a tie game, 7-7.
Both bullpens hunkered down over the next few frames to send the game to the ninth still tied at 7-7, but Sean Roby, who led off the bottom of the ninth inning for the Emeralds, needed to see only one pitch to end it.
Roby mashed the first offering from Peyton Alford off the scoreboard stanchion in left field, a rocket of a blast that exited his bat at over 113 MPH to send PK Park and the Emeralds dugout into a frenzy as Roby came through with his second walk-off base knock of the season to once again pull the Emeralds within one game of first place behind a dramatic 8-7 win.
SEND US HOME SEAN!!!

🚀🚀🚀 ROBY ROCKET FOR THE WIN 🚀🚀🚀#GoEms x #SFGiants pic.twitter.com/5xwmNwBuk8

— Eugene Emeralds (@EugeneEmeralds) August 21, 2021
PEAK PERFORMERS:
Sean Roby – 1B: Need we say more? Roby's walk-off homer was his seventh round-tripper in the month of August, most in the High-A West and tied for second-most in all of High-A. The slugger out of SoCal finished the night 1-for-4 with the walk-off homer, two runs scored and a walk.

Carter Aldrete – 2B: Lost in the shuffle of Roby's walk-off was an impressive night at the dish for Aldrete who finished Friday with a game-high three hits, going 3-for-3 with two RBIS, a run scored and a walk.

Ryan Murphy – RHP: This dude is dominant. An up-and-down first inning was quickly put in the rear-view mirror by Murph who fired 5.0 one-hit innings while allowing two runs (one earned) and one walk with seven strikeouts.

Austin Reich – RHP: The Louisiana boy was painting corners on Friday night, racking up five of Eugene's collective thirteen strikeouts as a staff while firing a scoreless, hitless 3.0 innings of work.
WHAT'S NEXT: The Eugene Emeralds and Everett AquaSox face off again on Saturday in a doubleheader with a first pitch scheduled for 5:05pm PST at PK Park. Game Two is slated to start approximately forty minutes after the conclusion of Game One. Both games are slated to be seven innings.
You can catch all the action with the voice of the Emeralds Matt Dompe on the call via MiLB.tv, 95.3FM The Score, MiLB.com or on the MiLB app.
Tickets to Emeralds home games are available at www.EmeraldsBaseball.com or by calling (541) 342-5367.
Stay up to date with the Emeralds by following the team on Facebook, Twitter and Instagram.