Rymel Ready To Take Reins Of Ems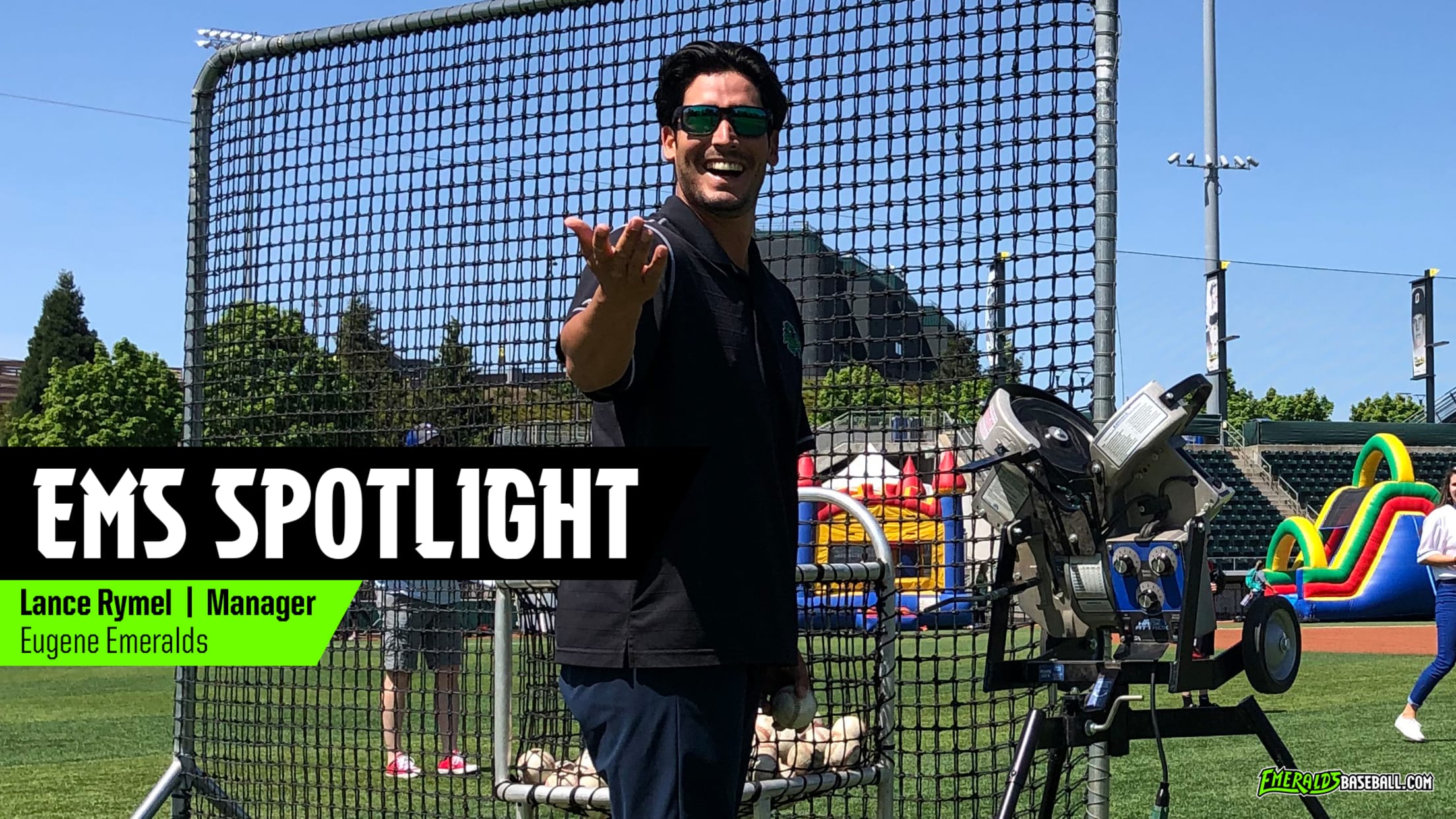 When the new Emeralds manager landed in Eugene back on May 3, it wasn't his first time coming to Eugene. In fact, the Oklahoman is no stranger to the never-ending shades of green that paint the Emerald Valley landscape during the spring and summer.
When the new Emeralds manager landed in Eugene back on May 3, it wasn't his first time coming to Eugene. In fact, the Oklahoman is no stranger to the never-ending shades of green that paint the Emerald Valley landscape during the spring and summer.
He's also plenty familiar with PK Park and the early-game shadows that can wreak havoc on pitchers, hitters and fielders alike.
"The quickest four innings in minor league baseball occurs right here in Eugene," he jokes.
Clinton Lance Rymel, a former member of the Boise Hawks (2012-13), is a rising star in the Chicago Cubs coaching ranks, and he hopes to shine brightly in his first managerial opportunity at the Single A level.
At first glance, the Oklahoma native might fool fans into thinking he's still a player and not a manager. Having celebrated his 29th birthday the day he arrived in Eugene, Rymel's managerial wisdom is beyond his years, something his collegiate coach recognized early when he dubbed him the 'quarterback' his team.
After starting his college playing career at Seminole State and leading the Trojans to the JUCO World Series, Rymel transferred to NAIA Rogers State University where he spent the next three years. His RSU career culminated in a senior season that saw him hit .313 with 33 RBIs while guiding the Hillcats to a 49-16 record and an eventual trip to the NAIA World Series.
Shortly thereafter, Rymel heard his name announced as the 28th round pick of the Chicago Cubs in the 2012 MLB Draft, just the second-ever Hillcat to be selected to the professional ranks.
"My senior season, the NAIA World Series was actually hosted in was hosted in Lewiston, Idaho," said Rymel. "One week later, I was drafted by the Cubs and immediately sent to Boise, so in a quick span I got to know the Northwest real well after never really visiting before then."
During his playing career within the Cubs organization (2012-14), Rymel played a total of 61 games for the Boise Hawks while also suiting up at the Single A-Advanced, Double A, and Triple A levels. He was named a NWL All-Star while with the Hawks in 2013.
During his time with the Hawks, Rymel had a chance to play with 2013 second overall pick Kris Bryant, now a household name in the midst of his fifth season in the majors with the Chicago Cubs.
After starting his pro career with a pair of games with the Cubs' Dominican Summer League team, Bryant was flown more than 3,000 miles where he joined Rymel and the rest of the Boise Hawks for a series in Eugene. Perhaps it was nerves, perhaps it was jetlag, but the start to Bryant's pro career on the mainland was less than ideal.
"I remember when Kris made his debut in Eugene, and he struck out in his first four at-bats, and everyone in the dugout was looking around like, 'this is our first round pick?'" Rymel laughed. "On the fifth at-bat, I'm in the dugout talking with one of our coaches and he kind of mumbled something to me saying, 'Maybe [Kris] should bunt right here so he doesn't have five strikeouts.' Sure enough, next at-bat, he struck out for his fifth time, but to be honest I don't think Kris has struck out since."
Rymel's joke about Bryant having not struck out since wasn't far from reality. Bryant went on to hit .383 over the next 17 games along with 4 HR and 16 RBI while striking out just 12 times before being promoted to the Single A-Advanced level. In years since, Bryant has collected a National League MVP, NL Rookie of the Year, two All-Star appearances, and a 2016 World Series ring.
While few players have reached the MVP-levels that Bryant has, Rymel is already well ahead of the curve in a coaching sense.
"Once I got released, I was headed back to Rogers State University to be their graduate assistant, but luckily the Cubs called me to see if I wanted to be their rehab guy," said Rymel. "I said yes, so I did that for 2016, and then a managing spot opened up in the Dominican Summer League and they asked me to take the job and I said, 'absolutely.'"
The success continued in the Caribbean where Rymel led the DSL 1 Cubs to a 37-33 record in 2017 and a 41-31 record in 2018. Those winning ways earned him another opportunity, this time back in the Northwest where his pro playing days began.
"I found out in January that I got the job and it's a great opportunity. I'm pumped for it," said Rymel. "As a visiting player, I loved to play here and the facilities are obviously top notch and the fans clearly support the organization big time."
After making his name known both in Mesa and the Dominican Republic, Rymel hopes to find similar success in the Emerald Valley where each of the past two Ems managers have claimed the NWL title (Jesus Feliciano - 2016 | Steve Lerud - 2018). When it comes to what Ems fans can expect from Rymel and his team, the Oklahoman was clear and concise on his outlook and how he expects his team to compete.
"I think first and foremost just coming out with energy," said Rymel. "These fans want to see these kids play hard every day and act like professionals. They've got to get their work ethic right, come out to the ballpark, focus on getting better as a player and the wins will come, obviously as Ems fans have seen the last couple of years. With us, our philosophy is making it all about development and the wins will come with that."
Beyond the opportunity to take the reigns of a Single A club, Rymel is also happy about the major change of scenery (and atmosphere) that comes with moving up the MiLB ranks.
"To be back in Eugene is a blessing, really. In the Dominican, you get about two fans per game and there's no beer batter," Rymel chuckles. "It's a totally different change of pace, not just for me but for the players, too, because if you think about it, they've been at facilities where they're not getting fans, they're all day games, so here you get fans, you get that excitement, and we're all excited to call Eugene home."
As Rymel prepares to lead the Ems into the 2019 season, he knows that expectations here are high after the run of recent success, and he's hoping to keep the Freitas Cup in Eugene after last season's improbable championship run that saw the Ems claim the NWL title despite finishing the regular season with the league's worst record.
"The goal is to win a championship and be above .500 this year," he laughs.
Rymel and the Ems begin the 2019 campaign in June 14 when they open the season at PK Park against the Hillsboro Hops. Tickets are available at www.EugeneEmeralds.com or by calling the Emeralds box office at (541) 342-5367.