Volcanoes Walk-Off On Ems In Series Opener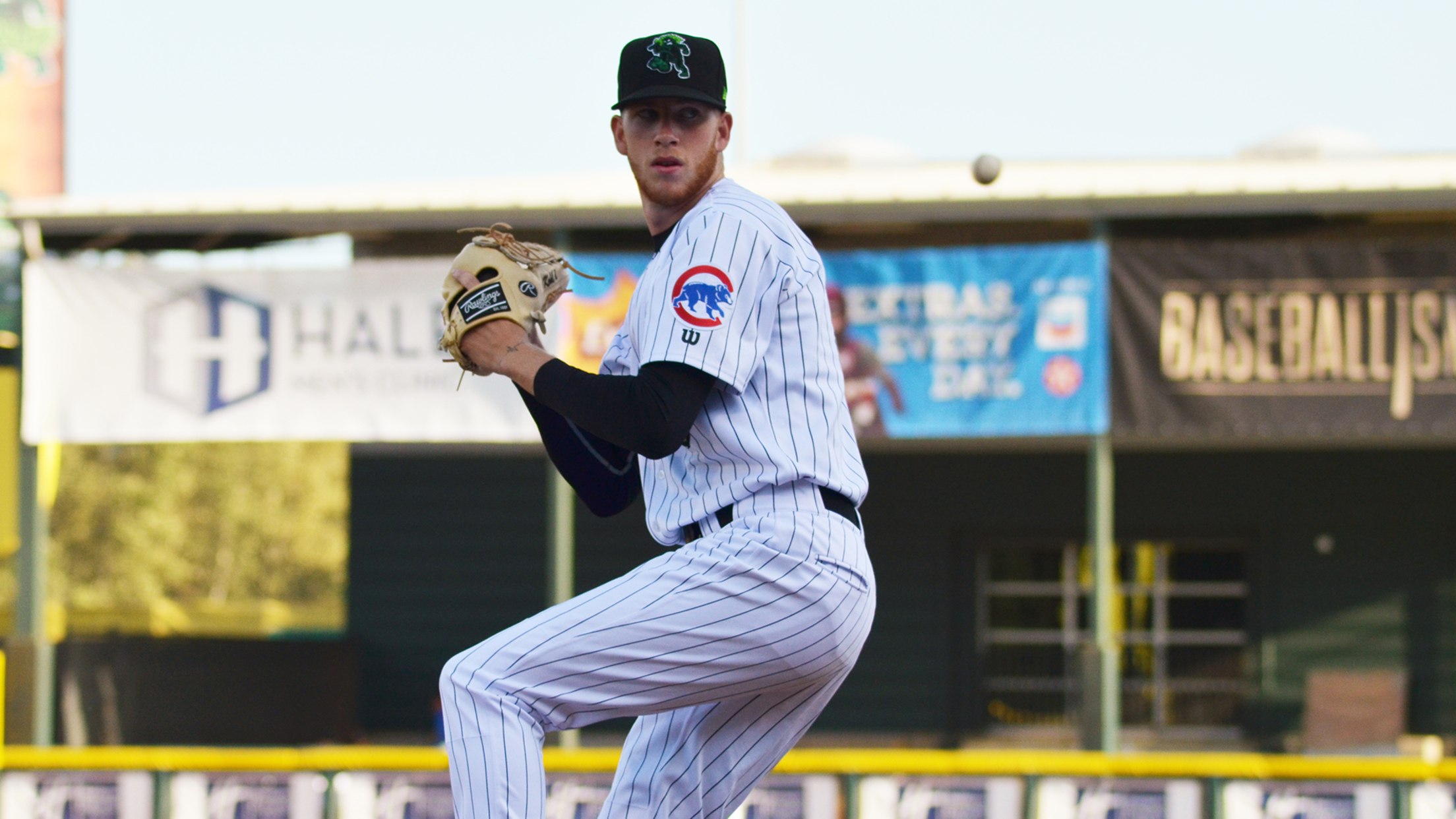 The Eugene Emeralds (10-16) dropped the first game of a four-game series against the Salem-Keizer Volcanoes (18-8) on Wednesday evening, falling by a final score of 6-5.
The Eugene Emeralds (10-16) dropped the first game of a four-game series against the Salem-Keizer Volcanoes (18-8) on Wednesday evening, falling by a final score of 6-5.
Fresh off an off day and two days removed from dropping a short, two-game series to the Volcanoes at home, the Emeralds made the hour-long trip north to rematch against the South Division's first place team.
Ems second baseman Chase Strumpf continued his streak of strong play by quickly giving Eugene a 1-0 advantage. With Yonathan Perlaza on first after a one-out single, Strumpf smacked a double to center field, deep enough to score Perlaza and give the Ems a 1-0 lead.
Both offenses were held at bay until the fifth inning when Perlaza turned from run scorer to run producer. With Darius Hill on second after a leadoff double to start the inning, Perlaza picked up a double of his own, easily scoring Hill and doubling the Eugene advantage.
The explosive Volcanoes offense woke up in the bottom half of the inning, though. With Ems starting pitcher Kohl Franklin relieved for new addition Brandon Hughes to start the inning, Kwan Adkins and Tyler Fitzgerald led off with back-to-back singles, putting runners on first and second with nobody out. Sean Roby followed with the Volcanoes' third consecutive single to lead off the inning, scoring Adkins to cut Eugene's lead back to one. Two batters later, Salem-Keizer found themselves in front thanks to one swing of the bat. Ricardo Genoves blasted his sixth home run of the season, a three-run homer that put Salem-Keizer ahead, 4-2.
The Ems bounced back in the eighth to tie the score, starting with a leadoff walk from Strumpf and a Zac Taylor double that put runners on second and third with no outs. After a Grayson Byrd strikeout, Nelson Maldonado singled on the first ball he saw from Trevor Horn, scoring both Strumpf and Taylor to tie the game at four runs apiece.
In the ninth, Eugene jumped back into the lead on the heels of more early-inning success at the plate. After a leadoff double from Jonathan Soto immediately put the go-ahead run in scoring position, Emeralds Manager Lance Rymel inserted speedster Fernando Kelli as a pinch runner, Kelli's first action since departing a game on July 6th due to injury. After a Darius Hill sac bunt advanced Kelli to third, Yonathan Perlaza skied a sac fly to center field that proved deep enough to score Kelli and put the Ems back in front, 5-4.
However, the Volcanoes immediately responded in the bottom half of the inning. With Emeralds reliever John Pomeroy replacing Tanner Dalton to start the inning, the Volcanoes led off the home half of the ninth with three consecutive singles, all coming early in the count. The third single, off the bat of Franklin Labour, scored Tyler Fitzgerald from second to tie the game at 5-5 while putting the winning run on third in the form of Sean Roby. With still no outs in the inning, Ricardo Genoves launched a fly ball to center field that proved deep enough for Sean Roby to tag and score from third, giving the Volcanoes the walk-off, 6-5 win.
Emeralds starting pitcher Kohl Franklin put together his fifth straight strong start, tossing 4.0 scoreless innings with 4 strikeouts while allowing 3 hits and 2 walks. Franklin has allowed no more than one run in any of his five starts this season, and Wednesday's outing was his second scoreless performance of the year thus far.
A pair of Emeralds pitchers made their debuts with Eugene on what was another busy transaction day for the Ems. Brandon Hughes, a former Emerald outfielder (2017) who was converted to pitcher in the recent offseason, struggled in his Emeralds debut on the mound tossing 2.0 innings allowing 5 hits and 4 earned runs with 1 strikeout. Tanner Dalton, recently promoted from the AZL, fared much better on the evening, tossing 2.0 innings with 2 hits, 1 walk and 2 strikeouts. Chase Strumpf and Yonathan Perlaza both went 2-for-4 at the plate, with Perlaza driving in 2 runs compared to Strumpf's 1 RBI. Over the last three games, Strumpf is batting .615 (8-for-13) with 4 RBI after going 1-for-12 over the previous three games.
The Emeralds and Volcanoes face off again on Thursday evening at 6:35pm with RHP Eduarniel Nunez (1-1, 7.53 ERA) on the mound for the Ems. You can listen live to Emeralds road play-by-play broadcaster Pat Zajac on 95.3FM The Score or on the TuneIn app.
Tickets to Emeralds home games are on sale now at www.EmeraldsBaseball.com or by calling (541) 342-5367.
Stay up to date with the Emeralds by following the team on Facebook, Twitter and Instagram.