Houston Astros Initial Player Pool Includes 13 Woodpeckers Players
Top prospects Bryan Abreu and Cristian Javier among ten former Fayetteville arms in Astros' group of 56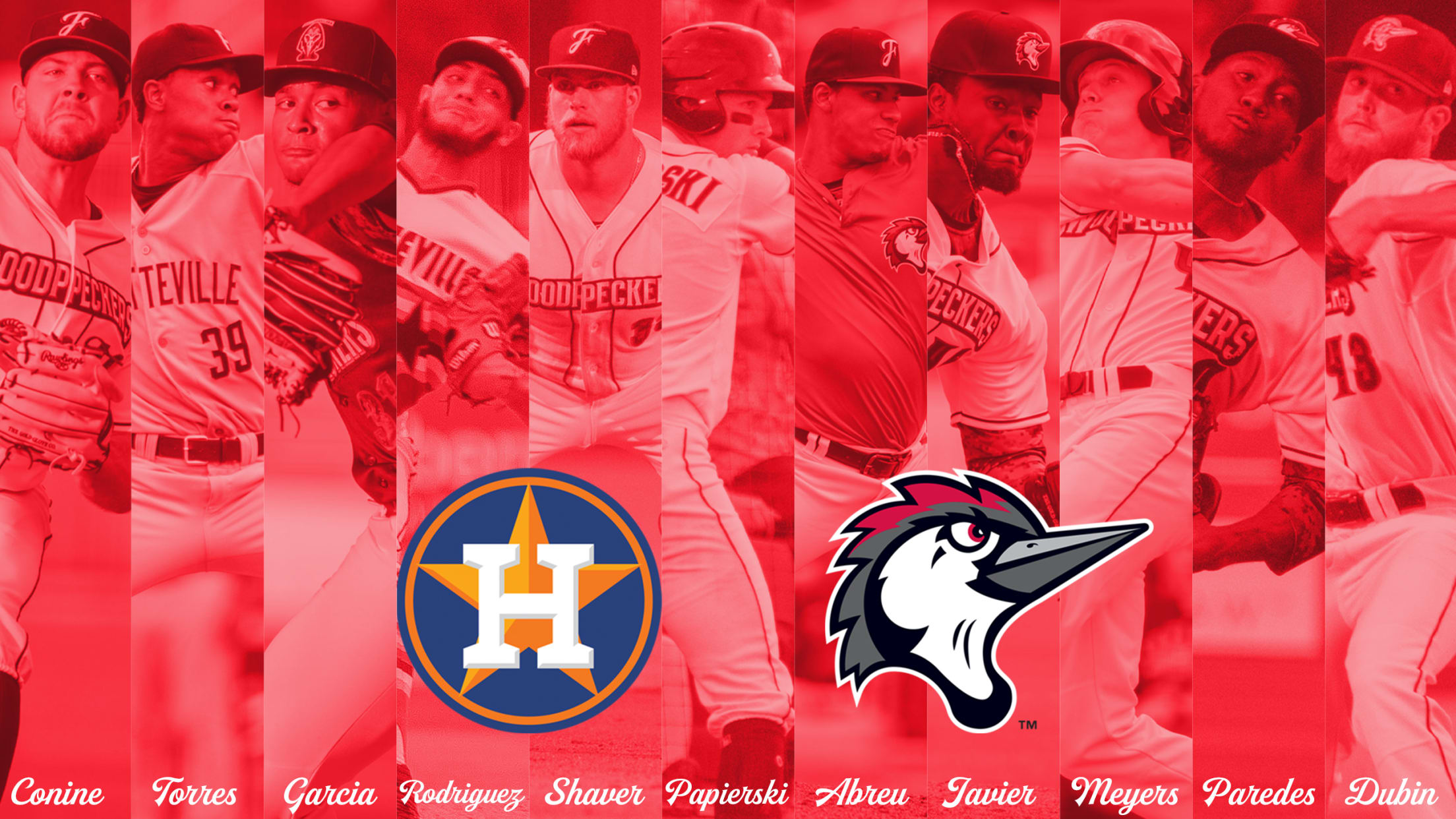 FAYETTEVILLE, N.C. – With just one season in the books in Fayetteville, the Astros' player development machine has already showcased a knack for developing talent set to make an impact at the Major League level. Showcasing an array of pitching talent that set the Carolina League record for strikeouts and
FAYETTEVILLE, N.C. – With just one season in the books in Fayetteville, the Astros' player development machine has already showcased a knack for developing talent set to make an impact at the Major League level. Showcasing an array of pitching talent that set the Carolina League record for strikeouts and a formidable lineup that led the Advanced-A circuit in home runs, Woodpeckers fans could be sure they were seeing future Major League talent night in and night out during the return of professional baseball to Cumberland County last year.
That sentiment was reaffirmed again on Sunday afternoon as Houston General Manager James Click announced the Astros' initial 2020 player pool, a group of players eligible to participate in the upcoming 60-game major league season, that included 13 players who spent time in Fayetteville during the Woodpeckers' inaugural season in 2019.
Pitchers Bryan Abreu, Brett Conine, Shawn Dubin, Luis Garcia, Cristian Javier, Enoli Paredes, Cionel Perez, Nivaldo Rodriguez, Jojanse Torres, and Forrest Whitley* all spent time in a Woodpeckers uniform and could figure into the parade of arms the Astros will roll out early in the year. (*Whitley, Houston's top prospect, made a pair of rehab appearances during a stint on the Woodpeckers roster.)
Among the Woodpeckers staff that fanned 1,476 batters last season, Abreu figures to contend for an Opening Day roster spot after making seven relief appearances with the big-league club as a September call up last season. Entering the 2020 season, the 23-year-old is rated the Astros' No. 5 prospect according to the MLB Pipeline after whiffing 126 batters in 91 1/3 minor league innings last year, including three starts with Fayetteville.
"I'm really bullish on Bryan Abreu. I'm one of his biggest backers," said Astros pitching coach Brent Strom in an interview earlier this offseason. "The reason being he has a tremendous breaking ball and that really plays up here [in the Majors]. It's a plus-plus breaking ball and we'd put it up against anyone in the game…I think Bryan Abreu can be a top of the rotation starter if given the chance."
Another 23-year-old from the Dominican Republic, Javier enjoyed a rapid ascent through the Houston system after making seven appearances for the Woodpeckers to start the season. He enters the year as the Astros No. 6 prospect after making two appearances for Triple-A Round Rock to close 2019, in which he averaged 13.5 strikeouts per nine innings and a 1.74 ERA across 113 2/3 frames.
Among the position player corps of last year's formidable Fayetteville lineup, catchers Michael Papierski and Colton Shaver along with outfielder Jake Meyers will all head to camp looking to impress and set themselves up for a chance to make their MLB debuts.
A product out of Louisiana State University, Papierski spent the entirety of his second full pro season with the Woodpeckers, slashing .233/.352/.324 and ranking fourth in the Carolina League in walks (61), his second straight season with over 60 bases on balls drawn. Connected to Astros third baseman Alex Bregman through his time at LSU, he has leaned on his expertise and experience at the Major League level during his baseball journey.
"I tried to grab as much as I can from him and learn from him," said Papierski of his time spent with the now perennial All-Star during his time in Baton Rouge. "We were workout partners my freshman year and he moved into my freshman dorm during his junior year…I became super close with him and consider him one of my best friends. He is one of the hardest workers I've ever met if not the hardest worker and it's just awesome to see what he's doing now."
The Astros Player Pool consists of players who will be eligible to play for them in the Major Leagues in 2020. The player pool can change throughout the season, as the Astros will be able to add and subtract from this group through standard transactions, i.e. waiver claims, free agent signings, releases, and trades. A club's Player Pool can consist of up to 60 players but cannot exceed that number.
The Astros Player Pool is scheduled to report to Spring Training this week in Houston.