Lakeland righty Turnbull nearly unhittable
Tigers No. 25 prospect yields one run, one hit over seven frames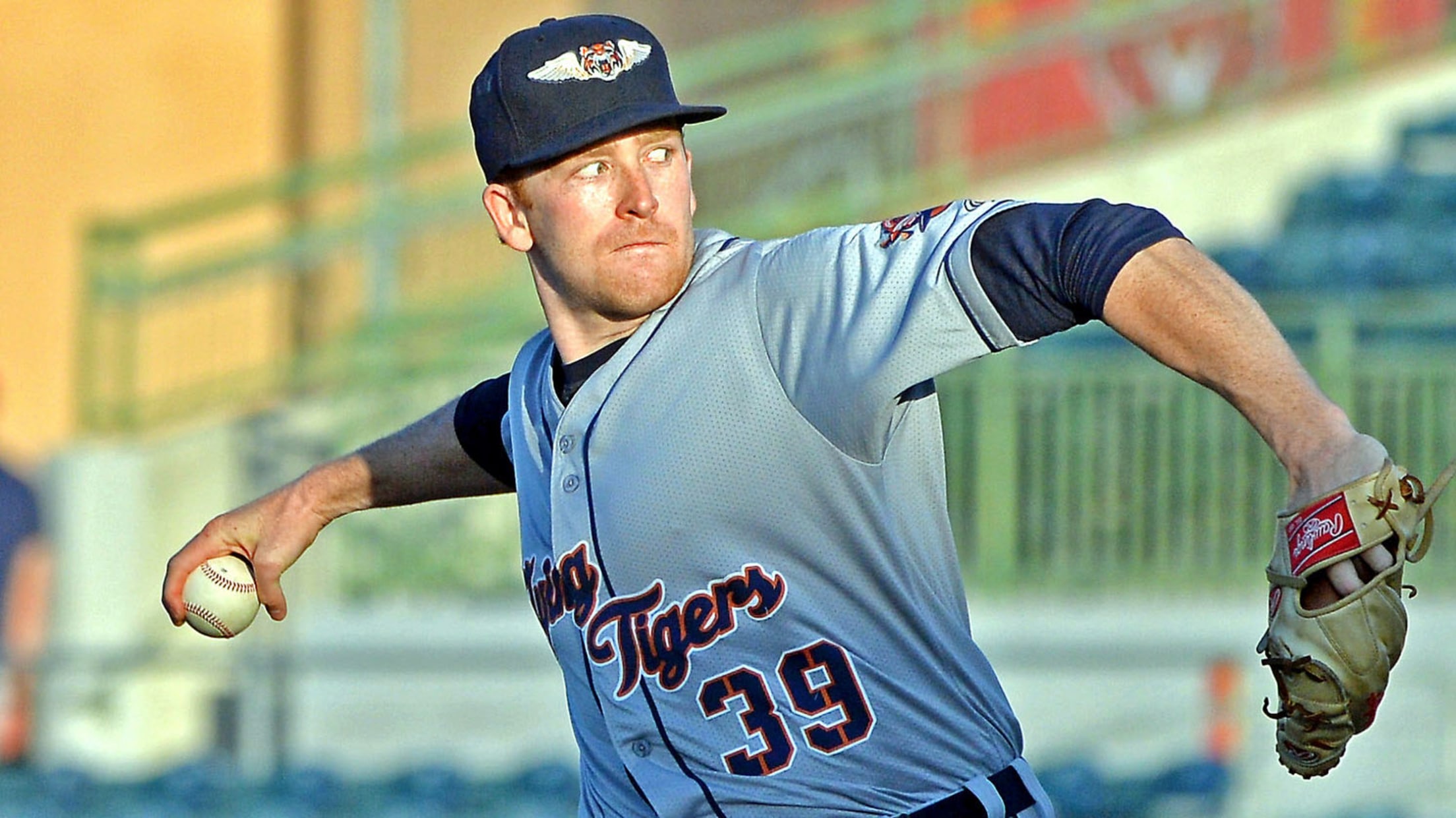 Spencer Turnbull hasn't allowed more than one run in half of his 14 starts across two levels this season. (Rick Nelson/MiLB.com)
With an injury scare behind him, Spencer Turnbull is working his way back to his former self. Wednesday's outing proved he is almost there.Detroit's No. 25 prospect gave up one run on one hit over seven innings in Class A Advanced Lakeland's 5-2 win over Fort Myers at Publix Field at
With an injury scare behind him, Spencer Turnbull is working his way back to his former self. Wednesday's outing proved he is almost there.
Detroit's No. 25 prospect gave up one run on one hit over seven innings in Class A Advanced Lakeland's 5-2 win over Fort Myers at Publix Field at Joker Marchant Stadium. Turnbull walked three and struck out three en route to his first win at home since May 16.
"I was just going out there and just tried to get ahead with my fastball from the beginning," he said. "It was working so I didn't have to deviate from that plan, working with mostly two-seamers and four-seamers, just mixing it up."
Box score
The 24-year-old right-hander sat down nine of the first 10 batters, walking only Brandon Lopez with one out in the second inning
"I was just trying to pitch more to contact and just getting ahead with my fastball," Turnbull said. "I got a lot of fly balls today, which is not normal for me, because I usually get a lot more ground balls with my sinker. But they just kept hitting it early in the count right to my outfielders, so I just kept rolling with it."
The second-round pick in 2014 was reached for a run in the fourth when Mitchell Kranson walked and scored on a double by Zander Wiel that gave the Miracle a 1-0 lead.
"I felt like it was a decent pitch," he said. "The pitch before was a two-seamer down and in, and he fouled it off his foot, so I just tried to challenge him again with a sinker. He made an adjustment and got the barrel on it. He just did a good job getting a good piece of it."
Turnbull (5-3) allowed a one-out walk to Wiel in the seventh before exiting for Joe Navilhon in the eighth. It marked the University of Alabama product's longest outing since scattering four hits over seven scoreless innings against St. Lucie in his last win on home turf.
Turnbull was forced to leave after three innings in his start after that on May 22 with elbow discomfort.
"I felt the inflammation a little off and on for about a month, but it was never anything serious," he said. "It never really bothered me during a game, but my trainer told me to let him know if it ever feels any worse. That's what had happened in that game."
• Get tickets to a Flying Tigers game »
Fortunately for Turnbull, who missed the first three months of the 2016 season with a shoulder injury, MRI results came back negative and some time off allowed his elbow tendinitis to fade.
"It was definitely frustrating, especially after last season, having to miss a lot of time," the Alabama native said. "It was just kind of like, 'Oh no, not again.' But thankfully, this time, it wasn't anything that really cost me to miss too much time.
"I ended up missing four weeks, but you always face adversity in this game, so you just have to take it and move forward as quickly as you can. I'm just happy to get back."
Turnbull returned to game action with two dominant outings in the Rookie-level Gulf Coast League. On June 27, he yielded two hits in four scoreless innings, and followed that up on July 3 with 12 strikeouts over five frames.
"I've been feeling good ever since coming back," the 6-foot-3, 215-pound righty said. "Now it's just about getting back in the groove and building my innings back up. Hopefully, I can keep stringing outings like this together and just get back to where I used to be."
Navilhon yielded one run on two hits with two strikeouts over two innings.
Will Maddox plated two runs for Lakeland.
Michael Peng is a contributor to MiLB.com. Follow him on Twitter @MichaelXPeng.