Bugarin and Betancourt belt bombs, but Fresno suffers 4-3 setback to Stockton
Bugarin: 2-run HR to extend hit streak to 10 games; Betancourt: 1st HR of year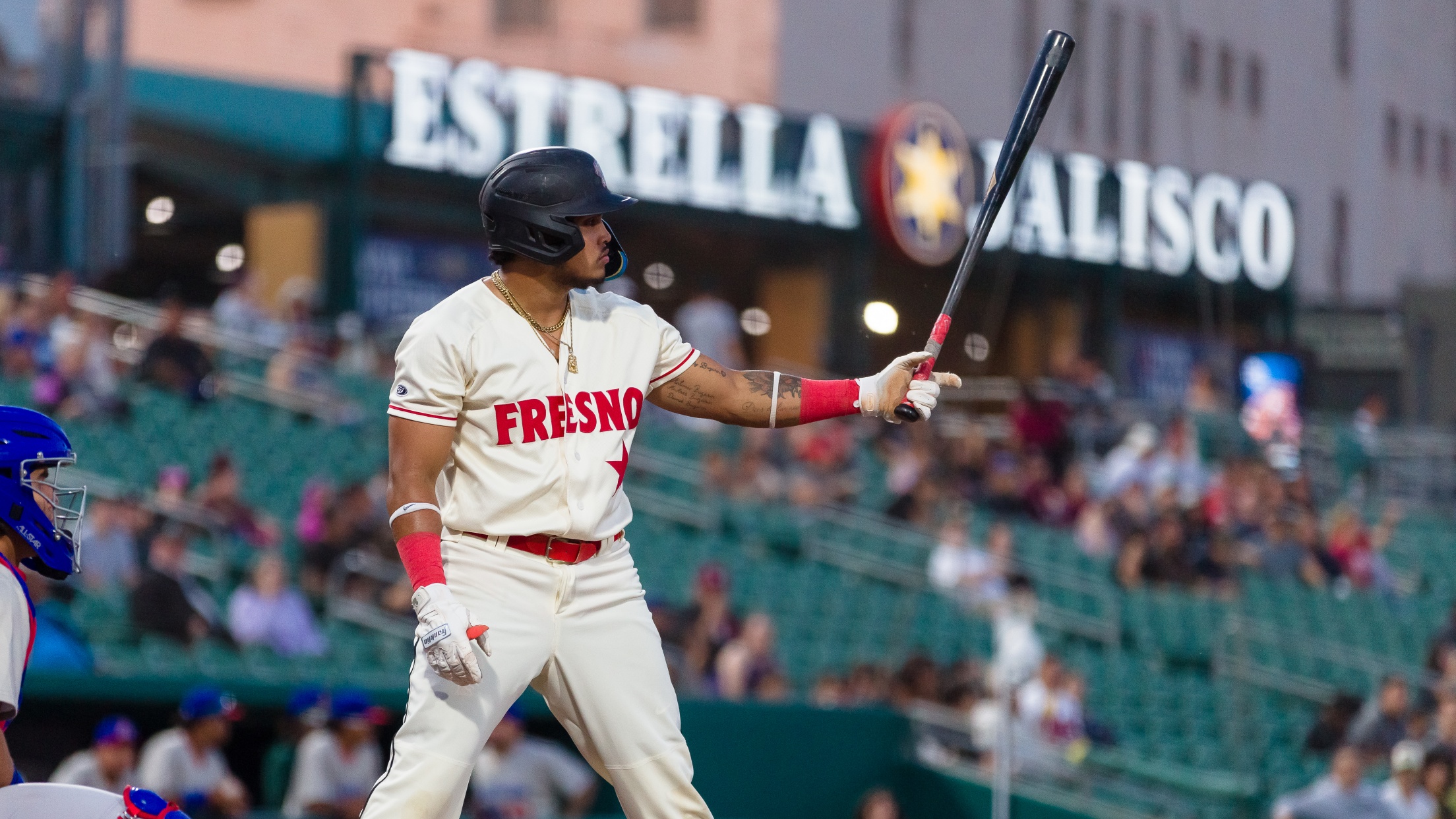 Fresno, CA (Tuesday, May 23) – The Fresno Grizzlies (21-19) slipped to the Stockton Ports (13-27) 4-3 Tuesday morning from Chukchansi Park. It was an action-packed day, full of educative moments for the local students who were on their "Making the Grade" field trip, not only to enjoy the game
Fresno, CA (Tuesday, May 23) – The Fresno Grizzlies (21-19) slipped to the Stockton Ports (13-27) 4-3 Tuesday morning from Chukchansi Park. It was an action-packed day, full of educative moments for the local students who were on their "Making the Grade" field trip, not only to enjoy the game but also to learn about healthy habits. Basking under a sunny 79-degree picture-perfect day, the first pitch by Grizzlies' starter Caleb Franzen was sent out at 11:10am local time.
The Grizzlies roared ahead in the first thanks to a Jesus Bugarin powerful two-run homer to right-center field, setting the tone for the game. His performance extended his hit streak to an impressive 10 contests. Fresno plated their other run in the third from a Bryant Betancourt solo shot, his first longball of the season. Betancourt reached base three times, scoring twice. Despite a robust start, the Grizzlies could not maintain the momentum.
The Ports steadily closed the gap, with key moments from Jose Escorche. The second baseman roped a double in the second and lifted a sacrifice fly in the sixth. With Stockton trailing 3-2, a dramatic 7th inning changed the course of the game for the Ports. A well-placed double down the left-field line by Henry Bolte, brought Cooper Uhl and Colby Thomas home. Both Uhl and Thomas reached base after being beaned by pitches. The Ports 4-3 lead held despite some attempts from the Grizzlies offense in the final three frames.
Fresno reliever Davis Palermo (1-1) suffered the setback while Stockton righty Carlos Guarate (1-3) enjoyed the decision. Ports' closer Blaze Pontes secured his third save. Overall, the Stockton bullpen tossed six scoreless frames, punching out three. Grizzlies' southpaw Franzen did not factor in the decision after a career-high nine strikeouts over five innings of work. Austin Becker hurled two clean frames for Fresno. The squads are back in action Wednesday night from Chukchansi Park.
Today's article was written by ChatGPT
Top Performers: Fresno Grizzlies (Colorado Rockies)
CF Jesus Bugarin (2-4, HR, 2 RBI, R)
1B Bryant Betancourt (1-2, HR, RBI, 2 R, 2 BB)
LHP Caleb Franzen (5.0 IP, 3 H, 1 R, 1 ER, 4 BB, 9 K)
Top Performers: Stockton Ports (Oakland Athletics)
CF Henry Bolte (1-3, 2B, 2 RBI, BB)
2B Jose Escorche (1-3, 2B, 2 RBI)
Ports bullpen (6.0 IP, 3 H, 0 R, 0 ER, 2 BB, 3 K)
On Deck:
Wednesday, May 24 vs. Stockton Ports, Stockton RHP Jose Dicochea (1-0, 2.08) vs. Fresno RHP Blake Adams (1-2, 1.50), 6:50 pm PT
ON THAT FRES-NOTES:
The Grizzlies lost their first game at home when scoring first (6-1).
The Grizzlies are 50-17 (7-6 this year) all-time against the Ports.