Dodgers even series with Grizzlies on Saturday
4-2 OKC win snaps a 5-game skid at Chukchansi Park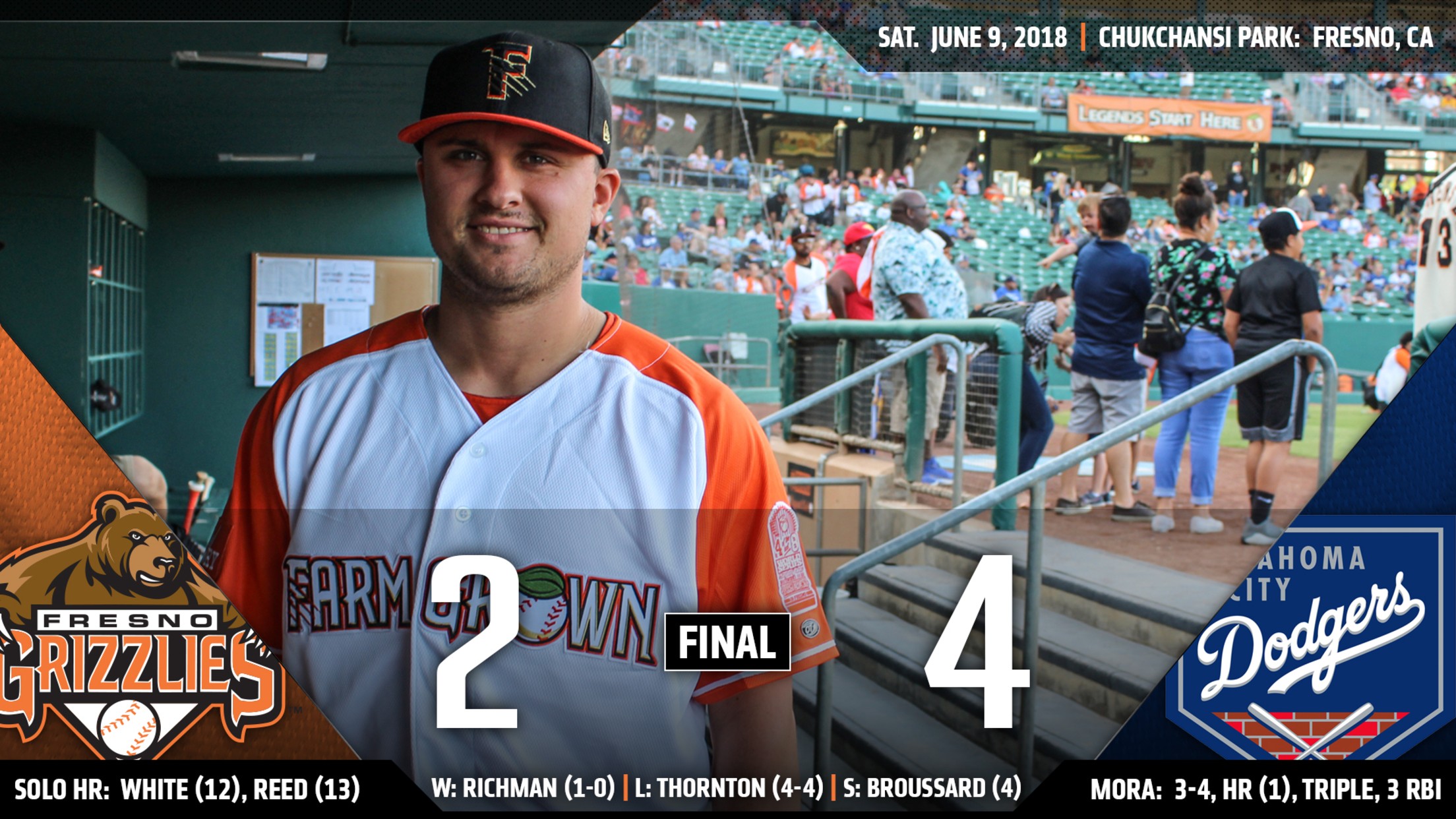 In front of a raucous and partisan 9,586 fans at Chukchansi Park on Saturday night, the Fresno Grizzlies (37-25) fell to the Oklahoma City Dodgers (36-22) in a matchup of first place clubs. The OKC Dodgers snapped a five-game losing streak in Fresno dating to 2016 with the victory.Andrew Toles
In front of a raucous and partisan 9,586 fans at Chukchansi Park on Saturday night, the Fresno Grizzlies (37-25) fell to the Oklahoma City Dodgers (36-22) in a matchup of first place clubs. The OKC Dodgers snapped a five-game losing streak in Fresno dating to 2016 with the victory.
Andrew Toles led off the game with an opposite field double to left field and scored on an Alex Verdugo (3-for-4) RBI single to left. The game was quickly tied 1-1 on a Tyler White (2-for-4) two-out blast to left-center, his 12th home run of the season, briefly tying A.J. Reed (3-for-4) for the club lead.
With the game still knotted 1-1 in the sixth, Reed teed off on his 13th homer, a solo shot to right field to lead off the side. It was Reed's 62nd career home run with Fresno, placing him fourth in franchise history, breaking a tie with Scott McClain (2007-2009). Only Brett Pill (70), Damon Minor (79) and Todd Linden (84) have homered more than Reed in a Grizzlies uniform. White's 57 career Grizz homers place him seventh all-time, one behind Cody Ransom.
Oklahoma City played longball themselves in the seventh, a two-run shot to right by Angelo Mora after Matt Beaty led the inning with a single, for a 3-2 Dodger lead. Mora (3-for-4) added his third RBI of the evening in the ninth for a 4-2 OKC advantage, which would hold up as the final.
It was a tough-luck loss for Fresno starter Trent Thornton (4-4), who enjoyed his third consecutive quality start: 7.0 IP, 8 H, 3 R, 3 ER, 1 BB, 5 K. Thornton entered Saturday's action with the lowest WHIP in the Pacific Coast League (1.01), and the second-lowest average allowed in the league (.211). The homer he allowed was only the second this season in 57.2 innings pitched.
Game three of the four game set is Sunday, a 5:05 p.m. first pitch at Chukchansi Park. Scheduled starters are RHP Guillermo Moscoso (2-3, 3.75) for the Dodgers and RHP Rogelio Armenteros (3-0, 3.72) for the Grizzlies. Fresno is 17-2 in Armenteros' 19 career starts, dating back to his Triple-A debut on July 3 of last season at Sacramento.