Garrett Stubbs tallies four RBI in a 9-4 Tacos win
Stubbs (2-for-4) enjoys highest RBI game of 2018; Kyle Tucker and Drew Ferguson each go deep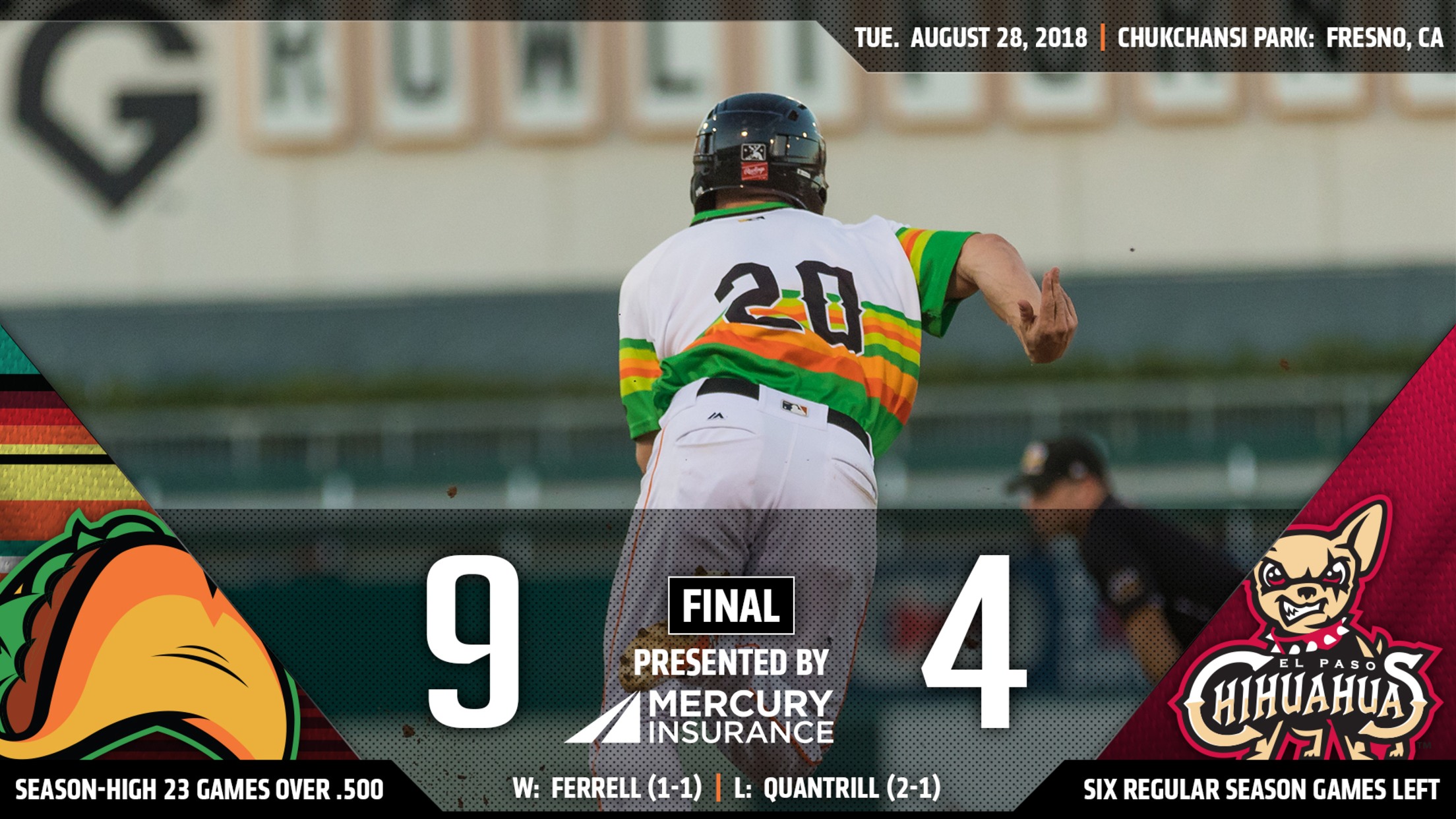 The Fresno Tacos (78-55) sizzled past the El Paso Chihuahuas (79-54) 9-4 Tuesday night from Chukchansi Park. With the win, the Tacos upgraded to 24-11 this season in the opener of a series (13-5 home, 11-6 road). As an Astros affiliate (since 2015), Fresno is 92-50 (.648) in the first
The Fresno Tacos (78-55) sizzled past the El Paso Chihuahuas (79-54) 9-4 Tuesday night from Chukchansi Park. With the win, the Tacos upgraded to 24-11 this season in the opener of a series (13-5 home, 11-6 road). As an Astros affiliate (since 2015), Fresno is 92-50 (.648) in the first game of a set. Fresno also notched their ninth straight victory as the Tacos, finishing 7-2 at home and 13-4 overall on Tuesday. Now 23 games over .500, Fresno has a new high-water mark for 2018.
In the bottom of the first, the Tacos grabbed a 1-0 advantage. Myles Straw reached via an error, stole second and raced home on a single to left by Jack Mayfield. The stolen base was his 31st in 33 attempts through 62 Triple-A games. He has a professional baseball best 66 swipes overall, after stealing 35 bags in 65 Double-A games.
Fresno extended the lead to 5-0 in the home half of the second. Four straight singles led off the frame with Garrett Stubbs (2-for-4) picking up a pair of RBI. He would come around to score on a two-run bomb to right-center field by Kyle Tucker. It would be his 24th clout of the season. Since being optioned by Houston (six games), Tucker is 15-for-28 (.536) with seven homers.
With two outs in the bottom of the third, the Tacos expanded the advantage to 8-0. Stubbs smoked a double down the right field line, knocking in Derek Fisher and Drew Ferguson (2-for-3). This would give Stubbs a four-RBI game, the most for him this year. Finally, Alex De Goti (3-for-4) plated Straw with a liner to center.
That would end the night for Chihuahuas starter Cal Quantrill (2-1, loss). He lasted three innings, allowing eight hits, eight runs (four earned), while walking and striking out two apiece. El Paso trimmed the deficit to 8-3 in the top of the fifth. Two solo shots by Auston Bousfield and Francisco Mejía helped the cause. It was Bousfield's second dinger of the season and Mejia's fifth since joining the Chihuahuas. Finally, Shane Peterson raked a double to the left-center gap, adding Ty France.
The three-run frame chased Tacos starter Rogelio Armenteros. He hurled four and two-thirds innings, scattering four hits, three runs (earned), walking three, beaning two and punching out seven. Armenteros has fanned seven batters in four consecutive appearances. Overall, he has whiffed 134 hitters in 118 frames, the second-highest strikeout total in the PCL. Fresno also improved to 25-6 all-time in Armenteros starts, dating back to his Triple-A debut on July 3rd of last season (9-1 in 2017, and 16-5 in 2018).
Ferguson lengthened the lead to 9-3 in the bottom of the eighth when he hammered a pitch to left-center field. The wallop came in his first game back off the disabled list and inched his 2018 total to three. In the top of the ninth, El Paso made it 9-4 with a Mejia sacrifice fly to center. That would end the rally, securing a Tacos victory. Riley Ferrell (1-1) was honored with the decision.
Both squads continue the set with the middle game of three Wednesday evening from Chukchansi Park. First pitch is scheduled for 7:05 PT. Fresno righty Brock Dykxhoorn (5-2, 4.36) and El Paso RHP Colin Rea (2-2, 5.66) are the probable matchup.