Grizzlies blast five home runs, beat OKC Dodgers 12-8 on Sunday
Fresno hits three consecutive homers for first time since 2009 (Reed, Davis & Fisher), A.J. Reed homers twice (6 RBI) as Grizz improve to 18-2 all-time when Rogelio Armenteros starts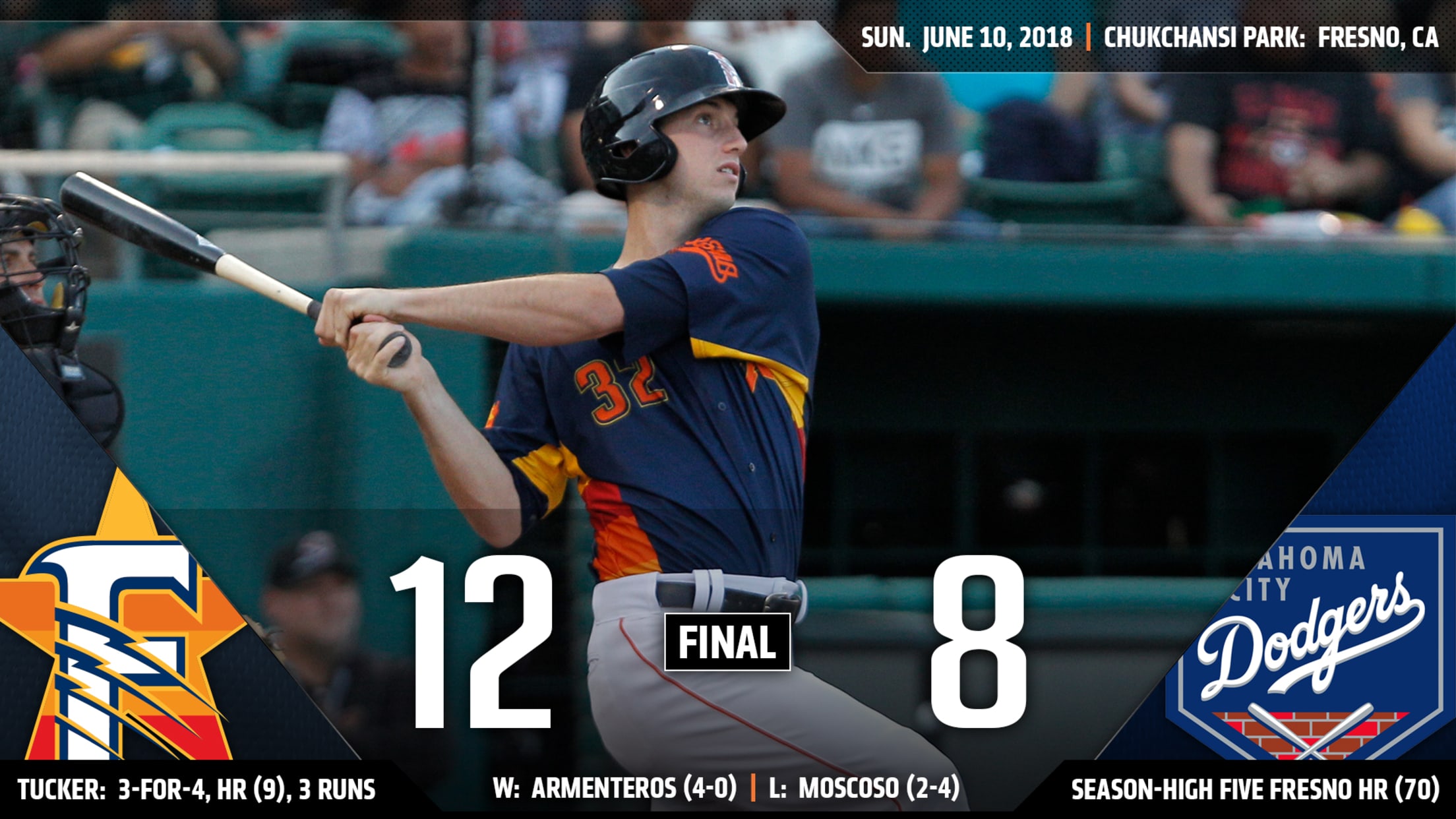 The Fresno Grizzlies (38-25) and the Oklahoma City Dodgers (36-23) continued a wildly entertaining series between first place clubs in front of partisan crowds on Sunday evening at Chukchansi Park, as Fresno pounded out 17 hits and homered five times in a 12-8 victory. It was the 16th time this
The Fresno Grizzlies (38-25) and the Oklahoma City Dodgers (36-23) continued a wildly entertaining series between first place clubs in front of partisan crowds on Sunday evening at Chukchansi Park, as Fresno pounded out 17 hits and homered five times in a 12-8 victory. It was the 16th time this season the Grizzlies have scored 10 or more runs in a game (16-0). Fresno has put up double-digit runs in just over 25% of their 63 games this season, averaging 6.02 runs per game (379 total). The top five batters in the Grizz order each collected two or more hits.
Winners of nine of 12, Fresno has taken two of the first three of this four-game series against OKC. The Grizzlies' 7.5-game lead in the Pacific Northern is the largest division lead in professional baseball, in any league at any level.
Kyle Tucker (3-for-4) opened the scoring with a solo homer to center, his ninth of the season for a 1-0 Fresno lead after an inning.
Still leading by a run in the third, the Grizzlies blasted three consecutive homers for the first time since 2009, when AJ Reed (2-for-5), J.D. Davis (2-for-5) and Derek Fisher all went deep. Reed lifted a majestic blast to right field, a two-run shot that traveled an estimated 432 feet after Garrett Stubbs (3-for-5) led the inning with a single. Davis then went yard to straightaway center, before Fisher took one out to right. All three homers came with two out to extend Fresno's lead to 5-0; Davis and Fisher hit their fifth and third home run in Triple-A this season respectively.
It was the first time the Grizzlies hit back-to-back-to-back home runs since May 3, 2009 at Tacoma; Kevin Frandsen, Adam Witter and Jesus Guzman were the trio in a game Fresno won 11-6.
Another crooked number in the fourth made it an 8-0 Grizz advantage. Antonio Nunez (double, run), Stubbs (RBI single, run), Tucker (double, run) and Tyler White (3-for-4, double, RBI) rapped four consecutive one-out base hits, and Reed chipped in an RBI groundout.
The Dodgers were on the board after a pair of RBI singles in the fifth, from Andrew Toles (2-for-5) and #1 organization prospect Alex Verdugo, trimming the Grizzlies' lead to 8-2.
With that same score in the sixth, Reed blasted his second homer of the day to right which landed in about the same spot as his earlier 432-foot blast, a three-run shot following singles by Tucker and White, making it an 11-2 game. Reed's six RBI were not a career high, but tied his Triple-A high; on May 6, 2015 in High-A California League action playing for Lancaster, Reed hit three homers (including a grand slam) and drove in nine runs in an 18-4 win at Stockton. On August 21 of last season at Reno, Reed homered twice and had six RBI in a 16-2 win; he homered twice in a game four times in 2017, making Sunday his fifth multi-homer game with Fresno.
Drilling five home runs over his last five games (8-for-18, 12 RBI), Reed has 64 career with Fresno (since 2016) which is fourth in franchise history. He's suddenly just six shy of Brett Pill (70) for third all-time. Reed, who set a Grizzlies single-season record with 34 homers last season to lead all of Minor League Baseball, is back to his usual pace with 15 dingers through 63 games; the left-hander is on pace for 33 should he remain with Fresno for the duration of the season. Reed also led the minors in homers in 2015, with 34 split between Lancaster and Double-A Corpus Christi (Texas League).
Following Sunday's outburst, Reed now leads all of Triple-A with 54 RBI, by five over the next closest batter. Reed is on pace to drive in 120 runs this season should he remain with the Grizzlies all year, which would obliterate the single-season franchise record, 108 RBI by Scott McClain in 2008. Reed recently passed McClain's 61 homers on the franchise list, and is third in Triple-A with 15 longballs.
Fresno's five homers were easily a season-high; they had homered three times in a game on eight occasions so far in 2018. The Grizzlies' 70 home runs in 63 games ranks fourth in the Pacific Coast League. Reed's six RBI were season-high for a Fresno batter, the ninth individual effort of four or more RBI this season, but the first at home. Jack Mayfield (April 7 at Reno) and J.D. Davis (May 17 at El Paso) each drove in five runs in a game earlier this season. Reed joined Kyle Tucker (May 30 at Albuquerque) and Tyler White (June 2 at Albuquerque) as Grizzlies to homer twice in a game this season.
Grizz starter Rogelio Armenteros (4-0) earned the winning decision with six complete innings, scattering only five hits (2 ER, 3 BB, 3 K). Fresno is now 18-2 in Armenteros' 20 career starts with the club, dating to his Triple-A debut on July 3 of last season at Sacramento. Dodgers starter Guillermo Moscoso (2-4) was also a pitcher of record (5.0 IP, 12 H, 8 R, 8 ER, 1 BB, 2 K, 4 HR).
Still leading 11-2 in the seventh, Oklahoma City's Edwin Ríos hit a grand slam, tightening the score to 11-6. It was 11-7 after the Dodgers batted around, with Angelo Mora chipping in a RBI single. Fresno added one more in the eighth, when Stubbs led off with a single, his third hit of the game, and eventually scored on a wild pitch. Rios added his fifth RBI of the evening on a solo homer in the ninth, for the 12-8 final.
The finale of the four-game set will be Monday, a 7:05 p.m. first pitch at Chukchansi Park. Scheduled starters are LHP Caleb Ferguson (0-0, 2.25) for Oklahoma City, a Dodgers top prospect, against Fresno's Josh James (1-2, 2.54).