Grizzlies "dodge" the 11th on Friday, beat OKC 9-8
Brandon Snyder (Fresno): 2-for-4, HR, double, 3 RBI, BB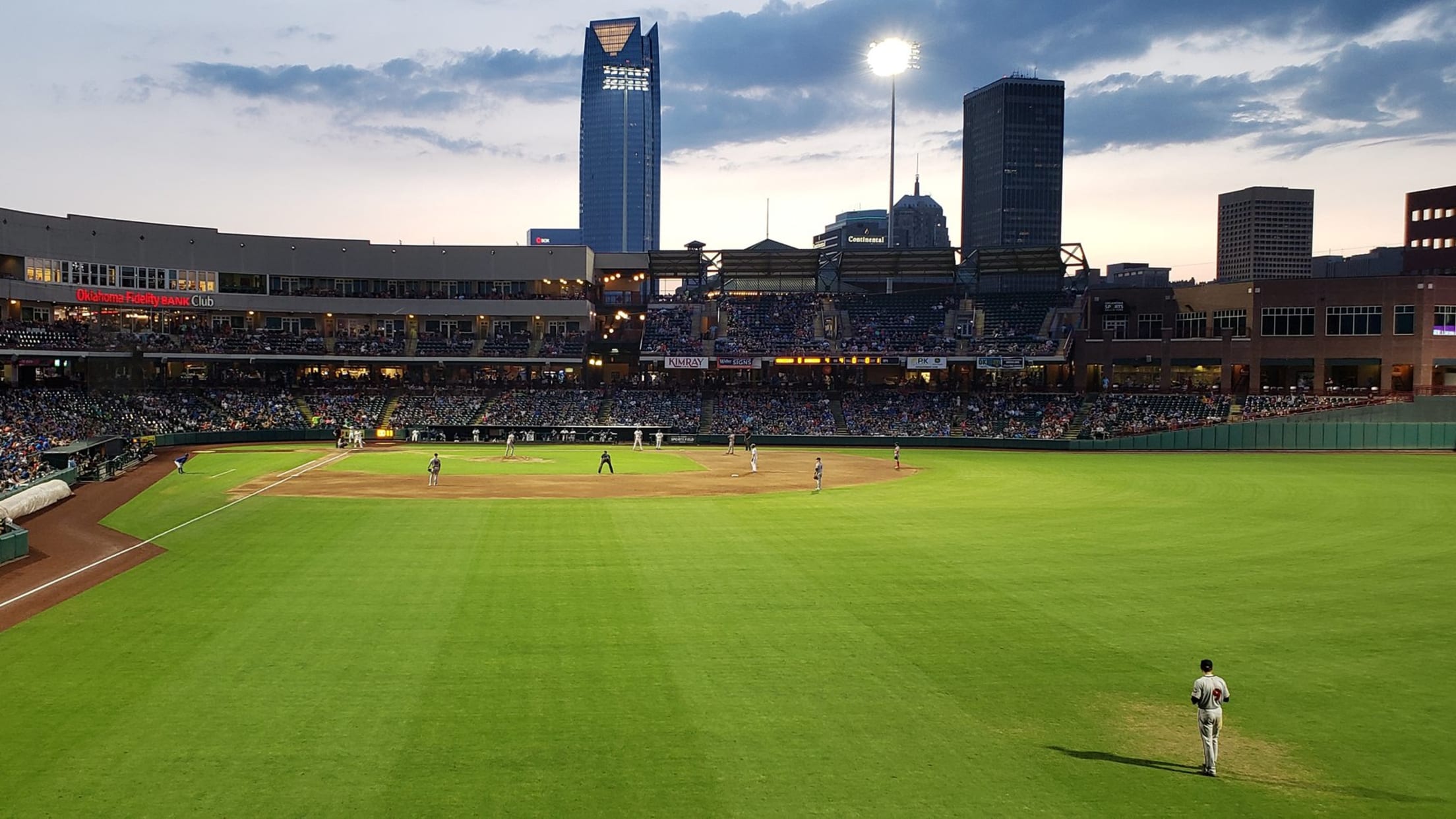 Oklahoma City (Friday, June 7) - Despite a back-and-forth affair in the series-opener on Friday night at Chickasaw Bricktown Ballpark, the Fresno Grizzlies (30-31) never trailed in outlasting the Oklahoma City Dodgers (23-37) by 9-8 final in 10 innings. Andrew Stevenson came off the bench to drive in the winning
Oklahoma City (Friday, June 7) - Despite a back-and-forth affair in the series-opener on Friday night at Chickasaw Bricktown Ballpark, the Fresno Grizzlies (30-31) never trailed in outlasting the Oklahoma City Dodgers (23-37) by 9-8 final in 10 innings. Andrew Stevenson came off the bench to drive in the winning run with a single in the first extra frame.
Brandon Snyder yanked a two-run homer (12) to left field with two out in the first inning, and drove in three runs adding a RBI double in the fourth inning. Tulsa, Oklahoma native Matt Reynolds tripled in a run and scored in the nine-batter, five-run fourth, in a homecoming of sorts. Wilmer Difo (RBI) and Yadiel Hernandez (2 RBI) also doubled in runs as Fresno batted around.
Edwin Ríos and Zach Reks ledoff the second and third innings respectively with home runs; Connor Joe (single, double) drove in two runs for the Dodgers, as did Will Smith.
Each bullpen was exemplary; a cadre of five OKC relievers retired 16 consecutive Fresno batters after the huge fourth inning through the first out of the 10th, with 11 strikeouts. The Grizz right-hander tandem of James Bourque and Dakota Bacus (4-1) combined to fire four scoreless, hitless innings to end the game, striking out five. The Grizzlies improved to 6-4 in extra innings this season, and 3-1 on the road in extras.
Top Performers: Fresno Grizzlies (Washington Nationals)
• 1B Brandon Snyder (2-4, HR, 2B, 3 RBI, BB)
• LF Yadiel Hernandez (2-4, 2B, 2 RBI, 2 R, BB)
• RHP James Bourque (2.0 IP, 0 H, 0 R, 1 BB, 3 K)
• RHP Dakota Bacus (2.0 IP, 0 H, 0 R, 1 BB, 2 K, W)
Top Performers: Oklahoma City Dodgers (Los Angeles Dodgers)
• 1B Connor Joe (2-6, 2B, 2 RBI, 2 R)
• 3B Edwin Rios & LF Zach Reks (Solo HRs)
• RHP Kevin Quackenbush (2.0 IP, 0 H, 0 R, 0 BB, 4 K)
• LHP Caleb Ferguson (2.0 IP, 0 H, 0 R, 0 BB, 5 K)
ON THAT FRES-NOTE: Tonight marked the first meeting between the Los Angeles Dodgers and Washington Nationals organizations in Triple-A since the 2005 and 2006 seasons, when the Las Vegas 51s were affiliated with L.A., and the New Orleans Zephyrs with the Nats during the franchise's first two seasons playing in D.C. As a Houston Astros affiliate, Fresno went 10-6 against Oklahoma City during their first four seasons as the Dodgers (2015-2018); the clubs split their annual four-game series each year, with the exception of the Grizzlies' 2016 four-game sweep at Chukchansi Park in Downtown Fresno. Grizz manager Randy Knorr played in 70 games for the RedHawks in 2000.