Jack Mayfield's big day (homer, RBI double) helps Grizz grab series win in ABQ
Sunday's 10-4 victory also included a Tyler White home run, 10 Trent Thornton strikeouts and six Grizzlies with multiple hits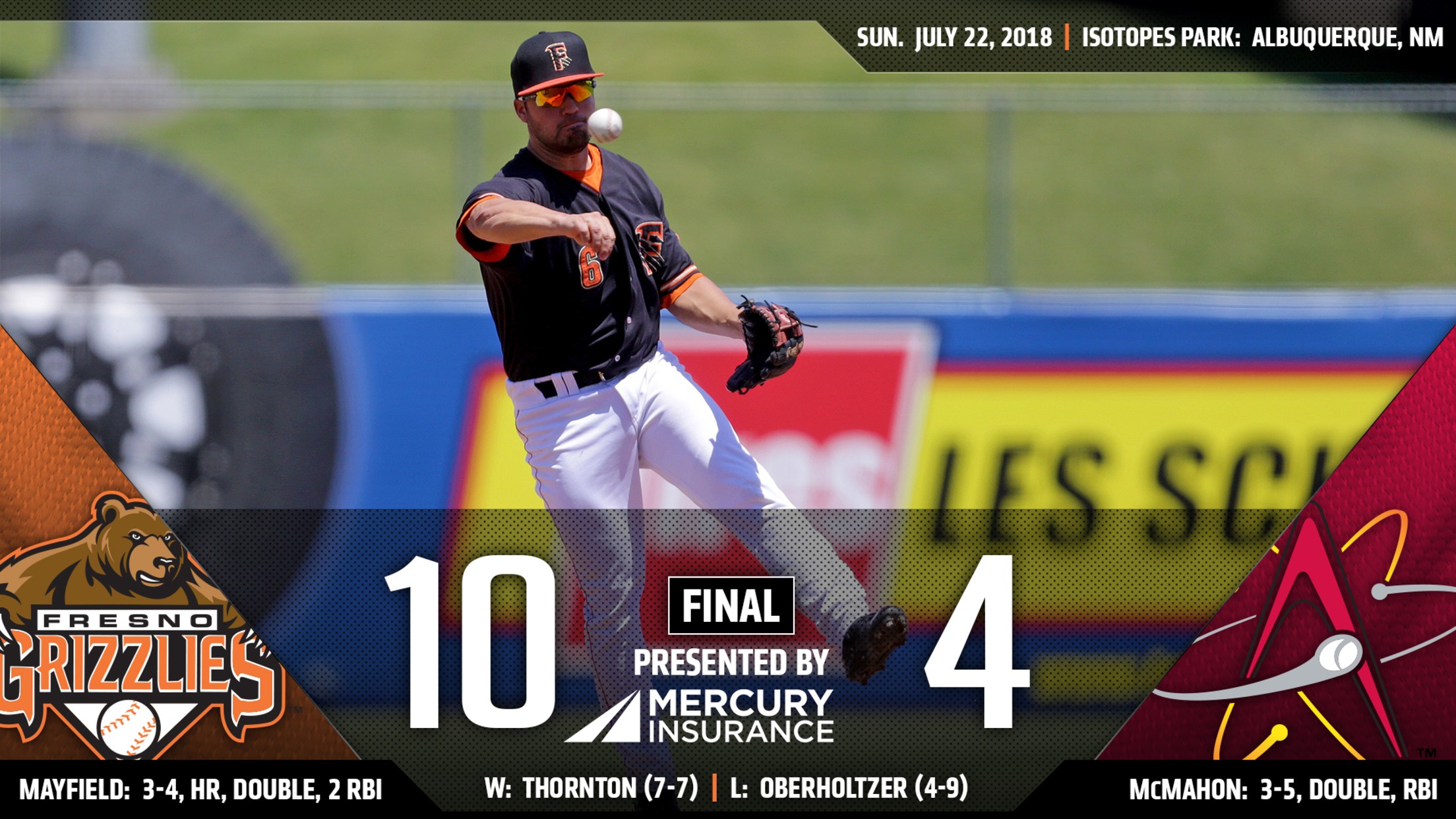 The Fresno Grizzlies (58-43) took the road rubber match in a rare Pacific Coast League three-game series on Sunday, besting the Albuquerque Isotopes (49-52) 10-4 at Isotopes Park. The win extended Fresno's first place lead in the Pacific Northern Division to seven games over Tacoma, with 39 regular season games
The Fresno Grizzlies (58-43) took the road rubber match in a rare Pacific Coast League three-game series on Sunday, besting the Albuquerque Isotopes (49-52) 10-4 at Isotopes Park. The win extended Fresno's first place lead in the Pacific Northern Division to seven games over Tacoma, with 39 regular season games to play.
The Grizzlies broke the seal in the top of the second, on Jack Mayfield's ninth homer of the season. The solo shot to left field made it 1-0 Fresno, facing former Grizz/Astros pitcher Brett Oberholtzer. The left-hander was a member of the 2015 Grizzlies Pacific Coast League and Triple-A National Championship club.
It was 2-0 Fresno in the third, when Garrett Stubbs (2-for-2) led off with a single and eventually scored on a fielder's choice and error. In the home half of the inning Drew Weeks (2-for-5) trimmed the Grizz lead to 2-1, with a solo shot of his own to left, his eighth of 2018.
Fresno scored in four consecutive innings and broke things open in the fourth and fifth. A Nick Tanielu (3-for-5) RBI single to left scored Mayfield (3-for-4) after another extra-base hit, a double. Two more scored when Stubbs doubled off the top of the right field wall, and then Myles Straw (2-for-3, BB) singled home Stubbs for a 6-1 advantage. In the fifth it was 7-1 after a Tyler White one out walk, moving to third on an A.J. Reed (2-for-5) double before Mayfield added his second RBI of the night on a sac fly.
Oberholtzer (4-9) would last just four innings, with all six runs earned on eight hits and a walk. The southpaw struck out four.
Grizzlies starter Trent Thornton (7-7) went five innings, but struck out 10 in a shorter-than-usual evening. The right-hander allowed five hits and did not walk a batter.
Leading 7-4 in the seventh after a three-run Albuquerque sixth, White cranked a solo shot to center, his 16th homer of the season; 14 with Fresno and two more in Majors.
Still 8-4 when Fresno loaded the bases in the eighth, Derek Fisher's RBI single and White's RBI groundout made it a 10-4 game which would hold up as the final. White, Mayfield and Stubbs each drove in two runs by the end of the evening. Fisher went 2-for-5, one of six Grizzlies with multiple hits in the 15-hit attack.
After an off day on Monday, the Grizzlies will return to action Tuesday, beginning a three-game series with the Iowa Cubs and a seven-game homestand. RHP Josh James (3-4, 3.51) is the presumed starter for Fresno.