White's grand slam propels Grizz to victory in final regular season home game
Fresno takes three of four from Tacoma with 6-3 win in series finale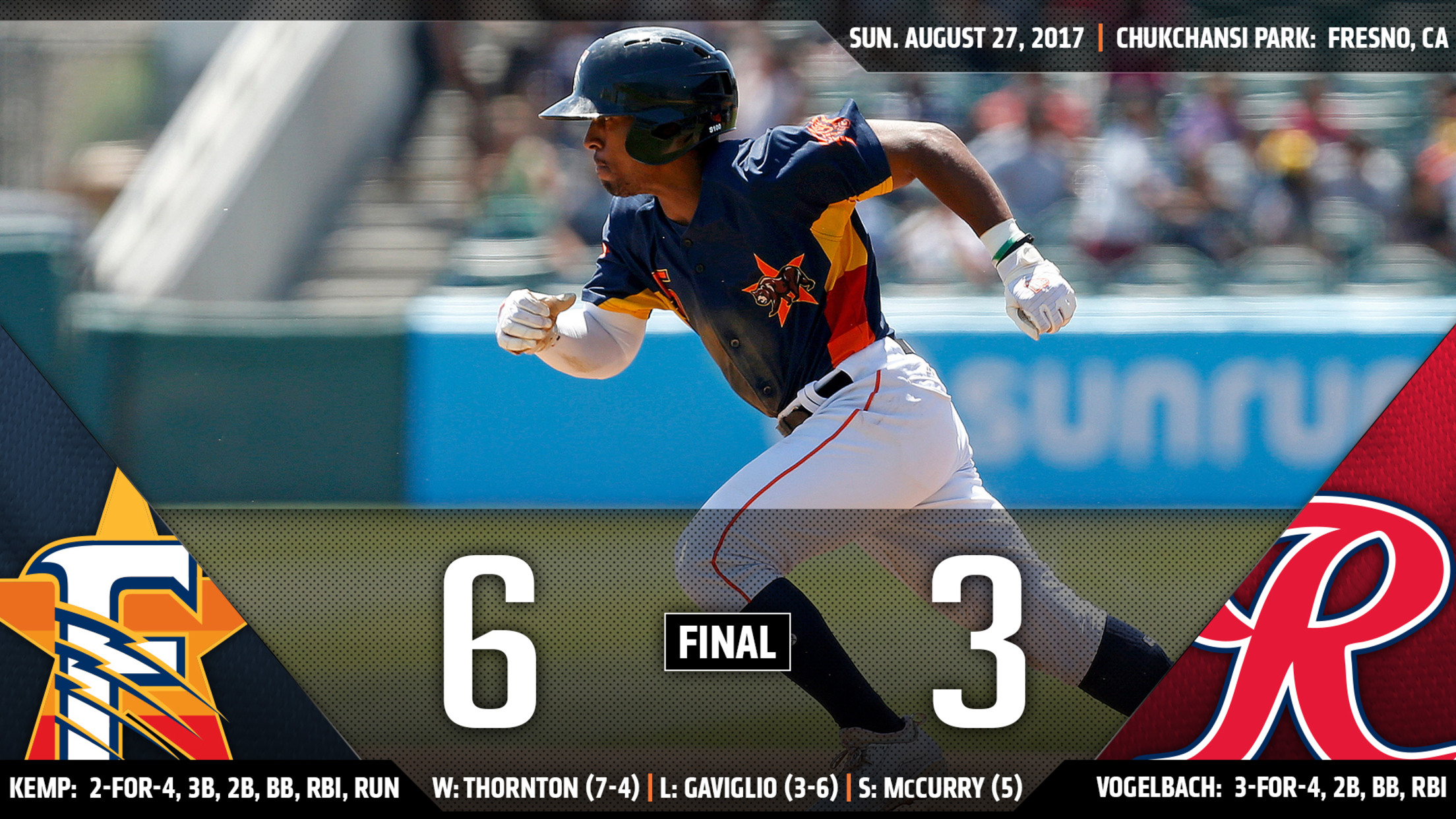 The Fresno Grizzlies (74-60) played their final regular season home game of 2017 on Sunday at Chukchansi Park, a 6-3 win in the series finale against the Tacoma Rainiers (65-69). The Grizzlies took three of four from their Pacific North Division rival in the final meetings of the season between
The Fresno Grizzlies (74-60) played their final regular season home game of 2017 on Sunday at Chukchansi Park, a 6-3 win in the series finale against the Tacoma Rainiers (65-69). The Grizzlies took three of four from their Pacific North Division rival in the final meetings of the season between the clubs. Carlos Correa was the designated hitter in the contest for Fresno, his third MLB rehab appearance.
Tacoma opened the scoring in the first with a Daniel Vogelbach (3-for-4) RBI single that scored Ian Miller who led off the game with a base hit. Tony Kemp (2-for-4) tied the contest for the Grizzlies with a RBI triple that scored Rico Noel who walked to get on. The Rainiers got the run back quickly in the fourth when a Zach Shank (2-for-3) RBI single scored Danny Muno (2-for-4) who also singled to get on to give the visitors a 2-1 lead.
The Grizzlies went ahead 5-2 in the fifth on a Tyler White (2-for-4) grand slam to left field. It was his second grand slam of the season and the fifth overall for Fresno. J.D. Davis, Teoscar Hernández and Jon Kemmer had the others. Reid Brignac singled, Kemp doubled, and Correa walked to get on before they scored on White's 25th home run of the season.
Fresno increased their lead to 6-2 in the sixth when Garrett Stubbs led off the frame with a base hit to right field and scored on a double play ball. The Rainiers got the run back in the fifth when Joey Wong (walk) scored on a Shank RBI double to cut the home team's lead to a 6-3 final.
Trent Thornton (7-4) allowed two runs through six innings in a quality start for Fresno. He allowed 10 hits and two walks with two strikeouts for the win. Brendan McCurry picked up his fifth save of the season with two strikeouts in the ninth. For Tacoma, starter Sam Gaviglio (3-6) suffered the loss allowing five runs on five hits and two walks with eight strikeouts through 4.2 innings.
The Grizzlies finish out the regular season with an eight-game roadtrip that begins with four in El Paso. The series opener against the Chihuahuas is on Monday at 5:35 p.m. PT. Probable starters are LHP Kent Emanuel (1-1, 6.68) for Fresno and RHP Jordan Lyles (0-1, 4.80) for El Paso.