Cubs Awake from Slumber
Loons fail to cope with heavy dose of offense from South Bend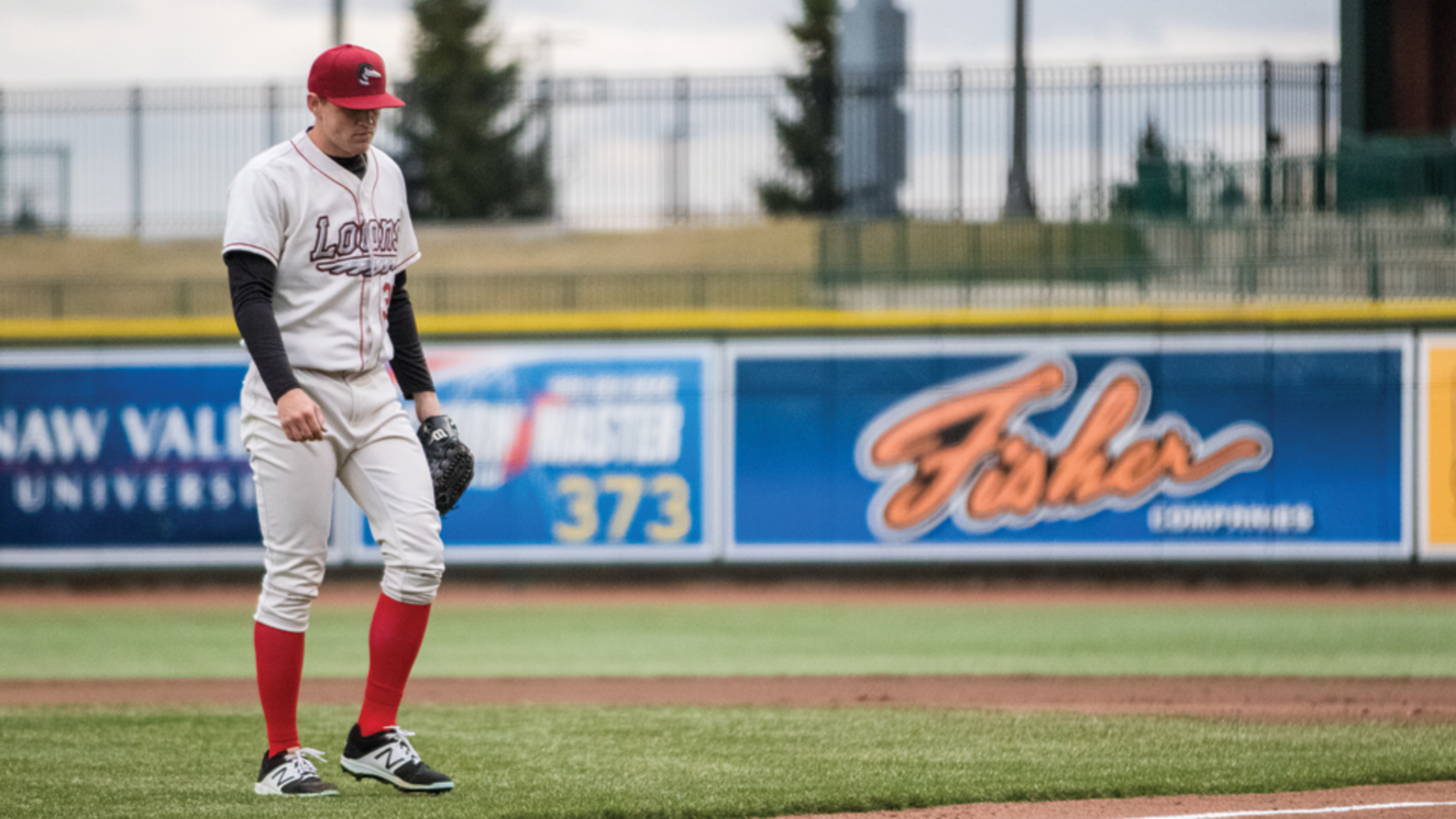 Stephen Kolek (Alex Seder / Great Lakes Loons)
MIDLAND, Mich. - With the Great Lakes Loons looking to make it three wins in a row on Tuesday night, the South Bend Cubs had other ideas as they jumped out to an early lead and never looked back earning a 6-1 victory at Dow Diamond.Stephen Kolek (L, 0-2) was
MIDLAND, Mich. - With the Great Lakes Loons looking to make it three wins in a row on Tuesday night, the South Bend Cubs had other ideas as they jumped out to an early lead and never looked back earning a 6-1 victory at Dow Diamond.
Stephen Kolek (L, 0-2) was touched up for two early runs in the top of the 1st inning on singles by Levi Jordan and Nelson Velazquez. It was the right-hander's second start for the Loons this season, which follows 14 relief appearances last year after the Los Angeles Dodgers drafted him in the 11th round out of Texas A&M.
The Cubs (3-3) would go on to add to their lead in the 3rd when Eric Gonzalez crossed home plate on a wild pitch to make it 3-0. Once Romer Cuadrado singled in the only run of the game for the Loons, the visitors put the game out of reach when Jordan, Eric Gonzalez and Andy Weber piled on three more runs in the bottom of the 7th to put the game out of reach.
Brett de Geus made his Single-A debut for the Loons after being added to the active roster on Monday. He tossed 1.1 innings allowing three runs and striking out two batters. Justin Hagenman quieted the Cubs down the stretch allowing just two baserunners over the final 2.2 innings with four strikeouts.
One of the highlights for Great Lakes (2-4) was the fact that two of their four hits were doubles; one from Niko Hulsizer and the other coming off the bat of Jacob Amaya. That keeps the team's staggering start to the season rolling with 17 doubles as a group, which is tops in the Midwest League by a wide margin (Fort Wayne & Lake County each have 10). However, the Loons have yet to hit a triple or home run this season despite their extra-base power.
The combination of Brailyn Marquez, Jeffrey Passantino (W, 1-0) and Riley McCauley on the bump was stellar all evening for South Bend combining to allow just the one run on three hits and two walks. The 13 strikeouts they recorded were the most the Loons have whiffed at the dish this season.
Wednesday sees the return of the Great Lakes Camels for the first time since their debut on Aug. 23, 2018. It will be a Hump Day Happy Hour at the ballpark with $3 16oz domestic drafts available throughout the game. Gates open at 5 p.m.
The Great Lakes Loons have been the Single-A partner of the Los Angeles Dodgers since the team's inception in 2007. Dow Diamond serves as the team's home and also houses the Michigan Baseball Foundation, a 501(c)(3) non-profit public charity, and ESPN 100.9-FM. For tickets or information about the Loons, call 989-837-BALL or visit Loons.com.