Dark Side Finds Loons
Hot Rods snap Great Lakes' five-game winning streak in series opener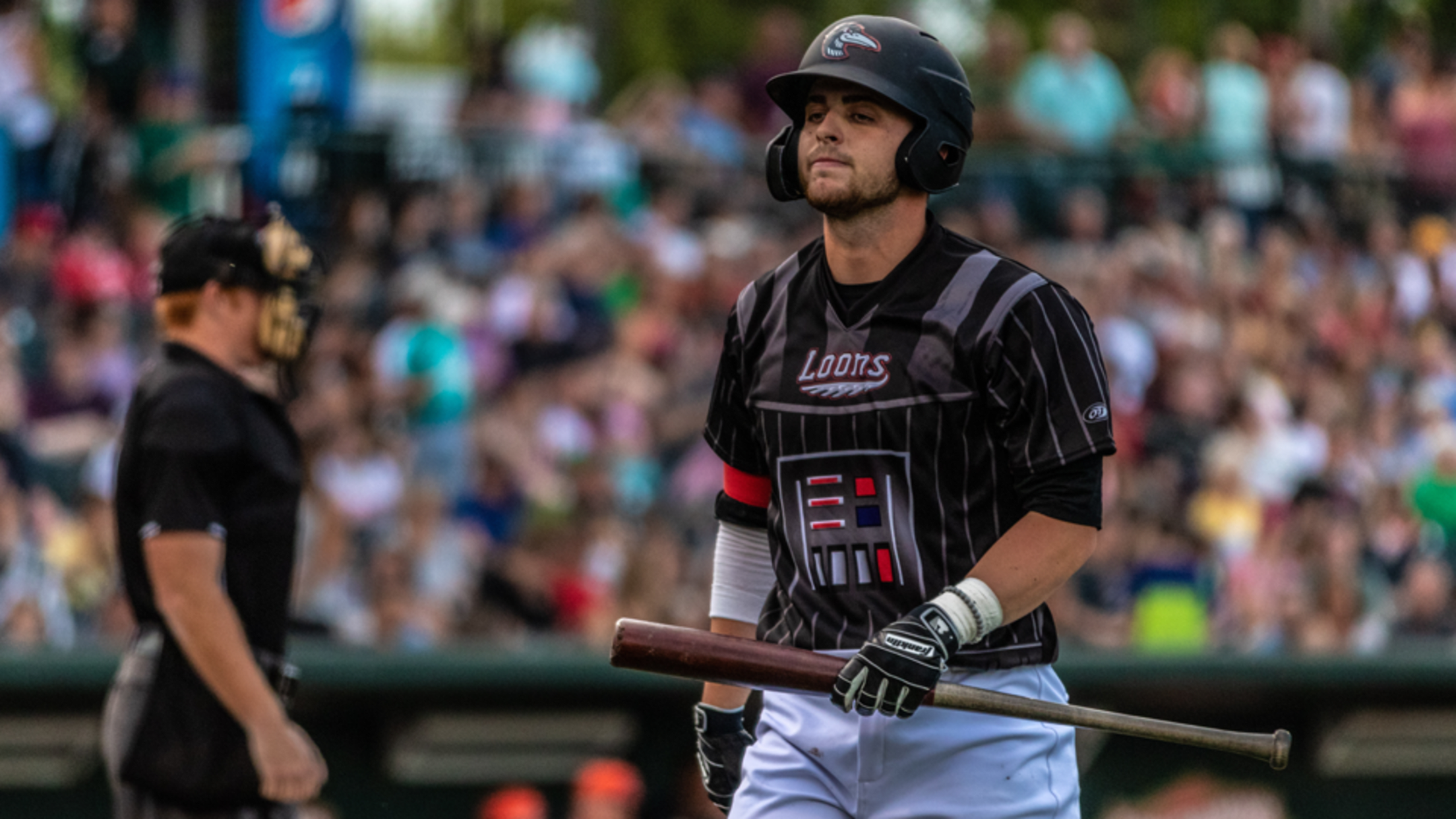 7 Tre Todd (Alex Seder / Great Lakes Loons)
MIDLAND, Mich. -- In front of a sellout crowd of 5,211 on Star Wars Night, the Great Lakes Loons couldn't find the force needed to overcome a late deficit, falling 4-3 to the Bowling Green Hot Rods on Saturday at Dow Diamond.The visitors jumped out to an early 3-0 lead
MIDLAND, Mich. -- In front of a sellout crowd of 5,211 on Star Wars Night, the Great Lakes Loons couldn't find the force needed to overcome a late deficit, falling 4-3 to the Bowling Green Hot Rods on Saturday at Dow Diamond.
The visitors jumped out to an early 3-0 lead thanks to a pair of home runs from Seaver Whalen and Ford Proctor, along with an RBI-ground out by Jonathan Aranda. Other than those blemishes, Loons starter Stephen Kolek limited the damage over five innings to give Great Lakes a puncher's chance.
That's when reinforcements arrived as Justin Yurchak, who couldn't wait for the bases to be loaded in the Miller Lite Grand Slam Inning, settled for a two-run blast to pull the Loons within a run.
One inning later in the 7th, Dan Robinson was able to scamper home on a dropped third strike to tie the game at 3-3 heading into crunch time.
Bowling Green then elected to play small ball in the 9th to push across the go-ahead run. Osmy Gregorio singled to begin the inning, followed by Proctor getting hit by a pitch. Whalen laid down a sacrifice bunt to put two runners in scoring position. A pitch from Aaron Ochsenbein (L, 1-1) got away from catcher Tre Todd and the Hot Rods took the lead for good.
Yurchak and Kody Hoese each finished with two-hit nights as the Loons totaled nine as a team, including four extra-base hits. The Loons were not able to capitalize on three Bowling Green errors and the Hot Rods going an abysmal 0-for-11 with runners in scoring position.
The Loons still own the best record in the Midwest League at 72-43.
Aug 11: Kids Club Takeover feat. FREE Sundaes for club members
Aug 12:Summer Camp Kids Day
Aug 17:Fairy Tale Kingdom Night
Aug 18:Back to School Lunch Box Giveaway
Aug 19:Postgame Veterans Run the Bases
Aug 20:Two-fer Tuesday
The Great Lakes Loons have been the Single-A partner of the Los Angeles Dodgers since the team's inception in 2007. Dow Diamond serves as the team's home and also houses the Michigan Baseball Foundation, a 501(c)(3) non-profit public charity, and ESPN 100.9-FM. For tickets or information about the Loons, call 989-837-BALL or visit Loons.com.