Braves Spring Training Notebook: Preseason Roundup
Top prospects shine, roster battles still to be settled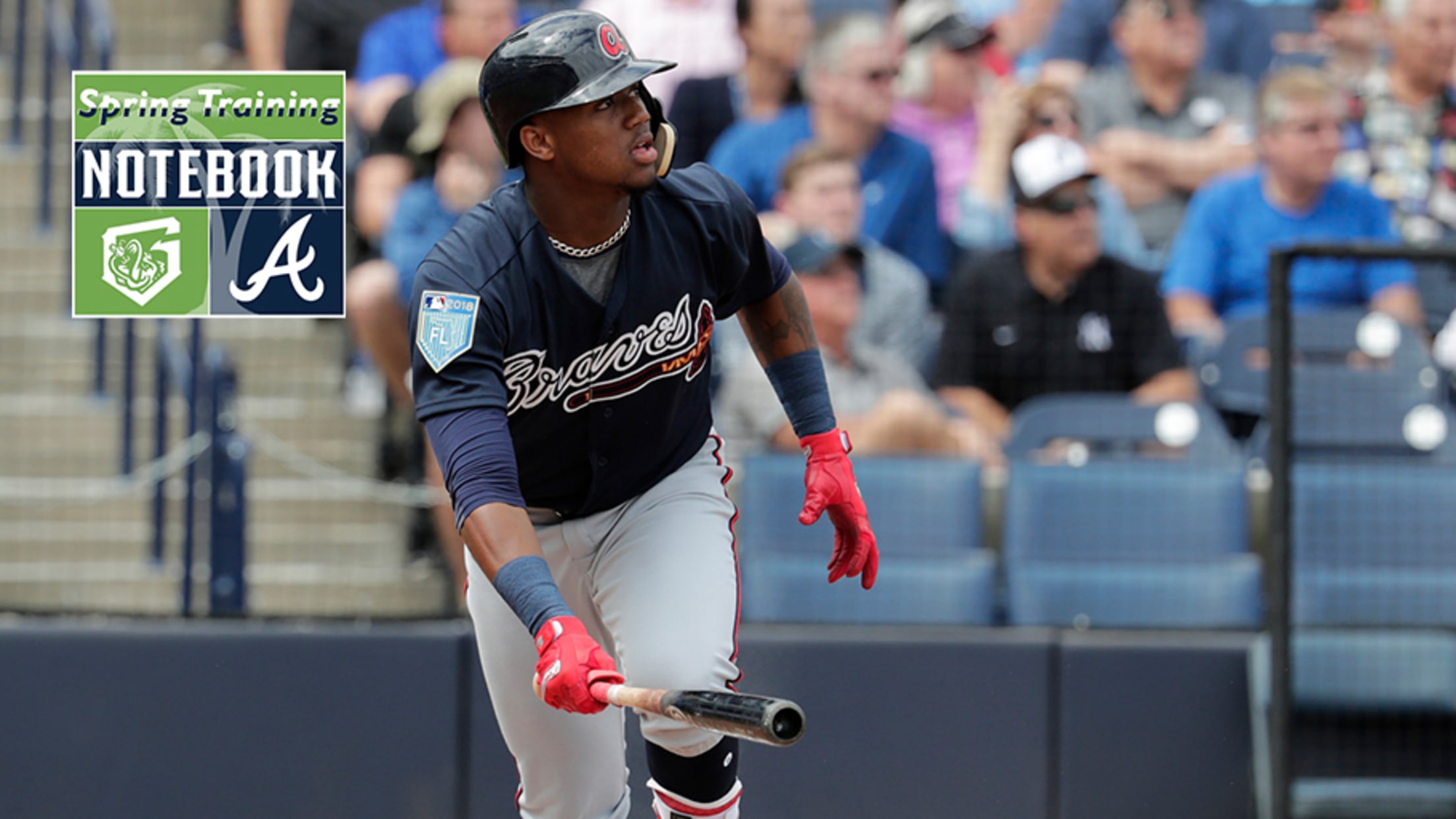 Atlanta Braves' Ronald Acuna watches after hitting a two-run homer during the first inning of a Grapefruit League game against the New York Yankees on March 2, 2018, in Tampa, Fla. (Lynne Sladky/AP)
The 2018 Spring Training schedule wrapped up Sunday, with the Atlanta Braves finishing the preseason 13-17.Some decisions have been made to provide clarity regarding who will begin the year with Atlanta and who may start with Gwinnett, but there are still several moves to be made in the coming days.Pitchers
The 2018 Spring Training schedule wrapped up Sunday, with the Atlanta Braves finishing the preseason 13-17.
Some decisions have been made to provide clarity regarding who will begin the year with Atlanta and who may start with Gwinnett, but there are still several moves to be made in the coming days.
Pitchers Matt Wisler, Lucas Sims and Aaron Blair were each in contention to make the Braves as the de facto long reliever, but all three were optioned to Gwinnett on Saturday. Will Rio Ruiz make the Braves' Opening Day roster? What about Danny Santana or Ezequiel Carrera, both vying for an outfield spot?
Here's a compilation of spring stats from players you might see on the Stripers' Opening Day roster come April 6:

At the plate
The most talked about player in baseball the spring was outfielder Ronald Acuña Jr., who tore up Grapefruit League pitching but ultimately was optioned to Gwinnett to begin the season. In 16 games, the 20-year-old hit .432 (19-for-44) with four homers, eight runs, 11 RBIs and four steals with a .519 on-base percentage.
Infielder Christian Colón impressed at the plate, going 10-for-31 (.323) in 18 games. He tied for the team lead in RBIs with 11, and drilled one home run.
Utility man Danny Santana showed his speed in Spring Training, swiping a team-high five bags in 22 games. He hit .275 (14-for-51) with two homers and five RBIs.
Outfielder Dustin Peterson competed for a roster spot all spring before ultimately being optioned to Gwinnett. He hit .259 (7-for-27) with two homers and six RBIs in 17 games.
Meanwhile, Carrera didn't get as many opportunities at the plate, going 4-for-17 (.235 BA) with one RBI and a steal in seven games.
Fellow outfielder Jaff Decker went 7-for-33 (.212 BA) with one home run and three RBIs in 18 games.
Third base prospect Austin Riley struggled at the plate (5-for-24, .208 BA), although he did launch two long homers with five RBIs. It's to be determined at which level he'll start the year.
First baseman Carlos Franco turned heads early on with two home runs. He finished 8-for-30 (.267 BA) with five RBIs.
Ruiz had perhaps the most to prove of anyone competing for a roster spot this spring. Getting time at both first and third bases, Ruiz compiled the most at-bats of anyone on the roster this spring, going 14-for-68 (.206 BA) with two homers and 11 RBIs in 27 games.
Infielder Ryan Schimpf, who was picked up by the Braves mid-way through Spring Training, went a combined 0-for-30 including his stint with Tampa Bay with 19 strikeouts. He'll begin the year with Gwinnett.
On the mound
Top pitching prospect Mike Soroka impressed in limited action, giving up one earned run over 5.0 innings and striking out five in three games.
Fellow top prospect Kolby Allard also had a strong-yet-brief showing, pitching 3.0 scoreless innings over two games.
Blair went 1-1 with a 5.59 ERA (6 ER in 9.2 IP) over six games (one start). He allowed 13 hits and six walks while striking out four.
Wisler went 0-2 with a 8.10 ERA (12 ER in 13.1 IP) while allowing 20 hits and two homers over six games (three starts). He walked three and struck out nine.
Sims also went 0-2 with a 10.13 ERA (15 ER in 13.1 IP), giving up 18 hits, four homers and 10 walks in six games (two starts).
Reliever Josh Ravin went 0-1 with a 3.86 ERA (3 ER in 7.0 IP) while racking up 11 strikeouts. He'll begin the year with Gwinnett.
Reliver Shane Carle pitched to a 3.77 ERA (6 ER in 14.1 IP), though he did allow four home runs and 15 hits.
Reliever Josh Graham gave up four runs over 8.0 innings with nine strikeouts and four walks. He'll also begin with the Stripers.
Find all Braves Spring Training stats here.
That's all for our Spring Training Notebook. Check back with GoStripers.com daily throughout the season for game notes, game recaps and original feature stroies about your favorite Stripers.