Four-Run Fourth Key as Stripers Bash Bulls 7-2
Rylan Bannon's three hits, Ozzie Albies' two-run triple highlight Gwinnett's fourth straight win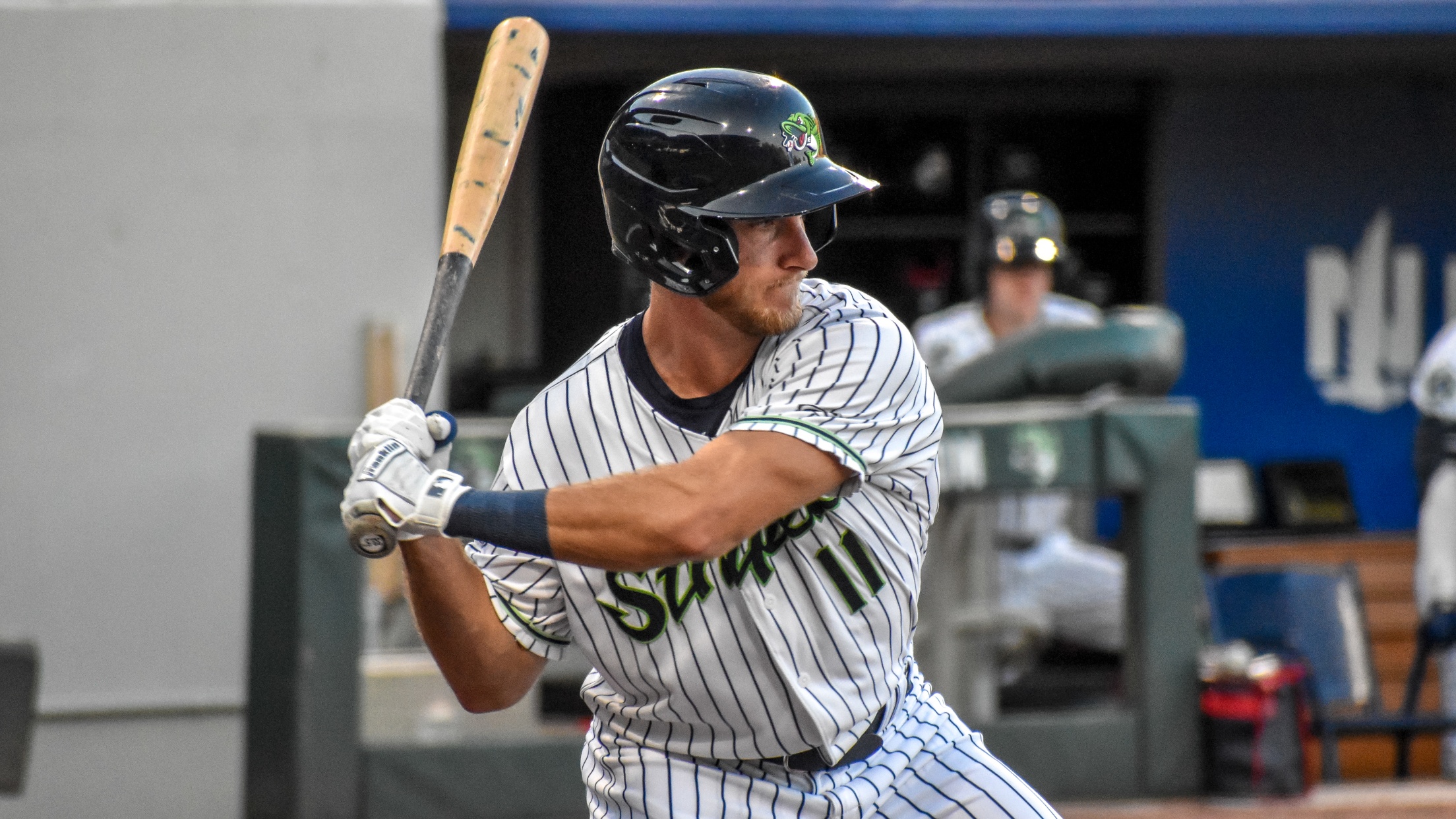 (Josh Conner/Gwinnett Stripers)
LAWRENCEVILLE, Ga. – Rylan Bannon slashed three hits as the Gwinnett Stripers (65-70) rode a four-run fourth to a 7-2 victory over the Durham Bulls (75-62) on Wednesday night at Coolray Field. Ozzie Albies lined a two-run triple in his seventh rehab game with Gwinnett as the Stripers picked up
LAWRENCEVILLE, Ga. – Rylan Bannon slashed three hits as the Gwinnett Stripers (65-70) rode a four-run fourth to a 7-2 victory over the Durham Bulls (75-62) on Wednesday night at Coolray Field. Ozzie Albies lined a two-run triple in his seventh rehab game with Gwinnett as the Stripers picked up their fourth straight win.
Decisive Plays: With the game tied at 1-1 entering the bottom of the fourth, Ryan Goins drove in Bannon with a line drive to right field for a 2-1 lead. Hendrik Clementina followed with an RBI single of his own before Albies cranked a two-run triple into the right field corner to give Gwinnett a 5-1 advantage. The Stripers scored twice more in the bottom of the fifth, then Durham added a run in the seventh.
Key Contributors: Bannon went 3-for-4 with two runs, one RBI, and two stolen bases. Albies finished 1-for-4 with the triple and two RBIs. Hernan Perez scored twice and stole two bases on a 1-for-3 night. Delino DeShields Jr. doubled and scored, finishing 1-for-3. Starter Jared Shuster tossed 4.0 innings and allowed one run before handing the ball off to Victor Vodnik (W, 2-0), Freddy Tarnok (H, 2), and Jay Jackson. For Durham, Jim Haley (2-for-3, double, two RBIs) and David Rodriguez (2-for-4, double, run) each had multi-hit nights.
Noteworthy: Albies' triple was the 12th of his career with Gwinnett, tying him for second in club history alongside Sean Kazmar Jr. Bannon continues his strong start as a Striper, now hitting .352 (19-for-54) in 17 games with Gwinnett. The Stripers drew even with the Bulls on the season with the win, now 7-7 against Durham in 2022.
Next Game (Thursday, September 15): Gwinnett vs. Durham, 7:05 p.m. at Coolray Field. Radio Broadcast: 6:50 p.m. on MyCountry993.com. LHP Kyle Muller (6-7, 3.06 ERA) for the Stripers vs. TBD for the Bulls. Celebrate Oktoberfest early with a "Frank N' Stein" Pack! Each pack includes a ticket, hot dog, and Stripers beer stein. It is also Thirsty Thursday™, presented by Michelob Ultra.