Stripers Shut Out by Jacksonville, 5-0
Gwinnett held to six hits in loss to Jumbo Shrimp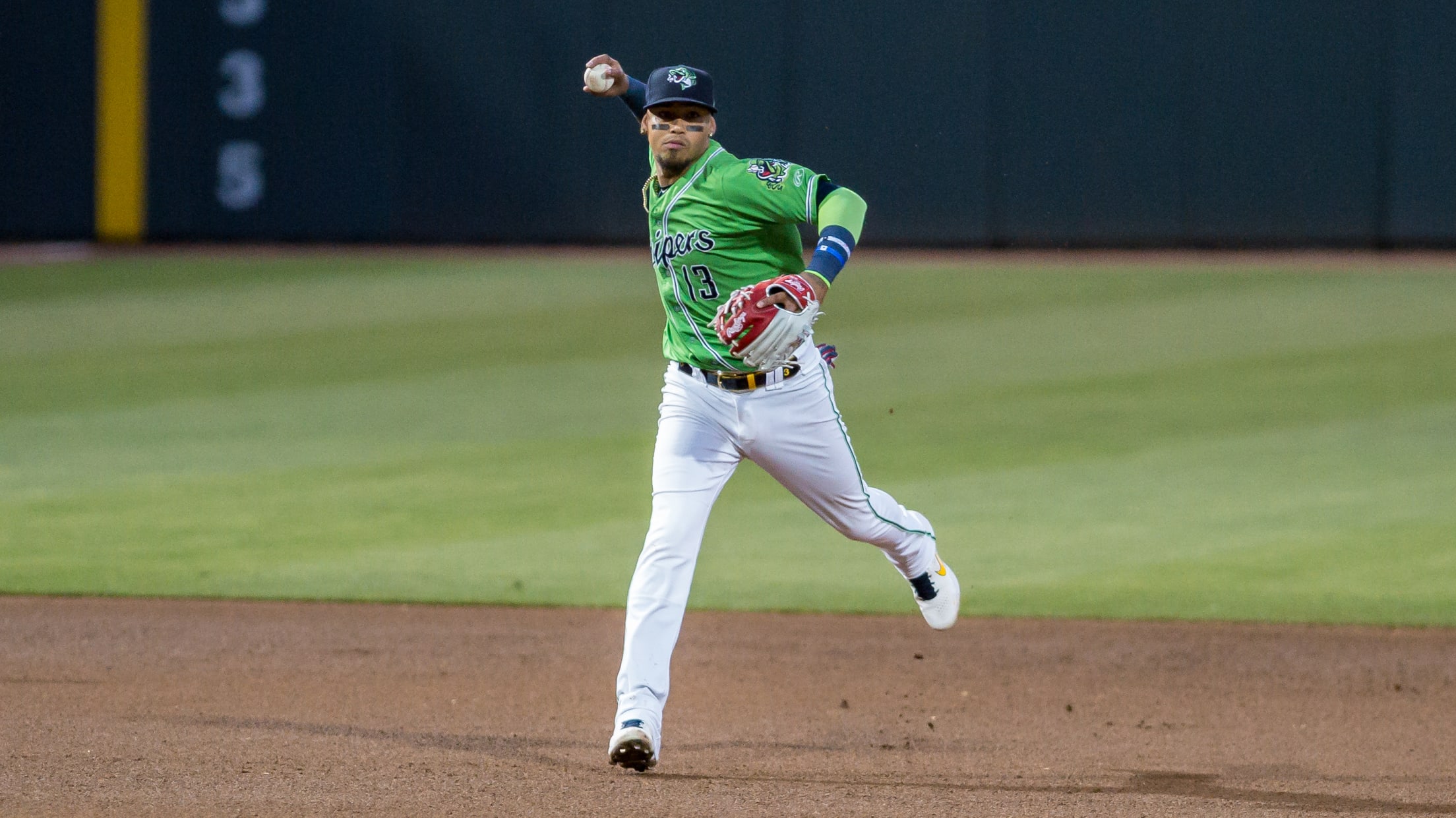 Orlando Arcia throws a ball to first base in Gwinnett's 5-0 loss to Jacksonville on Friday night. (Will Fagan/Gwinnett Stripers)
LAWRENCEVILLE, Ga. – The Jacksonville Jumbo Shrimp (17-11) pitching trio of Braxton Garrett (W, 3-1), Preston Guilmet (H, 1), and Alexander Guillen combined to pitch a six-hit shutout in a 5-0 win over the Gwinnett Stripers (15-13) on Friday night at Coolray Field. Decisive Play: Deven Marrero's RBI single ignited
LAWRENCEVILLE, Ga. – The Jacksonville Jumbo Shrimp (17-11) pitching trio of Braxton Garrett (W, 3-1), Preston Guilmet (H, 1), and Alexander Guillen combined to pitch a six-hit shutout in a 5-0 win over the Gwinnett Stripers (15-13) on Friday night at Coolray Field.
Decisive Play: *Deven Marrero's RBI single ignited a four-run second inning against *Connor Johnstone (L, 1-4). A two-run double by Bryson Brigman extended the advantage to 4-0.
Key Contributors: Travis Demeritte had two of Gwinnett's six hits, going 2-for-4. Johan Camargo, Jonathan Lucroy, Phillip Ervin, and Ryan Goins each added one hit. Garrett allowed just two hits over 5.0 innings and struck out five for the Jumbo Shrimp. Lewin Diaz went 2-for-4 with a home run (5) and one RBI for Jacksonville.
Noteworthy: Gwinnett is now 3-3 in games decided by shutout this season. The Stripers have lost back-to-back home games for the first time in 2021.
Next Game (Saturday, June 5): Gwinnett vs. Jacksonville, 6:05 p.m. at Coolray Field. The first 1,000 fans will receive Replica "Fish Scales" Jerseys, presented by Northside Hospital. It is also Faith and Family Night. RHP Kyle Wright (1-2, 3.86 ERA) for the Stripers vs. RHP Josh A. Smith (1-0, 4.76 ERA) for the Jumbo Shrimp. Radio Broadcast: 5:50 p.m. on MyCountry993.com.