Stripers Smash Four Homers in Series-Opening Win at Columbus
Gwinnett wins 7-2 behind home runs by Contreras, Kipnis, Pache and Demeritte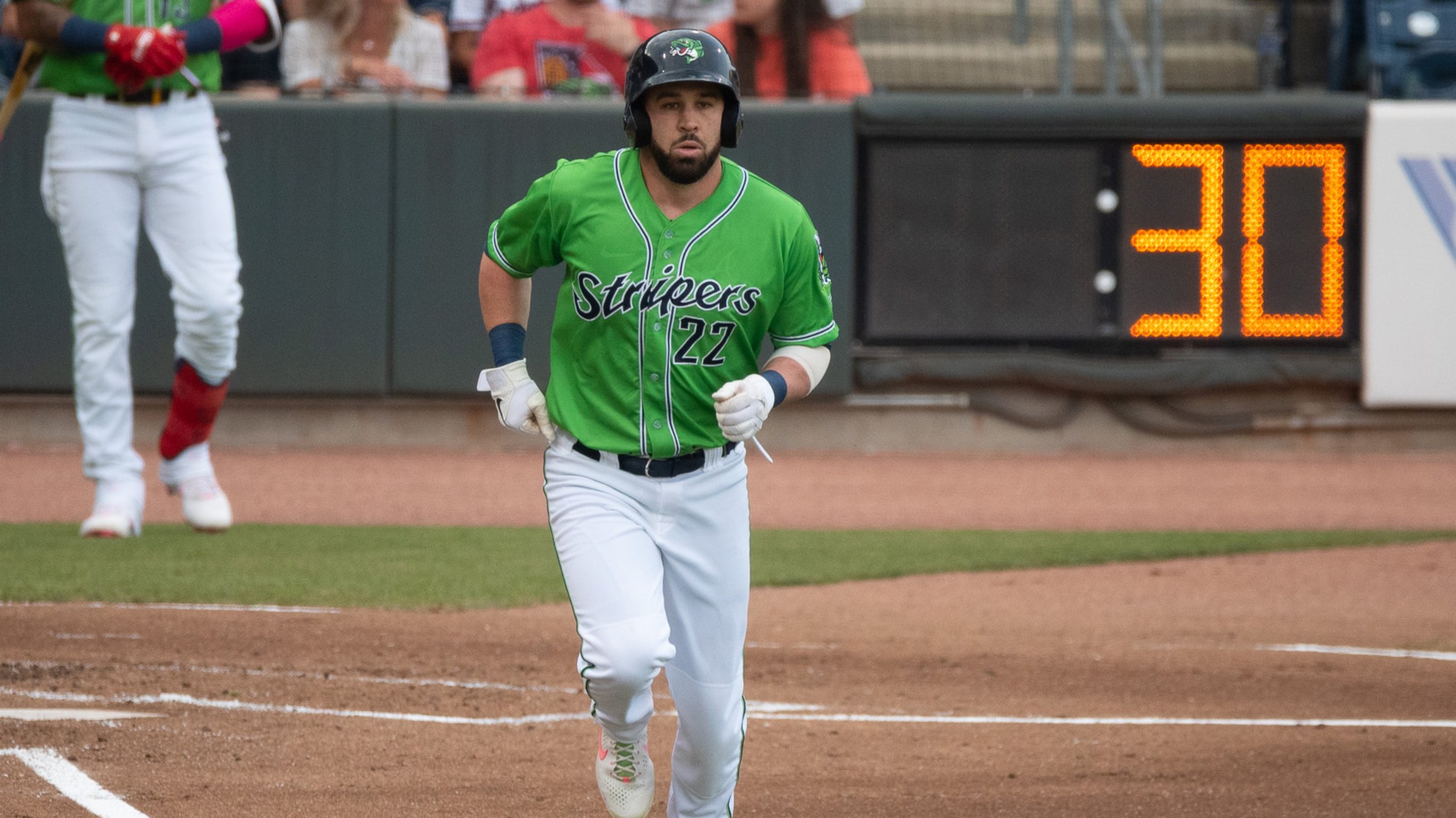 Jason Kipnis went 3-for-4 with a homer, two doubles, and three RBIs in Gwinnett's 7-2 win over Columbus on Tuesday night. (Jamie Sparr/Gwinnett Stripers)
COLUMBUS, Ohio – The Gwinnett Stripers (62-47) arrived at Huntington Park in Columbus ready to play, slugging four homers to take a 7-2 victory over the Columbus Clippers (51-56) on Tuesday night. Decisive Plays: William Contreras gave Gwinnett a 1-0 lead after hitting a solo shot (9) off Kirk McCarty
COLUMBUS, Ohio – The Gwinnett Stripers (62-47) arrived at Huntington Park in Columbus ready to play, slugging four homers to take a 7-2 victory over the Columbus Clippers (51-56) on Tuesday night.
Decisive Play**s:** William Contreras gave Gwinnett a 1-0 lead after hitting a solo shot (9) off Kirk McCarty (L, 7-5) in the second inning. Jason Kipnis added a two-run blast (8) in the third inning, making it 3-0 Stripers. Travis Demeritte added a solo homer (18) in the fourth, while Cristian Pache also hit a solo shot (10) in the fifth inning, extending Gwinnett's lead to 5-1.
Key Contributors:Kipnis hit well against his former team (played with Columbus in parts of the 2011, 2014, 2017, and 2019 seasons), going 3-for-4 with two doubles, walk, three RBIs, and three runs. Pache also went 3-for-4 with a walk and three runs. Johan Camargo completed the Gwinnett trio with multi-hit games, going 2-for-4 with a walk. Kyle Muller (W, 4-2) struck out five over 5.0 innings (2 ER) for the win.
Noteworthy: Since August 1, Pache is batting .344 (33-for-96) with seven doubles, four homers, 15 RBIs, 11 walks, and 17 runs. Since being activated from the injured list on August 12, Kipnis is hitting .357 (15-for-42) with seven RBIs, seven walks, five runs, .462 OBP, and 1.104 OPS. The Stripers are 53-26 in games with a home run and 29-12 when they do not allow a home run.
Next Game (Wednesday, September 8): Gwinnett at Columbus, 6:15 p.m. at Huntington Park. RHP Kyle Wright (6-5, 3.62 ERA) for the Stripers vs. RHP Cody Morris (1-0, 1.33 ERA) for the Clippers. Radio Broadcast: 6:00 p.m. on MyCountry993.com.
Next Home Game (Tuesday, September 14): Gwinnett vs. Nashville, 7:05 p.m. at Coolray Field (Family Value Tuesday, $2 hot dogs and $1 desserts, presented by Coolray Heating & Cooling).