Top Five: Late-Career MLB Superstars with Gwinnett
Five who were famous long before joining the G-Braves and Stripers
Left-to-right: Tom Glavine, Ryan Howard, Jose Bautista, Troy Glaus, and Freddy Garcia all played for Gwinnett late in their legendary careers.
Of all the levels of Minor League Baseball, Triple-A features the most unique combination of players. Any given International League or Pacific Coast League roster typically includes a mix of fast-rising prospects (think Cristian Pache), seasoned MiLB veterans (think Sean Kazmar Jr.), players who have worked their way back from
Of all the levels of Minor League Baseball, Triple-A features the most unique combination of players. Any given International League or Pacific Coast League roster typically includes a mix of fast-rising prospects (think Cristian Pache), seasoned MiLB veterans (think Sean Kazmar Jr.), players who have worked their way back from independent or foreign leagues (think Ben Rowen), former MLB regulars looking to re-establish themselves (think Adam Duvall), and current MLB players on injury rehab assignments.
The young prospects get most of the attention, with fans and media members alike excited about the projected skill sets and franchise-altering potential of early-round draft picks and high-dollar international amateur free agents. Every so often, however, a former Major League superstar will arrive and steal the spotlight. Assigned to the Triple-A roster for rehab or signed to a one-year minor league contract, these former MVPs, Cy Young Award winners, All-Stars, and Postseason heroes are looking to prove they still have something left at the end of their historic careers.
In honor of what would have been All-Star Week for both MLB and Triple-A, this week's "Top 5" focuses on the most notable late-career Major League superstars to play for Gwinnett.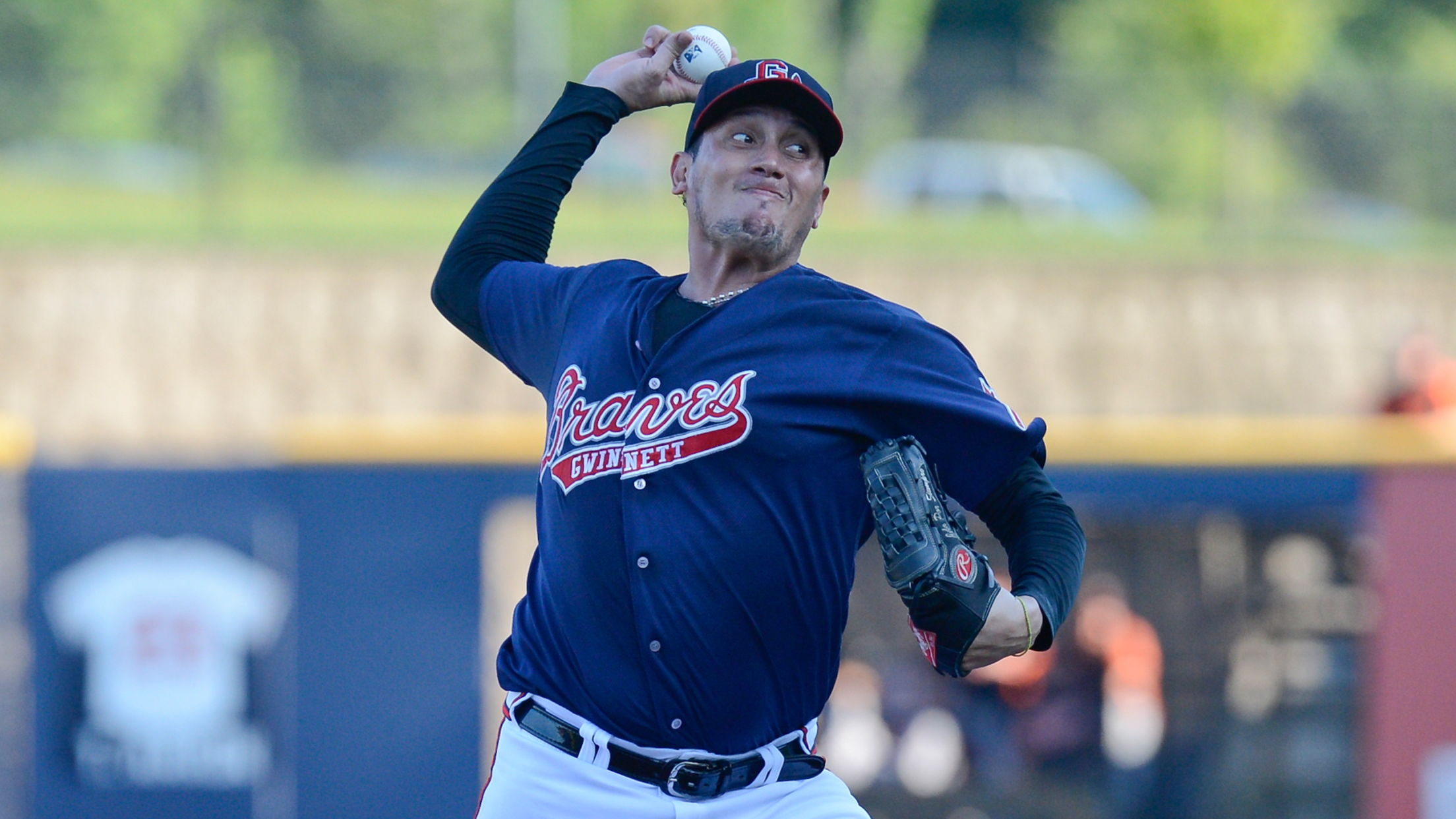 5. Freddy Garcia (2013)
The 36-year-old right-hander had two MLB All-Star selections (2001-02), an ERA title (2001), and a World Series championship (2005) under his belt when the Atlanta Braves acquired him via trade with the Baltimore Orioles on August 23, 2013 and assigned him to Gwinnett.
Garcia broke into the Majors with the Seattle Mariners in 1999, going 17-8 with a 4.07 ERA in 33 starts as a 22-year-old. Two years later, he went 18-6 with a 3.05 ERA in 34 starts, claiming the American League ERA title and making the first of his two All-Star appearances. He was an All-Star again in 2002 (16-10, 4.39 ERA in 34 starts) and went an impressive 76-50 with a 3.89 ERA in 170 games over his first six seasons with Seattle.
The Mariners traded Garcia to the Chicago White Sox on June 27, 2004, a move that proved to be key to the Sox' run to the World Series title the next season. Garcia went 14-8 with a 3.87 ERA in 33 regular-season starts, but saved his best for the 2005 Postseason. He went 3-0 with a 2.14 ERA, .205 BAA, and 1.10 WHIP in three playoff starts, including a 9.0-inning complete-game victory in Game 4 of the ALCS vs. the Los Angeles Angels and a 7.0-inning scoreless effort in Game 4 of the World Series as Chicago beat the Houston Astros 1-0 to win the championship.
Garcia made just one start in his Gwinnett tenure, August 26, 2013 vs. Norfolk. He struggled against the Tides, the team he was with prior to the trade, yielding eight runs on seven hits and issuing five walks over 3.2 innings as the G-Braves lost 13-1. Despite his rocky organizational debut, he had his contract selected by Atlanta on September 1 and he pitched in both the regular season (1-2, 1.65 ERA in six games) and playoffs (0-0, 3.00 ERA in one start) for the Braves. That was Garcia's final stint in the Majors, wrapping up a 15-year career in which he went 156-108 with a 4.15 ERA in 376 games for the Mariners (1999-2004), White Sox (2004-06, 2009-10), Philadelphia Phillies (2007), Detroit Tigers (2008), New York Yankees (2011-12), Orioles (2013), and Braves (2013).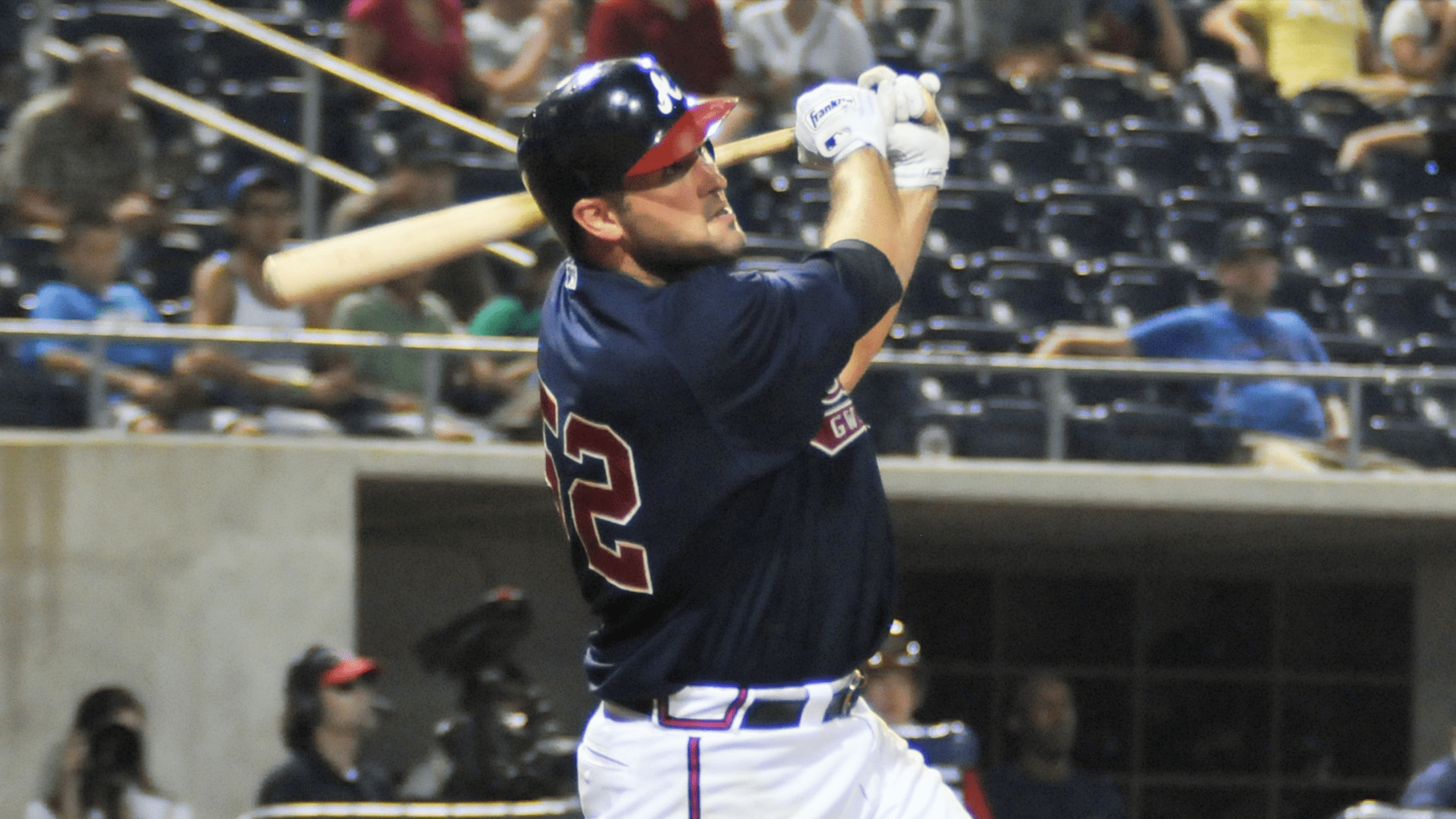 4. Troy Glaus (2010)
The 33-year-old corner infielder was a four-time MLB All-Star (2000-01, 2003, 2006), two-time AL Silver Slugger (2000-01), and 2002 World Series MVP long before signing a Major League deal with Atlanta on January 5, 2010. While playing out his final professional season in 2010, Glaus joined Gwinnett for an eight-game rehab assignment on August 23.
Anaheim's first-round pick in 1997 out of UCLA, Glaus established himself as the Angels' premier power threat throughout the early 2000's. He hit .253/.357/.497 with 182 home runs and 515 RBIs in 827 games over seven seasons, including consecutive 40-homer, 100-RBI campaigns in 2000 and 2001. In just his second full season in 2000, Glaus earned AL All-Star and Silver Slugger honors as he crushed a league-high 47 long balls and batted .284/.404/.604 with 102 RBIs in 159 games. In 2001, he repeated as AL All-Star and Silver Slugger, hitting .250/.367/.531 with 41 homers and 108 RBIs in 161 games.
Glaus would go on to produce two more All-Star seasons with the Angels in 2003 and Toronto Blue Jays in 2006, but it is his clutch World Series performance in 2002 that has secured his place in MLB history. Playing all seven games in Anaheim's classic battle with the San Francisco Giants, Glaus hit .385/.467/.846 with three doubles, three homers, and eight RBIs to win World Series MVP. His two-run double in the eighth inning of Game 6 off Giants' closer Robb Nen lifted the Angels to a come-from-behind 6-5 win, bringing them back from the brink of elimination. The next night, Anaheim won its first World Series championship with a 4-1 victory in Game 7.
Glaus played two more seasons with the Angels from 2003-04 before going on to join Arizona (2005), Toronto (2006-07), St. Louis (2008-09), and Atlanta (2010). While on the Braves' 15-day injured list in late August with a sore left knee, he suited up for the G-Braves and hit .333/.429/.600 with two doubles, two homers, and eight RBIs in eight rehab games. That 2010 season was his last, capping a 13-year MLB career in which he batted .254/.358/.489 with 320 homers and 950 RBIs in 1,537 games.
3. Jose Bautista (2018)
The 37-year-old Bautista, also known as "Joey Bats," was a six-time MLB All-Star (2010-15 with Toronto), three-time AL Silver Slugger (2010-11, 2014 with Toronto), and two-time Hank Aaron Award recipient (2010-11 with Toronto) before being signed by the Braves as a minor league free agent on April 18, 2018 and assigned to Gwinnett five days later.
Though he had already played for Baltimore, Tampa Bay, Kansas City, and Pittsburgh, Bautista's career didn't truly launch until he was traded to Toronto on August 21, 2008. The right fielder and third baseman became the face of the Blue Jays franchise for the next decade as he hit .253/.372/.506 with 288 home runs and 766 RBIs over 1,235 games from 2008-17. In 2010, he finished fourth in AL Most Valuable Player voting and secured his first AL Silver Slugger Award as he batted .260/.378/.617 with AL highs in homers (54) and total bases (351) in 161 games. The next year, he led the AL in homers (43), slugging percentage (.608), and OPS (1.056) as he won his second AL Silver Slugger Award and finished a career-best third in AL MVP voting. For both 2010 and 2011, Bautista won the Hank Aaron Award given annually to the best hitter in each league.
Award-winning regular seasons aside, Bautista is mainly remembered for his incredible 2015 Postseason with Toronto when he hit .293/.408/.659 with three doubles, four homers, and 11 RBIs to lead the Blue Jays to the ALCS. In Game 5 of the ALDS vs. the Texas Rangers, his go-ahead three-run homer in the seventh inning not only helped Toronto clinch the series, it also produced the most famous bat-flip of all time.
Bautista played two more seasons with the Blue Jays before electing free agency in 2017, and he was reunited with former Toronto General Manager Alex Anthopoulos when he signed with the Braves the following spring. Once he joined Gwinnett on April 23, Bautista batted .250/.386/.361 with one double, one homer (a ninth-inning game-winner at Charlotte on May 1), and five RBIs in 10 games. Atlanta selected his contract on May 4, but he lasted only 12 games with the Braves (.143/.250/.343, two homers, five RBIs) before being released on May 20. Brief stints with the New York Mets and Philadelphia Phillies followed, marking the last action of his MLB career. In 1,798 big league games with the Orioles (2004), Rays (2004), Royals (2004), Pirates (2004-08), Blue Jays (2008-17), Braves (2018), Mets (2018), and Phillies (2018), Bautista hit .247/.361/.475 with 344 home runs and 975 RBIs.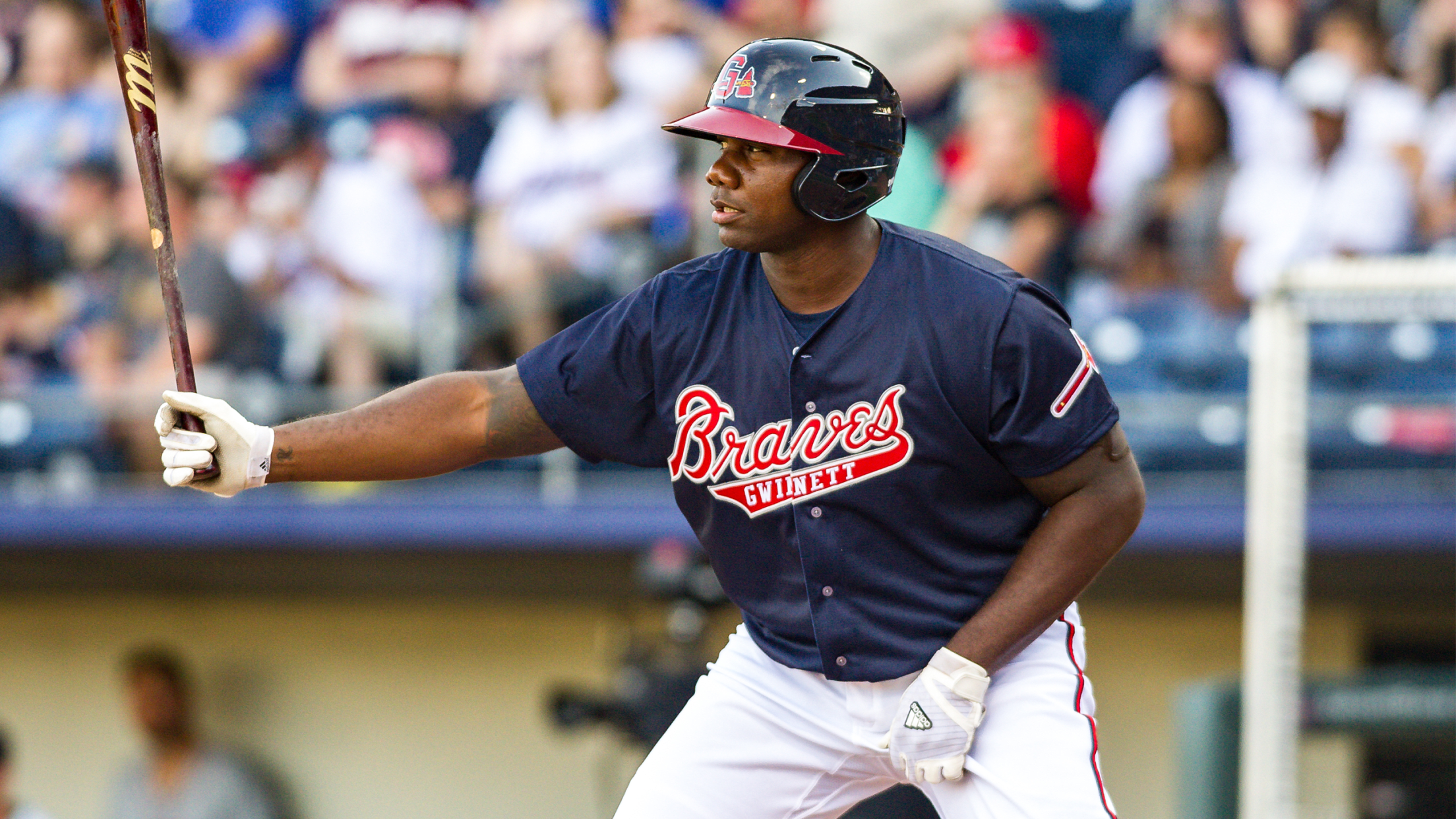 2. Ryan Howard (2017)
Howard is the most decorated hitter ever to play in a Gwinnett uniform, though all his accolades came long before he joined the Atlanta organization as a 37-year-old minor league free agent on April 8, 2017. From 2005-11 he was seemingly on the path to Cooperstown with a National League Rookie of the Year Award (2005), NL Most Valuable Player Award (2006), Hank Aaron Award (2006), NL Silver Slugger Award (2006), three NL All-Star selections (2006, 2009-10), Home Run Derby crown (2006), World Series championship (2008), and NLCS MVP Award (2009) to his credit. Through 2019, Howard holds the distinction of being the fastest player in MLB history to reach the 100-homer, 200-homer, and 1,000-RBI marks for a career.
Howard tallied 30-plus home runs and 100-plus RBIs in six straight seasons with the Philadelphia Phillies from 2006-11, including his MVP campaign in 2006 when he led the NL in homers (career-high 58) and RBIs (career-high 149) while batting .313/.425/.659. He also topped the NL in total bases (383) and ranked second in both slugging percentage and OPS (1.084) as he received 87% of the MVP vote. Two years later, Howard led the NL in homers (48) and RBIs (146) again, batting .251/.339/.543 for a Phillies club that repeated as NL East Division champions.
He carried his production over to the Postseason in 2008, hitting .269/.397/.500 with three doubles, three homers, and nine RBIs in 14 games to lead Philadelphia to its first World Series title since 1980. The next season, Howard was voted MVP of an NLCS win over the Los Angeles Dodgers, batting .333/.524/.933 with four extra-base hits and eight RBIs in five games to propel the Phillies to their second straight World Series appearance.
Howard's Hall of Fame career took a sharp turn during the 2011 Postseason when he tore his Achilles tendon while running to first base on the final play of the Phillies' NLDS Game 5 loss vs. the St. Louis Cardinals. He was never quite the same slugger after, falling short of the 30-homer, 100-RBI marks in each of his final five seasons. When Howard departed Philadelphia for free agency in November of 2016, he had a career .258/.343/.515 slash line along with 277 doubles, 21 triples, 382 homers, and 1,194 RBIs in 1,572 games.
After spending the first 16 years of his professional career in the Phillies organization, Howard signed with the Braves shortly after the start of the 2017 season. He reported to Gwinnett on April 22 and began his G-Braves career with a 2-for-2, one-RBI effort that night vs. Pawtucket. The hot start wouldn't continue, however, as he hit .184/.238/.263 with one homer and five RBIs in 11 games before being released by Atlanta on May 8. The Colorado Rockies signed him on August 12 and sent him to Triple-A Albuquerque, where he played the final 16 games of his career.
Howard sat out all of 2018 and signed a one-day contract with Philadelphia on July 14, 2019, officially retiring as a Phillie.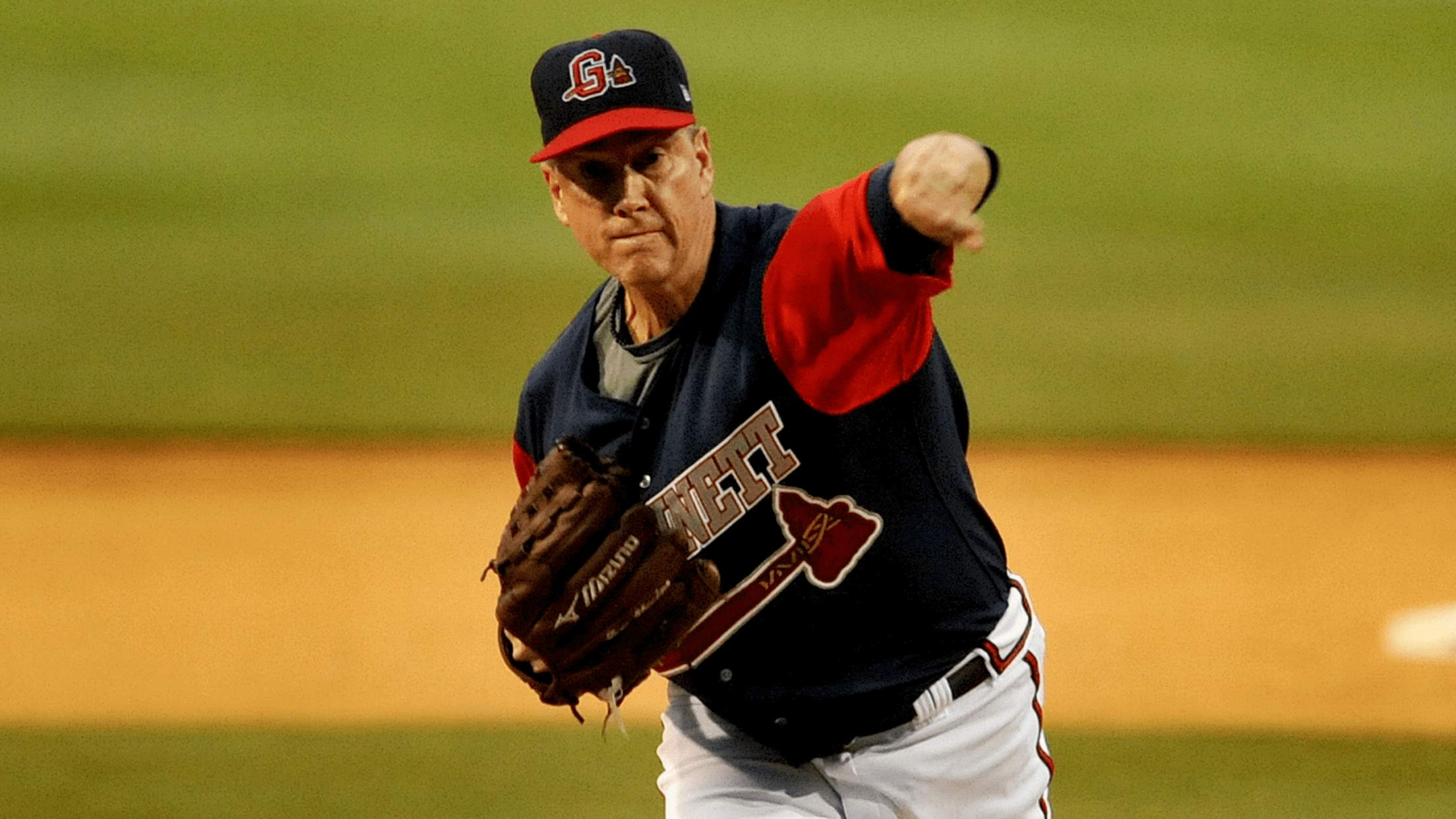 1. Tom Glavine (2009)
By the time a 43-year-old Glavine made two rehab starts for Gwinnett in 2009, he was already a living legend, having cemented his place as one of the best left-handed pitchers in baseball history. The two-time NL Cy Young Award winner (1991, 1998), ten-time MLB All-Star (1991-93, 1996-98, 2000, 2002, 2004, 2006), four-time NL Silver Slugger (1991, 1995-96, 1998), and 1995 World Series MVP was looking for one last shot at the big leagues when he re-signed with the Braves on February 20, 2009.
In his first run with Atlanta from 1987-2002, Glavine teamed with Greg Maddux and John Smoltz to form the most feared pitching trio in baseball. His 1991 Cy Young season (20-11, 2.55 ERA, .222 BAA, 1.09 WHIP in 34 starts including nine complete games) was vital for the "worst-to-first" Braves, kicking off Atlanta's MLB-record 14 consecutive division titles. The southpaw went on to win 20 games in 1992 and a career-high 22 games in 1993, but truly made his career-defining performance two years later as MVP of the 1995 World Series. Glavine went 2-0 with a 1.29 ERA and 0.71 WHIP in two starts vs. the Cleveland Indians, including a historic Game 6 clincher in which he fired 8.0 scoreless, one-hit innings and struck out eight as the Braves won 1-0.
Glavine added another Cy Young Award to his trophy case in 1998 with his fourth 20-win season (20-6, 2.47 ERA, .238 BAA, 1.20 WHIP in 33 starts), and topped the 20-win mark for the fifth and final time in 2000 (21-9, 3.40 ERA, .244 BAA, 1.19 WHIP in 35 starts). He produced two more impressive regular-seasons in 2001 (16-7, 3.57 ERA in 35 starts) and 2002 (18-11, 2.96 ERA in 36 starts) and one more dominant Postseason (2-1, 0.90 ERA in three starts in 2001) before leaving the Braves for free agency in October 2002.
Following a five-year stint with the New York Mets from 2003-07 (61-56, 3.97 ERA in 164 starts) that included his final playoff appearance in 2006 (2-1, 1.59 ERA in three starts), Glavine returned to Atlanta as a free agent on November 18, 2007. In what would be his last Major League season in 2008, he went 2-4 with a 5.54 ERA in 13 starts for the Braves.
Glavine signed one more free-agent deal with Atlanta on February 20, 2009, but never pitched in another big-league game. Dealing with a shoulder injury, he was limited to four rehab starts in the minors in 2009. He went 2-0 with a 2.25 ERA in outings for Class-A Rome, Double-A Mississippi, and Gwinnett, including 1-0 with a 3.38 ERA in his two starts for the G-Braves. The second-to-last outing of his pro career came at Coolray Field, a 5.0-inning, six-hit, scoreless effort for the victory as Gwinnett defeated Indianapolis 10-6. After tossing 6.0 scoreless, three-hit frames in a win with Rome on June 2, he was released on June 3.
Glavine officially retired from baseball on February 11, 2010, ending a 22-year career with the Braves and Mets in which he went 305-203 with a 3.54 ERA, 56 complete games, and 25 shutouts in 682 starts. He made an additional 35 Postseason starts for both clubs, going 14-16 with a 3.30 ERA and three complete games. Through 2019, his 305 regular-season wins are 21st all-time in baseball history.
The Braves retired Glavine's No. 47 during the 2010 season, and four years later, he was a first-ballot selection to the Baseball Hall of Fame with 91.9% of the vote. To date, Glavine is the only player in Gwinnett history to be enshrined in Cooperstown.