Crawdads Erupt in Game 1, Win 11-4
'Dads Split Doubleheader, Falling in Game 2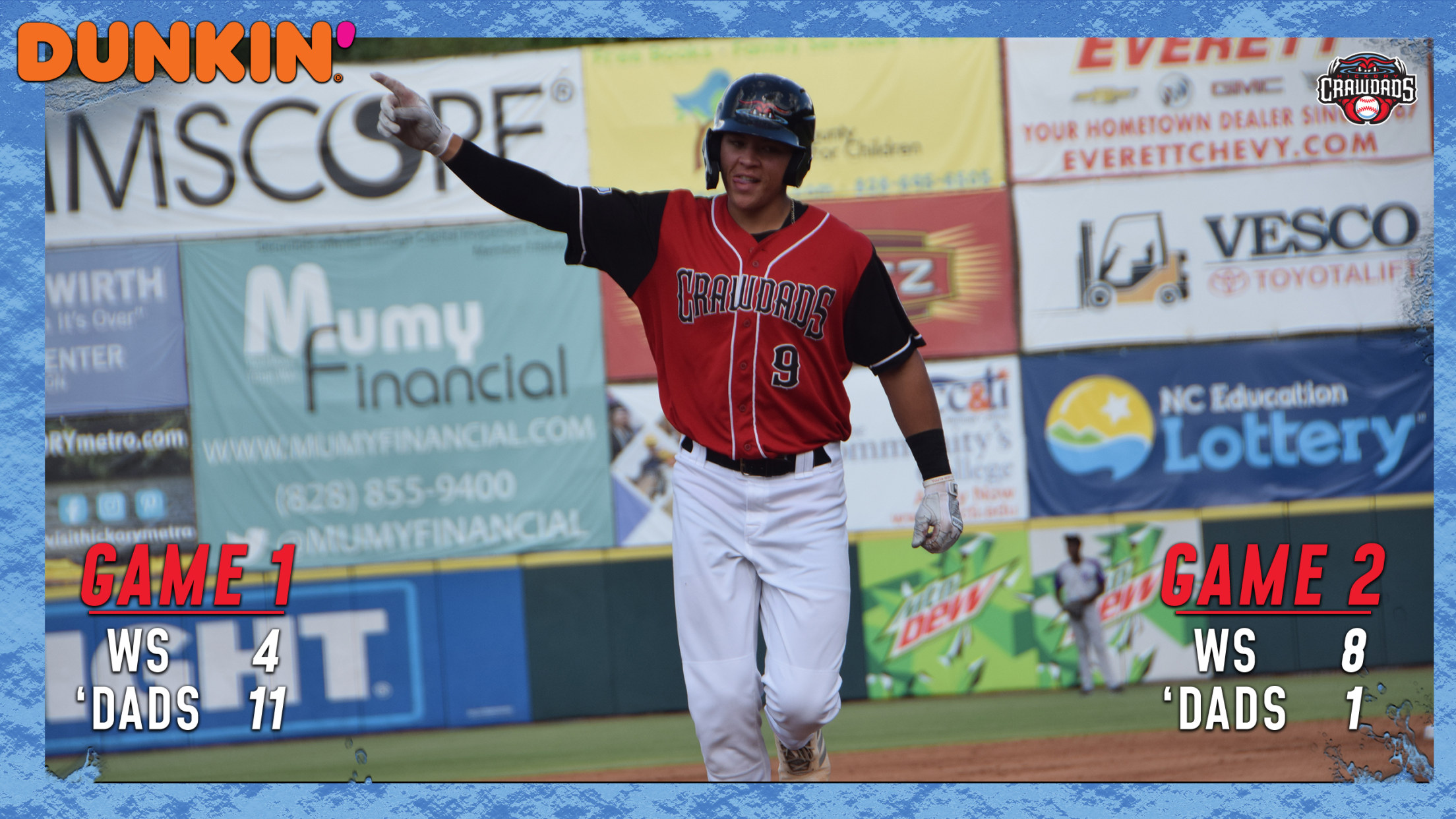 Hickory, NC- The Crawdads crushed the Winston-Salem Dash 11-4 in the first game of Saturday's doubleheader but lost in the second by a score of 8-1. In the first game Winston-Salem took a 2-0 lead in the top of the first on a homerun off Avery Weems. The Crawdads quickly
Hickory, NC- The Crawdads crushed the Winston-Salem Dash 11-4 in the first game of Saturday's doubleheader but lost in the second by a score of 8-1.
In the first game Winston-Salem took a 2-0 lead in the top of the first on a homerun off Avery Weems.
The Crawdads quickly bounced back to take a 4-2 advantage after one. Ezequiel Duran walked and Hauver put runners on the corners with a single to center. Dustin Harris homered to left to give the 'Dads a trio of runs. Trey Hair reached on a fielding error and moved to third on a single by David Garcia. Jonathan Ornelas grounded into a double play but Hair was able to score.
The Dash got a run in the second and one in the third to even the score at four.
The 'Dads pushed back ahead in the third with a pair of runs. Harris doubled and took third as Hair grounded out. Garcia singled to left, driving in Harris. Ornelas advanced Garcia to third on a single. Guenther brought him home on a sacrifice fly.
In the fourth, the Crawdads added two more to pull ahead 8-4. A single by Jared Walker and a double by Duran put runners in scoring position. Hauver came through with a single to left that brought in both runners.
Three more runs in the fifth made it an 11-4 game in favor of the Crawdads. Ornelas and Guenther singled to lead off the inning and put runners on the corners. Guenther took second on defensive indifference. Duran singled and brought two in. Duran took second on the throw home and third on a wild pitch in the following at bat. Harris delivered a single that drove in Duran.
The Crawdads held on to win the first game of the night 11-4.
In the second game of the doubleheader, the teams traded runs in the first inning. The Crawdads run came on a homerun by Duran, his third hit of the day.
Winston-Salem scored runs in the third and fourth to pull ahead 3-1. They tacked on five in the eighth to bring the score to it's final of 8-1.
The homestand will wrap tomorrow with Church Bulletin Sunday presented by Catawba Shoe Store and Little League Sunday thanks to Sheetz.