Crawdads Flirt with No-No in Win
'Dads Come 2 Outs Short of No-Hitter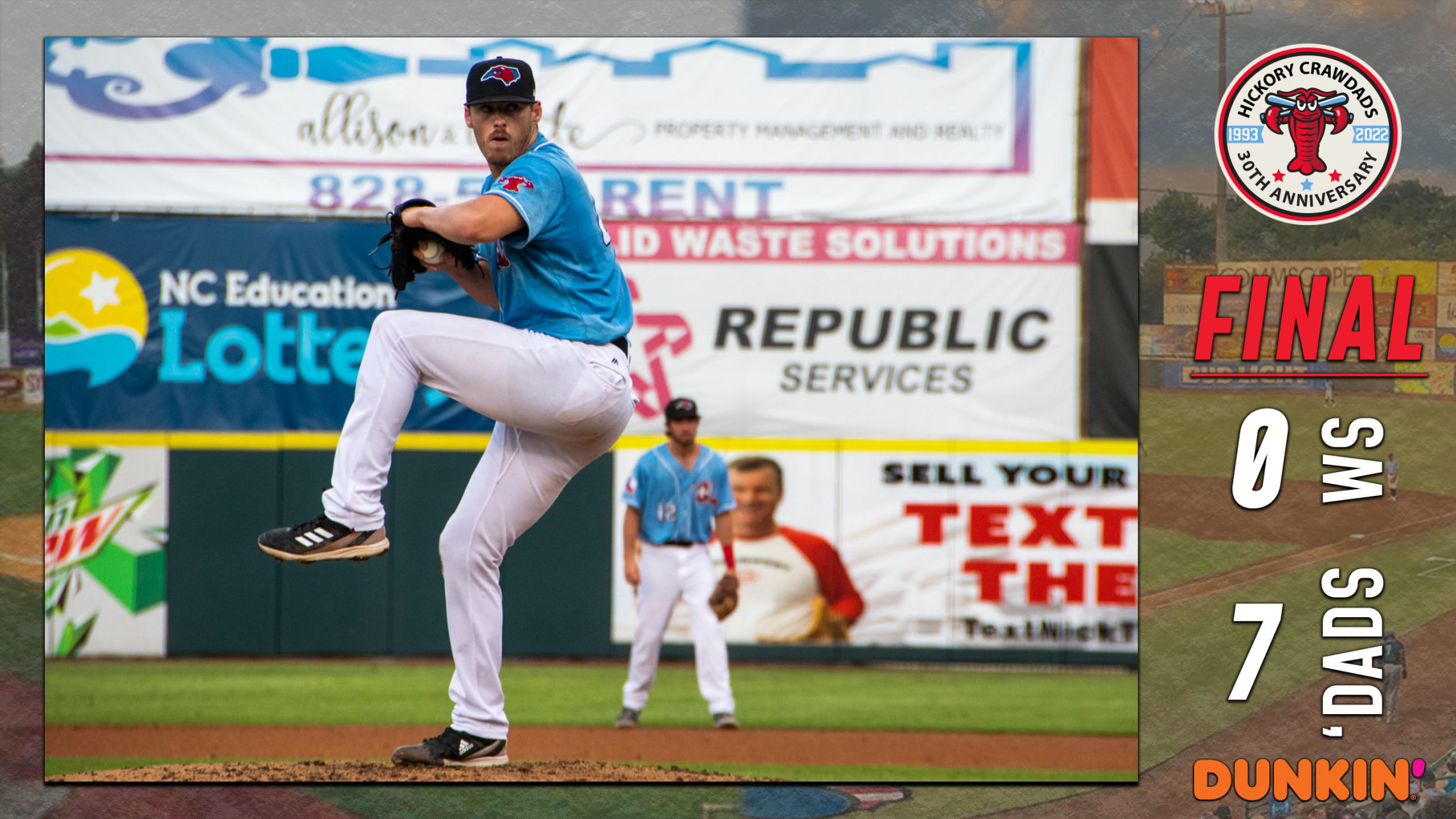 Hickory, NC- The Crawdads came just two outs shy of throwing their second no-hitter in a week as they one-hit the Winston-Salem Dash in a 7-0 victory. The Crawdads scored two in the third to take the lead. Konner Piotto was hit by a pitch and Alejandro Osuna reached on
Hickory, NC- The Crawdads came just two outs shy of throwing their second no-hitter in a week as they one-hit the Winston-Salem Dash in a 7-0 victory.
The Crawdads scored two in the third to take the lead. Konner Piotto was hit by a pitch and Alejandro Osuna reached on a catcher's interference. Thomas Saggese hit a deep fly to right that allowed Piotto to tag up and score. With two outs, Evan Carter worked a full count and poked a grounder to first that he beat out. With the runners going as soon as the Winston-Salem pitcher started his motion, Piotto was able to easily score and Osuna's speed allowed him to come behind and score as the Dash were focused on the play at first.
Fresh off his seven-inning start in last week's no-hitter, Mason Englert tossed six innings without giving up a hit. He walked one and hit a batter while a third reached on an error. Englert struck out three and threw 84 pitches. In his last 13 innings, Englert has not allowed a hit.
John Matthews took over in the seventh, getting a grounder to third, a swinging strikeout, and another ground ball to third.
The Crawdads rallied in the bottom of the seventh to push the lead to 7-0. Chris Seise hit his second double of the night and promptly stole third. Keyber Rodriguez slapped a line drive to right, sending in Seise. Piotto drove a double to right that scored Rodriguez and put the 'Dads ahead by four. A wild pitch allowed Piotto to take third. He scored as Osuna hit a fly ball to the warning track in right. Saggese and Carter kept the momentum going with a single and a walk. Inoa doubled them in with a line drive to right.
Matthews recorded a 1-2-3 eighth inning before coming back out for the ninth. He sat the first hitter down with a fly ball to right. The next hit a ground ball up the middle, splitting the infielders to break up the no-hitter. Matthews got the next batter to ground into a double play to end the game.
The Crawdads will take on the Dash again tomorrow at 7pm. It will be Princess Night presented by Sonrise Travel and Practically Perfect Princess Parties. After the game, the Crawdads will be shooting off fireworks thanks to Pepsi and WHKY 1290AM and 102.3FM.