Crawdads to Host Pair of App State Nights
Yosef Bobblehead and Hat Giveaways Planned for Nights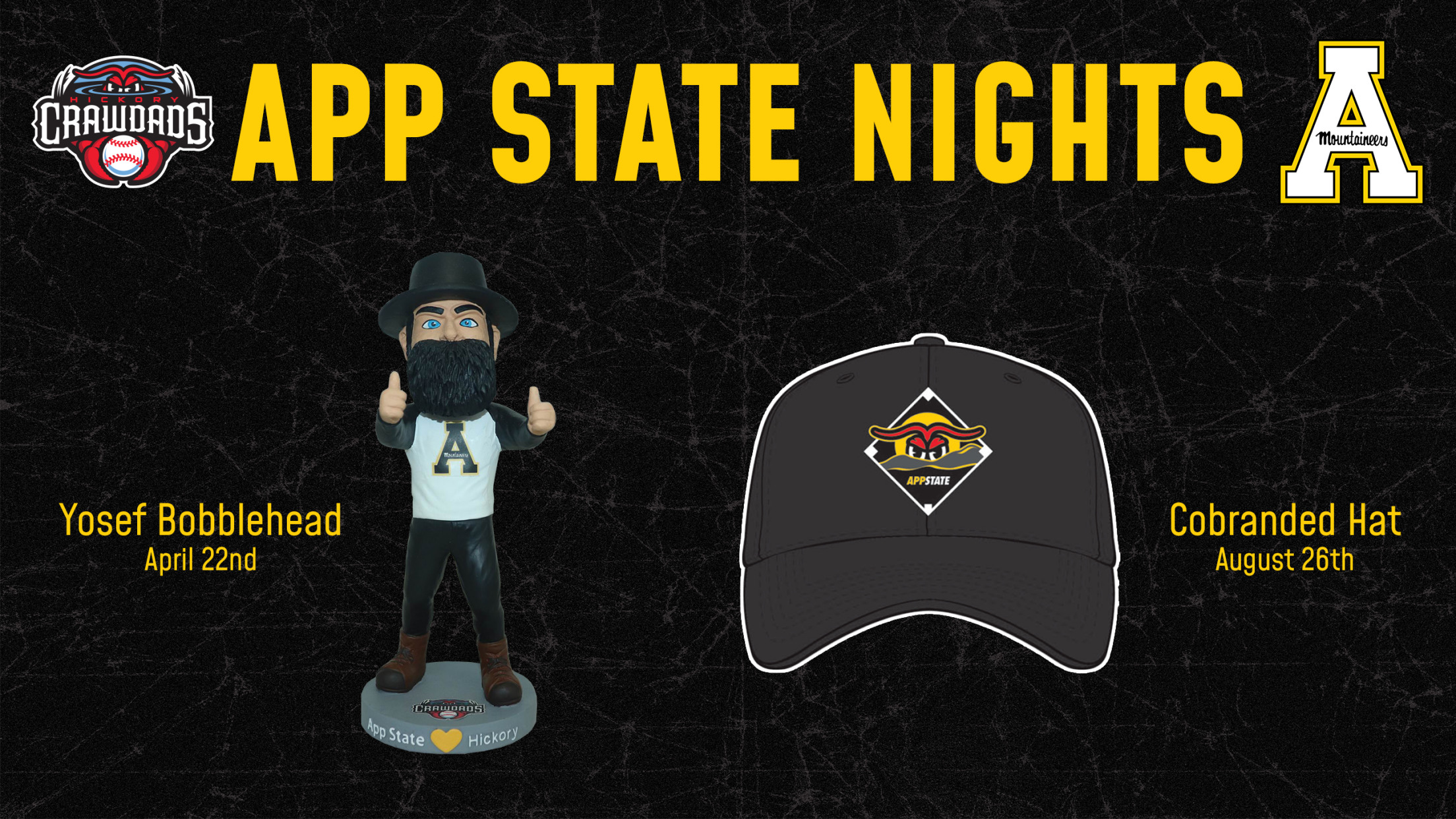 Hickory, NC- The Crawdads are excited to partner with Appalachian State University for a pair of App State Nights at the Frans during the 2023 season. The first night, Saturday, April 22nd, will feature a Yosef bobblehead giveaway to the first 1,000 fans. The second game, Saturday, August 26th, will
Hickory, NC- The Crawdads are excited to partner with Appalachian State University for a pair of App State Nights at the Frans during the 2023 season.
The first night, Saturday, April 22nd, will feature a Yosef bobblehead giveaway to the first 1,000 fans. The second game, Saturday, August 26th, will have an App State themed hat giveaway to the first 1,000 fans. The black adjustable hat features a Crawdad peaking over the mountains framed by a baseball diamond and includes the App State logo above the right ear. Both Crawdads games will have a 7pm first pitch.
Fans can secure their ticket to both games and guarantee each giveaway with the App State Night Package for $40 ($50 for VIP Seats). The package ensures the giveaway without needing to arrive early to the stadium to wait in line. Season ticket holders can purchase the giveaways for $26 by contacting the Crawdads front office. Packages can be purchased online, over the phone by calling 828-322-3000, or in-person starting at the App State vs Queens University of Charlotte series from Friday, February 17th through Sunday, February 19th at LP Frans Stadium.
Individual tickets for these two games and the Crawdads' other 64 home games will go on sale on March 18th. Groups, patios and suites, are on sale for all regular season games and the April 4th exhibition against CVCC.