RailRiders' Cave posts first multi-homer game
Yanks prospect drives in career-high five runs on three-hit night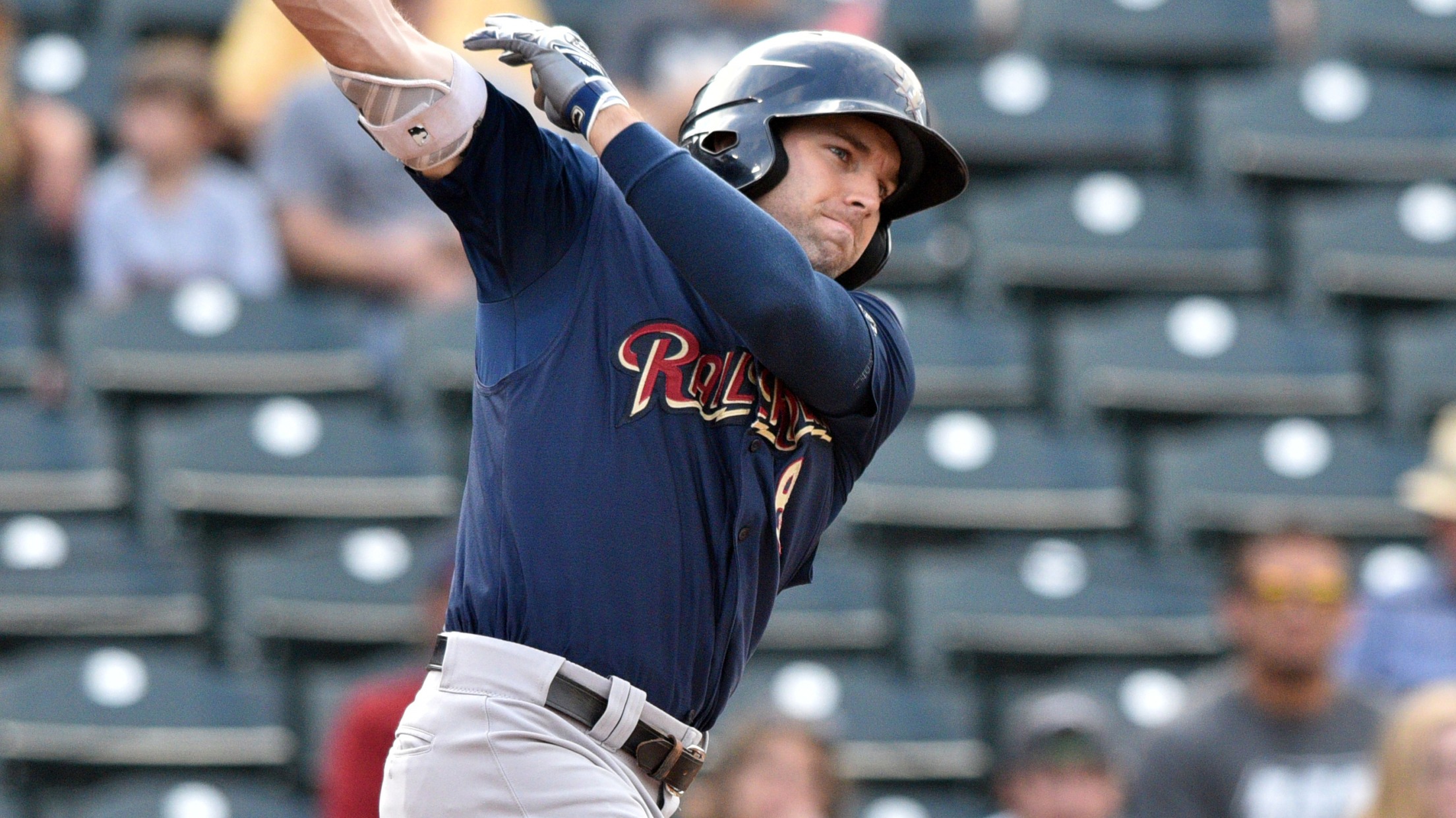 Jake Cave is hitting .383 with five home runs and 10 RBIs in 12 games at PNC Field this season. (Ken Inness/MiLB.com)
Jake Cave had seen teammates hit two home runs in a game and always wanted to do it himself. He checked that off his to-do list on Saturday.The Yankees prospect went yard twice and plated a career-high five runs on a 3-for-3 night in Triple-A Scranton/Wilkes-Barre's 8-1 victory over Lehigh
Jake Cave had seen teammates hit two home runs in a game and always wanted to do it himself. He checked that off his to-do list on Saturday.
The Yankees prospect went yard twice and plated a career-high five runs on a 3-for-3 night in Triple-A Scranton/Wilkes-Barre's 8-1 victory over Lehigh Valley at PNC Field.
Cave opened the scoring by plating Billy McKinney with a double to right in the second inning. The 24-year-old walked and stole second with two outs in the third, but was stranded when Cito Culver struck out.
Gameday box score
The outfielder stepped to the plate against IronPigs reliever Pat Venditte to lead off the sixth. Venditte, a switch-pitcher, opted to throw left-handed against Cave, who was 2-for-23 against southpaws this season.
After taking a strike, the 2011 sixth-round pick pulled a hanging slider over the right-field wall for his first homer since June 30.
"I've seen a lot of lefties in the past few games -- tough lefties -- and Venditte is a tough lefty," Cave said. "I just got a slider that was over the plate and I put my best swing on it and connected. There wasn't really too much overthinking about it."
The Virginia native blasted his second homer an inning later on a 1-2 changeup from Michael Mariot. The three-run shot to left-center gave him seven in 22 games with the RailRiders this year.
"I wasn't looking for anything in particular," Cave said. "With two strikes, I was looking to battle a little bit, but I saw the guy really well. I knew if he put a pitch out over the plate I could at least put a good swing on it, and that's all you can control."
Cave surpassed his previous career high of four RBIs set on May 23, 2013, with Class A Charleston. However, hitting multiple home runs for the first time dominated his thoughts afterward.
"Yeah, I thought about it," Cave said. "It's the first time. I've never done that and it's a cool feeling. When you see guys do it, it's really cool to see. To be able to do that, it was fun."
Cave's career night continued something of a resurgence this season. The Reds selected the Virginia high school product in the Rule 5 Draft at the start of 2016, but returned him to the Yankees shortly after Spring Training. He went on to hit .268/.330/.427 in 116 games with Scranton/Wilkes-Barre and Double-A Trenton.
This year, Cave has broken out with a .290/.342/.576 slash line, 12 homers and 32 RBIs in 53 games across two levels. He's batting .329 with a 1.053 OPS in 22 games with the RailRiders.
"I'm having fun this season," Cave said. "I'm feeling good and I feel like I'm producing. To be able to do something like this tonight and kind of check it off the list is really fun."
Miguel Andújar, New York's ninth-ranked prospect, ripped a two-run homer in the third. McKinney finished 3-for-4 with two runs scored.
Scranton/Wilkes-Barre starter Brady Lail gave up a run on three hits with two walks and four strikeouts over four innings. Nick Rumbelow (2-0) walked two and fanned three over 2 2/3 frames of scoreless relief.
César Ramos (4-4) surrendered four runs on five hits with three walks and four strikeouts in four innings for Lehigh Valley.