September 17 Game Notes: Iowa Cubs vs. St. Paul Saints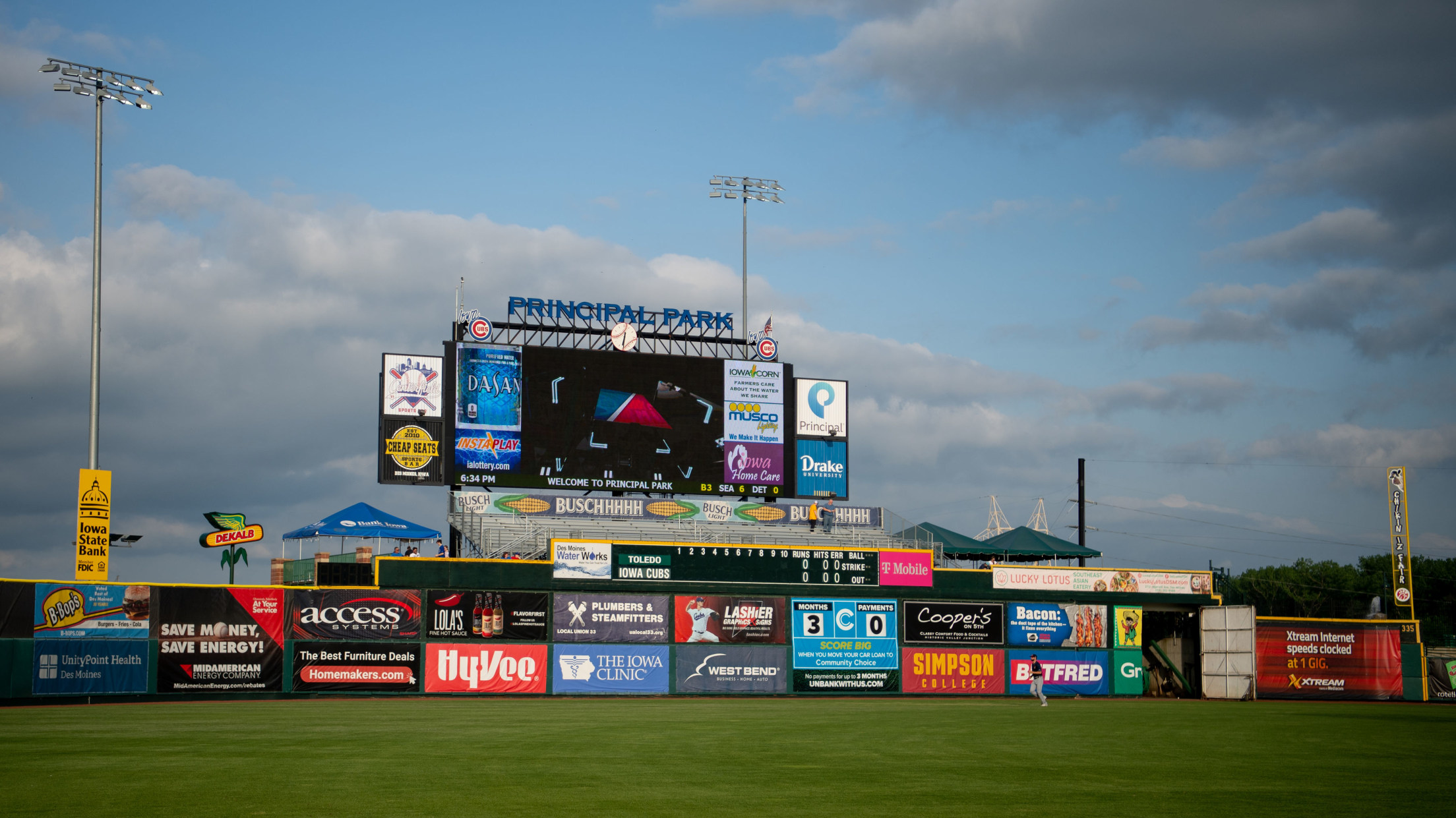 IOWA CUBS (78-62) vs. ST. PAUL SAINTS (80-62) Sunday, September 17 • 1:08 PM • Principal Park • Des Moines, IA RHP Shane Greene (2-1, 2.29) vs. RHP David Festa (1-0, 2.79)
IOWA CUBS (78-62) vs. ST. PAUL SAINTS (80-62)
Sunday, September 17 • 1:08 PM • Principal Park • Des Moines, IA
RHP Shane Greene (2-1, 2.29) vs. RHP David Festa (1-0, 2.79)
TODAY'S GAME: With four consecutive wins, Iowa will look to end their home schedule on a high note with a win in the finale today. Shane Greene will take the mound for Iowa, set to make his sixth start in his eighth game of the year with the I-Cubs. Greene is 2-1 with a 2.29 ERA with Iowa, allowing just five earned runs on 15 hits and 10 walks, striking out 22 over his 19.2 innings pitched. After making five straight starts to begin his I-Cubs career, the righty has come out of relief in each of his last two outings, as this will mark his first start since August 27. On the other side, David Festa will toe the rubber for the Saints. Festa enters today's game with a 1-0 record and a 2.79 ERA in two starts for the Saints, allowing three earned runs on seven hits and seven walks. He has struck out 13 batters over those 9.2 innings pitched, limiting opponents to a .200 batting average against him. The 23-year-old was recently promoted to St. Paul on August 28 after going 3-3 with a 4.39 ERA in 21 games (19 starts) with Double-A Wichita.
BACK IN THE ROTATION: Although it's been a short tenure with Iowa, it's been a wild one for Shane Greene. The lefty first singed with the Cubs on June 25. He spent the month of July with the ACL Cubs before joining Iowa on August 6. He fell directly into Iowa's starting rotation, making five starts in August. In those games, he went 1-1 with a 2.16 ERA, allowing four earned runs on 12 hits in 16.2 innings. Greene struck out 20 batters and walked just nine. With his strong performance at Triple-A, the Chicago Cubs selected his contract on September 1. He made just one appearance in the Majors which came on September 3. Greene tossed 1.0 inning, allowing just one hit while striking out one. He was then designated for assignment on September 6 and accepted the assignment to join Iowa on September 8. When rejoining Iowa, Greene came out of the pen. He made two relief appearances on September 10 and 13. In those outings, Greene tossed 3.0 innings, allowing one run on three hits while striking out two and walking one. He earned a win against St. Paul in that second appearance out of the bullpen. Today, Greene is set to make his first start since rejoining Iowa and his sixth of the season as an I-Cub.
STAYED HOT: Caleb Kilian went out and delivered just what Iowa needed last night, giving them their first six-inning start since he did so back on August 25 against Indianapolis. The right-hander had a rocky couple of starts back on August 31 against Toledo and September 6 against Omaha, allowing a combined 13 earned runs over 5.1 innings pitched, surrendering 13 hits and three walks compared to four strikeouts. The Cubs No. 23 ranked prospect followed that with a start on September 10 in which he didn't allow a single earned run, giving up three hits and two walks over 4.2 innings pitched. He improved on that again last night, with a stellar outing. Kilian tossed 6.0 innings, allowing just two earned runs on three hits and a walk while striking out four. The outing gave him his team-leading eighth win of the year, moving to 8-2 on the season. He not only leads the team in wins, but also in games started (23) and innings pitched (115.0). The 26-year-old now ranks fifth in the International League in ERA (4.38), tied for ninth in wins (8), 10th in innings pitched (115.0), sixth in batting average against (.261), fifth in WHIP (1.30) and second in winning percentage (.800).
LITTLE'S FIRST SAVE: After 46 relief appearances this season, Brendon Little recorded his first save of the season last night. The lefty entered the game with runners on first and second, two outs and a two-run lead in the bottom of the ninth. All he needed to do was retire one batter without allowing more than one run to not only close the game, but earn a save. Little did just that striking out pinch-hitter Kyle Garlick on three pitches. Although it was his first save of the season, it wasn't his first chance at one. Little has blown two saves this season, once on June 1 and again on June 8. Last night was his first save since August 5, 2022. Little now has three saves in his I-Cubs career. He recorded one in 2022 and two in 2021. In his Triple-A career, he is 4-for-9 in save opportunities. In his five-season minor league career, Little is 5-for-10 in save opportunities. He has made 109 appearances out of the bullpen in the minors. At the Major League level, Little is 0-for-1. He blew a save in his only big-league appearance on August 30, 2022.
GOING ON A STREAK: With their win last night, the I-Cubs have now won four straight games. After a tough series versus the Omaha Storm Chasers last week where Iowa went 2-4, this series has been night and day different. Iowa fell to the Saints on Tuesday night 4-1 but have since bounced back. They won Wednesday's game 4-3, Thursday's 9-3, Friday's 7-6 and last night's 7-5. The I-Cubs four game streak is their longest since they won seven from August 8 to 16. That seven game streak is a season long and Iowa's longest since May of 2018. On the year, Iowa has had five four-game winning streaks, two five-game streaks and one seven-game streak. The I-Cubs suffered their longest losing streak of the season just earlier this month. They lost seven straight from September 1 to 8. Before that losing streak, the most consecutive losses for Iowa was five which came from June 2 to 7. They have only lost five or more in a row twice this year.
AGAINST ST. PAUL: After four consecutive wins, Iowa earned the series victory over St. Paul after starting the series with a loss. The I-Cubs now lead the current series 4-1 and the season series by three games, at 13-10. They are 7-4 against the Saints at Principal Park this year after going 6-6 in 12 games at CHS Field. With their win last night, they won the series and are now 10 games behind St. Paul all-time overall, at 36-46. Since 2021, they have gone 16-19 all-time at Principal Park and 20-27 all-time at CHS Field.
SHORT HOPS: Both Brandon Hughes and Nick Burdi threw for the second consecutive night on their major league rehab assignments last night; Hughes allowed three earned runs on one hit and two walks while striking out one in one inning and Burdi surrendered one hit and one walk in his 0.2 innings pitched…Iowa earned their first series win since August 8-12 when they took all five games in a rain-shortened series at Werner Park… Caleb Kilian spun 6.0 innings in last night's win, marking the longest start for an I-Cubs pitcher since Kilian did so back on August 25 against Indianapolis…a win today would give Iowa an even .500 record in the second half at Principal Park, as they enter today's game with a 17-18 record.