A June Update From The Jackson Generals 
Catching you up to speed with the latest Generals news and events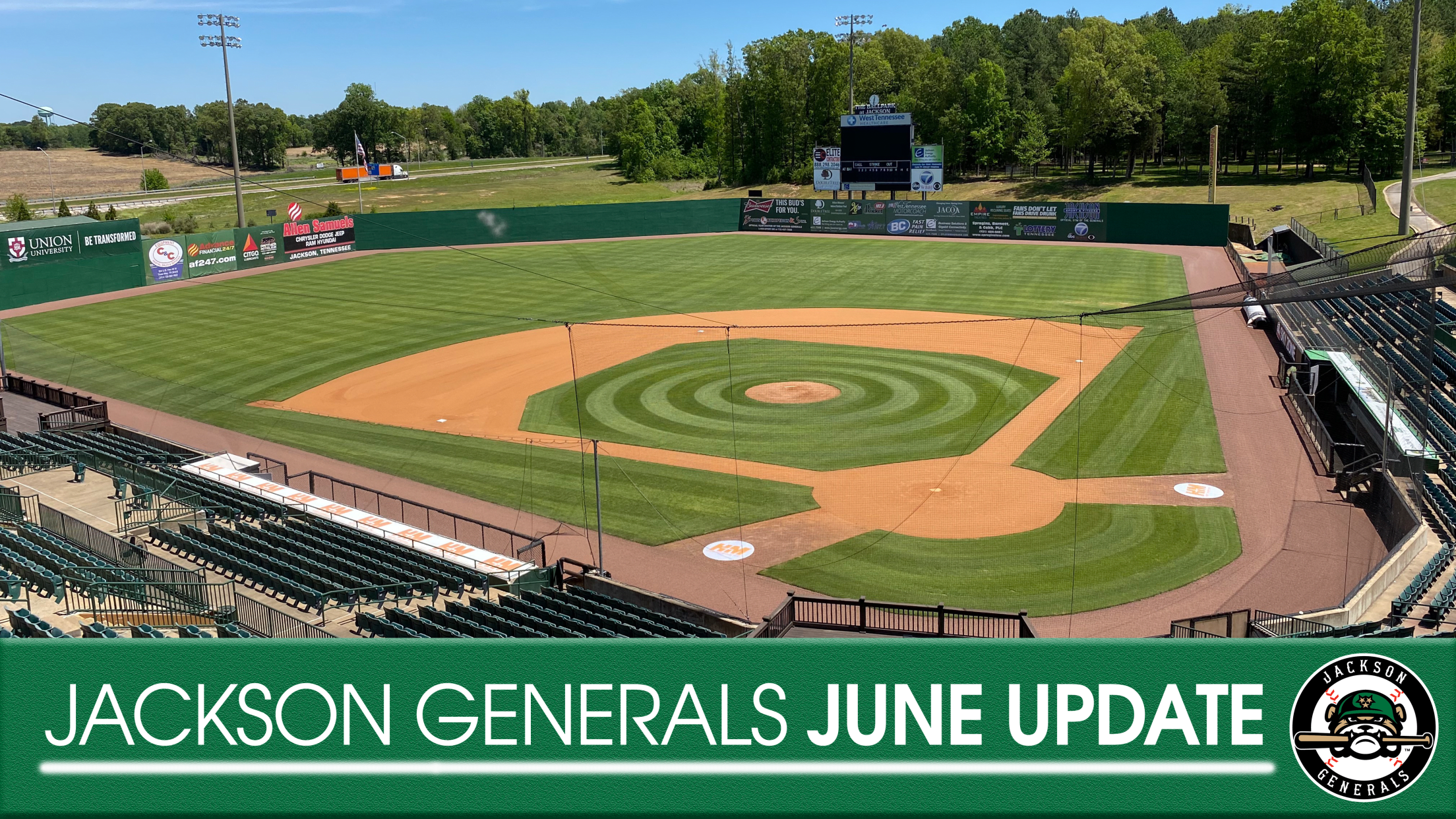 As the days begin to feel more like summer, all of us at the Jackson Generals truly miss welcoming our fans into The Ballpark at Jackson, and coming together to enjoy our great game. We have the baseball itch, and we know you do too. We hear from our fans
As the days begin to feel more like summer, all of us at the Jackson Generals truly miss welcoming our fans into The Ballpark at Jackson, and coming together to enjoy our great game. We have the baseball itch, and we know you do too. We hear from our fans and community partners every day, and we thank you for the questions and thoughts you have brought to us. Your vocal support helps us continue our commitment to bringing you the most up-to-date information on the status of our season.
Unfortunately, we still do not know when that first pitch will be thrown, or if the Generals will even take the field in 2020. What we can guarantee, is that we will adapt and find new ways to use our great Ballpark to bring unique forms of entertainment to our city. From graduations, movie nights, concerts, high school games and beyond, we are finding new ways to engage our entire community.
Below you will find some team news updates and stories from the past month, along with additional opportunities to visit us at The Ballpark at Jackson in June. For all up to date event information follow the Generals on Facebook, Twitter & Instagram, or visit our website at jacksongeneralsbaseball.com.
Southern League Announces Cancelation of All-Star Events in Jackson
The Jackson Generals, in accordance with the Southern League, have announced the cancelation of the 2020 Southern League Home-Run Derby and All-Star Game due to the global coronavirus pandemic. The Ballpark of Jackson was set to host the annual showcase on June 22-23, for the first time since 2011, and hopes to bring the events back to town in the future.
Fans who have purchased 2020 All-Star Game and Home-Run Derby tickets will be contacted by members of the Generals front office, and are encouraged to call the Generals' office to receive a refund in full. The Generals will announce any additional information regarding the future scheduling of the All-Star events once available.
The Ballpark at Jackson to Host High School Baseball Tournaments
Baseball is set to make its return to The Ballpark at Jackson, as the Jackson Generals announced Monday a partnership with Net Elite Baseball and Pastime Tournaments, which will bring high school tournaments to town over the summer. Tournament dates range from June 11th through August 2nd, and team registration is now available. TOURNAMENT DATES & REGISTRATION.
Tickets On Sale for Father's Day Movie Event on June 20
The Generals are hosting the first ever Fathers and Fireworks event, scheduled for Saturday, June 20th at The Ballpark at Jackson. Celebrate the weekend with dad, or bring the whole family, to enjoy this unique Ballpark viewing experience.
Tickets to the event are just $5 per person, and will reserve your family a picnic space on the field, plus an up-close look at the film "Field of Dreams," which will play on the stadium video board at 8pm. Gates open at 7pm, and attendees are encouraged to bring blankets and lawn chairs. Limited concession items will be available, including bottled beverages and beer. All dads will also receive a free Generals team hat when entering the Ballpark!
The movie will be followed by a special Father's Day themed fireworks spectacular, presented by Pyro Shows! Social distancing guidelines will be in place to spread out groups, and space is limited. BUY TICKETS NOW.
Generals Team With RIFA to Pack Meals For Jackson Community
The Jackson Generals spent time in May teaming up with the Regional Inter-Faith Association, helping pack snack backpacks and provide meals to the Jackson community. RIFA is a local faith-based organization that has been helping curb hunger throughout the city since its founding in 1976.
Volunteer Coordinator Dan Ward says that RIFA's combined ministries were able to provide 518,000 meals to those in need in 2019. The organization hopes to reach equal numbers this year, but like many, is also feeling the strain of the coronavirus pandemic.
The Generals front office will continue to band with RIFA during the summer months and encourages other local charities to request the team's help whenever needed. If you need an extra set of hands, please reach out to Vincent Zielen by email at [email protected] or call the Generals office at (731) 988-5299.
Generals Open Gates to Local High School Graduation Ceremonies
The Generals opened the gates to The Ballpark at Jackson to host graduation ceremonies for Madison Academic and Liberty Tech High School. A recap of the evening is available HERE.