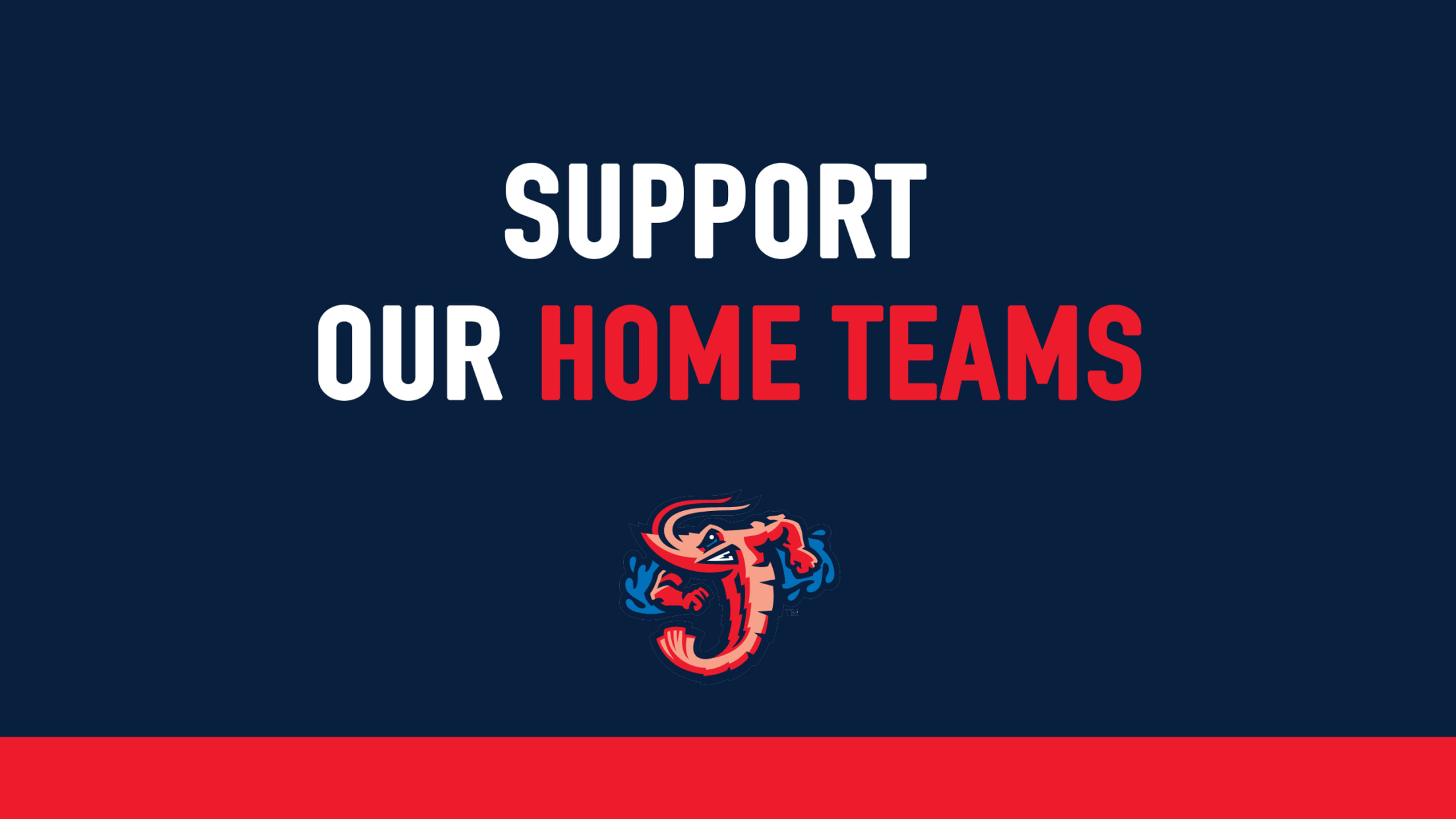 Due to the impact of the COVID-19 pandemic that has affected our community and nation, many of our team's valued partners are facing the harsh reality of lost revenue and need communal support more than ever from the Jacksonville Jumbo Shrimp community. Season after season, these great organizations have continuously supported our home team, and now it's our turn to step up for them during this unprecedented time.
One easy way to help those impacted is to consider making a purchase – if you can afford it – online or supporting our partners in the coming weeks, whether it's for yourself or a loved one or friend.
Meals, services and much more can be delivered right to your door from our variety of partners. Many local restaurants have the option to purchase gift cards directly on their website and are offering takeout and/or delivery. Likewise, valuable services are being offered to help you during this difficult time. We hope you'll consider supporting our valued Jumbo Shrimp partners if you have the opportunity to do so
---
FOREVER VETS ANIMAL HOSPITAL
SPECIAL UPDATE: Starting TODAY, March 26th ALL Forever Vets Animal Hospital locations will offer a 10% discount on services for our amazing "first responders." If you are a delivery truck driver, a doctor, a firefighter, a police officer, or a nurse -- our company would like to offer you 10% off your overall invoice. We would also like to raise our discount from 5% to 10% for our Armed Force workers and senior citizens as well during this time.
Forever Vets Animal Hospital is OPEN with adjusted hours. Starting March 20, all of their locations will open an hour late and close an hour early, except on Sundays until further notice (8:00 am - 6:00 pm Monday - Friday AND Sunday 10:00 am - 5:00 pm)
Baymeadows and Tinseltown 8:00 am - 7:00 pm (Monday-Saturday)
Murabella Parkway, Nocatee, Riverside, Jacksonville Beach, and Racetrack Road 8:00 am - 6:00 pm (Monday-Saturday)
🐶 Increased Safety. We are limiting the total number of people inside our hospital lobby (following the CDC guideline of less than 10). We are reinforcing that associates stay home if they are sick or do not feel comfortable working – and providing job protection. We are following specific protocols to screen the customers before the appointments are made. We are requiring social distancing (6-feet between every person). We are asking associates to wash their hands every patient visit, along with cleaning the exam rooms after every visit.
🐱 Constant Updates. Our team is working vigilantly to keep you informed. We are committed to making our hospitals a safe and enjoyable place for all."
For further details, please check www.forevervets.com
FLAME BROILER
Flame Broiler is OPEN with adjusted hours - for take out, delivery thru Uber Eats, Door Dash and Grub Hub, online ordering and individual bowl caterings, and limited dine in seating. If you'd like to order online you can find us at www.flamebroiler84jax.com.
Store Hours are:
San Marco Flame Broiler: M-F 10am-8pm, Saturday 11am-3pm
Tapestry Park Flame Broiler: M-F, 10am-8pm
JTB/Philips Highway Flame Broiler: M-F 10am-8pm, Saturday, 11am-5pm, Sunday, 11am-3pm
Oakleaf Plantation Flame Broiler: M-Sat.10am-9pm (dining and drive thru), Sunday 11am-6pm
TIJUANA FLATS
HUNGRY?? Our friends at Tijuana Flats is offering FREE DELIVERY all month!
Give them a call or check out their website for more details!
STRINGS BREWERY
UPDATE (Friday, April 3rd): We've had a lot of people ask how they can help us during this season of uncertainty... well we found a solution- GIFT CARDS! It's simple- Use the link below to purchase a gift card online and then continue to be safe at home! Any amount small or large will be greatly appreciated. We're a family owned, small business that takes great pride in our work and are very grateful for our loyal supporters, friends, & family. THANK YOU!
https://m-onelink.quickgifts.com/me…/strings-sports-brewery/
UPDATE (Tuesday, March 31st): Starting today we will be open Monday through Saturday 12pm-4pm for to-go beer, merchandise, and gift card sales. You can call during those hours or email to pre-order! Please email [email protected] for any questions or comments.
Visit https://stringssportsbrewery.com/ to learn more.
FIRST WATCH
Our friends at First Watch are OPEN for to-go service. Check out the menu and give them a call so they can have your order ready for pick up!
DETAILS: https://firstwatch.com
MOES SOUTHWEST GRILL
Moe's is open for dine in and delivery. Below are the options on how you can get your favorite Moe's meal.
Dine In
To Go
Order Ahead through moes.com or Moe's App
FREE delivery through Moes.com or Moe's App
Uber Eats
Door Dash
Postmates
Grub Hub
Catering
Drive Thru -Northcutt only.
TROPICAL SMOOTHIE
Tropical Smoothie is OPEN to serve via Drive Thru, Delivery, Grab and Go.
Check www.tropicalsmoothie.com for the café near you and the current hours of operation.
TOM BUSH FAMILY OF DEALERSHIPS
The Tom Bush Family of Dealerships are running their Free Vehicle Check-Ups campaign until the end of the month.
Visit their social channels (Facebook, Twitter or Instagram)
Reflections Window and Pressure Washing
Phone number: 904-322-8900
Website: www.ReflectionsJax.com
Hours of operation: M-F 7am-5pm
Residential and Commercial services
Reflections Window and Pressure Washing will remain open during this challenging time. In addition to all of our pressure washing, window washing, and roof cleaning services, we are now also offering entryway and entrance disinfecting services in response to the Coronavirus.
Our cleaning and disinfecting products have been certified by the EPA and the World Health Organization (WHO) as safe and effective in killing bacteria, fungi, and viruses including the influenza virus and the recent COVID-19 better known as the Coronavirus.
We are Jacksonville's largest locally owned Pressure and Window Washing Company and have the reputation to match!
Charlie's Tropic Heating & AC
Read their newsletter here (https://mailchi.mp/a77893d5e4ed/the-safety-actions) to learn about all their offers and updates.
ALLSTATE INSURANCE TORY HAMLIN
We are working to keep our promise to you!! However, due to COVID-19, we are working remotely and our agency is temporarily CLOSED as Allstate has taken measures to protect customers, agency locations and our shared work environment. Please help us to comply with recommended measures to keep the spread of the virus to a minimum.
Payments: We ask that you call your payment in over the phone, we can take check, credit or debit card payments (without any extra fees). No cash payments can be accepted.
Insurance Cards or Policy Changes: Please call or email us. We can handle EVERYTHING electronically and we can email or text you a card within minutes. We can also show you how to access our Allstate Mobile app. 904-765-0047 or [email protected]
We strongly encourage you to utilize the technology we have in place to allow us to continue to serve you at the high standards you deserve; just call or text us at 904-765-0047 for all of your insurance needs.
MM Brillo Cleaning Services
Maria Mendizabal l 703-271-7752 l [email protected]
Variety of cleaning services ranging from deep cleans to routine common area disinfecting! Specialize in both residential and commercial area cleaning. Remove the hassle of constant sanitation in your office or home with a minimal fee. Have been serving the Jacksonville, Ponte Vedra, and St.Johns area for over 10 years. Please call for a pricing quote- willing to work around any schedule during these unforeseen times.
Metro Diner
Mealpack Promo:
Feed your own home team with the new Metro Diner Meal Packs! Designed to make your family's Breakfast, Lunch or Dinner easier and flavorful, Metro Meal Packs serve 4-6 people and are available for pick-up and delivery. Order now: www.metrodiner.com/order
BOGO Pick-Up Promo (Tues. 24th - Fri 27th)
This week only: Buy-1-Get-1 FREE on three Metro Diner favorites when you place your order for pick-up. Buy one Fried Chicken Plate, get a second Fried Chicken Plate free! Same goes for Meatloaf Plate and the Meat Lovers Omelet. Order now: www.metrodiner.com/order-pickup
Atlantic Self Storage
Atlantic Self Storage is dedicated to serving the community in the midst of great uncertainty. At this time, our doors remain open and our facilities are operating safely in accordance with the city and the CDC. To help families and businesses during this time, we're offering 50% off up to 6 months on most new rentals until further notice. Whatever your storage needs may be, Atlantic Self Storage is here to help when you need it most. Call us at 877-WE-STORE or visit online at atlanticselfstorage.com for details. We are open, we are here to help, and we have space for you.
Bono's BBQ
Effective March 24th, Bono's BBQ will be serving takeout and delivery orders ONLY. You can still enjoy Bono's takeout by calling in, ordering online, pickup window, drive-thru, GrubHub UberEats or DoorDash.
The Bono's Family hopes that everyone stays healthy and safe during these unprecedented and difficult times. For 71 years, you have graciously supported our local, family-owned businesses and we could not be more grateful. While we are doing our best to continue to support our community, the changes in the way we are allowed to serve you are having a significant impact on our business and our employees. One way you can show your support for us, is to purchase a gift card either at our restaurants or online. Shared ownership develops when guests talk about a restaurant as if it's theirs. They can't wait to share it with friends, & what they're really sharing, beyond the culinary experience, is the experience of feeling important & loved. We thank you for your support and we have no doubt that together, we will rise. Be well, everyone.
Bono's Gift Card: https://onelink.quickgifts.com/merchant/bonos-pit-bar-b-q/
Willie Jewell's Gift Card: https://onelink.quickgifts.com/merchant/willie-jewells-old-school-bbq/
Mosquito Joe of the First Coast
Mosquito Joe of the First Coast is still open to help make outside fun again. Now more than ever, it is important to keep your yard free of mosquitoes, fleas, and ticks as you spend more time outdoors. We are limiting direct customer interaction and directing our technicians to refrain from knocking or leaving door hangers and yard signs. Let us help you combat these pests and keep your family safe. We are open Monday through Friday, 9am to 5pm and can be reached by phone, email, or on Facebook.
Please have our landing page be our website: firstcoast.mosquitojoe.com
RENEWAL BY ANDERSEN WINDOWS AND DOORS
Now Offering Free Virtual Consultations: https://www.renewalbyandersen.com/
State and local requirements in your area currently consider window replacement and repair for safety, sanitation, and proper operation an essential service. We can address issues related to security, safety, or potential damage if your windows don't lock, open/close, or leak creating an opportunity for mold. The health and safety of our homeowners and employees are our top priorities. We are following all CDC guidelines for business and have made adjustments to our operations, including offering virtual consultations, to serve you in the safest possible way.
NIMNICHT FAMILY OF DEALERSHIPS
The Nimnicht Family of Dealerships is now offering Free Vehicle delivery for sales. Plus free pickup and delivery for vehicle service maintenance. We remain open to serve you!
Visit their social channels (Facebook, Twitter or Instagram)
WHATABURGER
Whataburger is open! Drive thru 24 hours a day or order online for curbside pickup 8:00 am to 8:00 pm daily.
KINETICO CGC WATER
Kinetico CGC Water is still open during this time. We will continue to provide service to help our customers have the best water for their home and great tasting purified water for their family. Our team is prioritizing best practices to maintain distance while working and sanitizing often throughout the workday. Please give us a call at 904-747-3242 to schedule your service today.