My Season as a Sun: Christian Yelich
Yelich Reflects on Breakthrough 2013 Campaign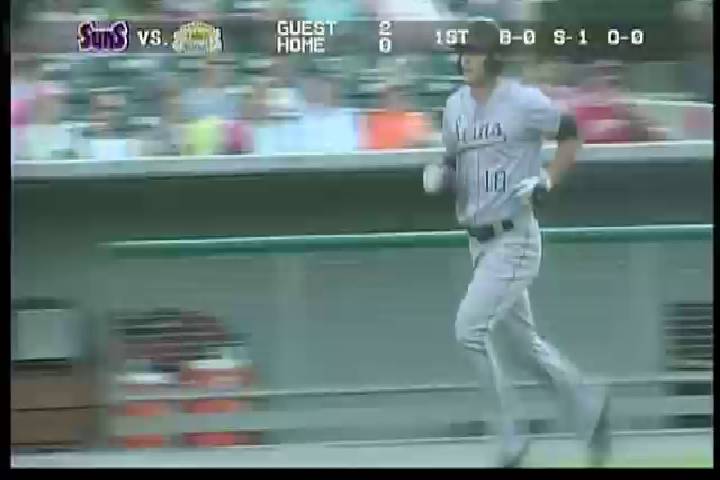 By Roger Hoover / Jacksonville Suns | October 10, 2013 11:46 AM ET
JACKSONVILLE,Fla. - Each week during the offseason Suns radio and television broadcaster Roger Hoover will catch up with a member of the 2013 Jacksonville Suns to get their memories of baseball at Bragan Field this past summer.
The first guest is a player that made more headlines than anyone else in a Suns uniform this past year, outfielder Christian Yelich. Yelich, who entered this season as the Marlins no. 2 prospect according to Baseball America, played in 49 games during two stints with the Suns from April to July. He hit .280 with seven home runs and 29 runs batted in. Among the highlights for Yelich as a Sun were his 15-game hitting streak that was part of a 19-game on-base streak from late April to early May, as well as six breathtaking triples and a go-ahead home run against Pensacola in the bottom of the eighth on May 8 at the Bragan Field.
Yelich left the Suns on July 22 and made his major league debut with the Marlins the next night in Colorado, getting a hit in his first two at-bats. Yelich went on to play in 62 games with Miami, hitting .288 with four homers and 16 RBI.
Here is this week's "My Season as a Sun" with Christian Yelich:
Hoover: Christian you had a very busy 2013 going through the transition of High-A to Double-A then some time on the disabled list before you got your call-up to play with the Marlins and remained in the big leagues until the end of September, is it safe to say this was one of the most grueling seasons you've had?
Yelich: Yeah it was an interesting year but after getting hurt the second time it went pretty smoothly. I was able to finish strong and play the rest of the year.
Hoover: During spring training did you have any expectations about what your 2013 season would look like?
Yelich: I had no idea really. I knew there was probably a chance to end up in the big leagues by the end of the year. But so much of that stuff is always out of your control so I didn't know what to expect. So I knew there was a chance but you never really know when it will happen.
Hoover: At the end of spring training you got hurt so that delayed your getting to Jacksonville but your first few weeks were the Suns starting on April 20 were pretty special and set the tone for the year. How enjoyable was it for you to get back on the field, get in a Suns uniform, and have some memorable wins?
Yelich: It was nice getting back out there after missing a few weeks to start the year, it was really nice to get the season started.
Hoover: What was it like getting to know and working with your manager Andy Barkett and hitting coach Kevin Randel?
Yelich: This was my second year with Smoke (Randel) so we kind of had that familiarity there with him and he's a great hitting coach and a great guy. He's also someone I really trusted. Barky's a great manager and I really enjoyed the time I got to play for him. I know it wasn't a whole lot, I was hurt a couple times and wasn't there the whole year but the time I got to play for him I really enjoyed it and he's a great guy to play for.
Hoover: The 2013 Suns were a lot of guys you had played with before in Greensboro in 2011 and last year in Jupiter, seems like you there was great clubhouse chemistry.
Yelich: Yeah it was the same clubhouse and the same feel we had for the first three years playing together. I knew how it was going to be, we like playing together as a group and we've had success as a group. I know it kind of came up short this year for them but the two years prior were really good years and they're just a great group of guys to play with.
Hoover: Bragan Field is one of the more unique ballparks in Minor League Baseball, what did you like about playing at home in Jacksonville?
Yelich: Yeah I liked it, it was an interesting place. We had good crowds, good turnouts and that's always fun when you go out there and have the support. In some minor league cities you don't always get that.
Hoover: You weren't the only Sun to have some early success in Jacksonville, Marcell Ozuna got off to a hot start and then Jake Marisnick, how fun was it to see them perform so well?
Yelich: Well at the beginning of the year we were all looking forward to playing with each other out there in the outfield. We never even got to play a single game like that the entire year with all three of us out there, so that was unfortunate. Marcell played 10 games and then he was gone (to Miami). Big Fudge (Marisnick) managed to stay healthy for the most part so it was basically me and him out there. Those guys are awesome and it's going to be cool being able to play with those guys in the future.
Hoover: You had a stint on the disabled list in June and July then made it back after the All-Star break and only played a few games at Tennessee before you and then Marisnick were pulled out of the July 22 game early at Smokies Park, talk me through that night for you.
Yelich: It was pretty cool. You kind of know what's going on at that point when you get taken out of the game and nothing's wrong with you. For Jake to do that on the next pitch and then he gets to come out too was cool. Everyone knows we're pretty good friends so being able to go to the big leagues together at the same time was a pretty cool experience.
Hoover: What was it like that night after you were taken out then had to wait the rest of the game in the clubhouse to get the confirmation that you were getting called up?
Yelich: It sucked man, haha. It was a long five or six innings before we were able to find out even though you had an idea, but finding out for sure that was a long time.
Hoover: How was your first day in the big leagues traveling from Tennessee to Colorado and making your Marlins debut against the Rockies and getting hits in your first two at-bats?
Yelich: I was running on pure adrenaline. Both of us were on about an hour and a half of sleep going into that game. But that's something I'll definitely remember.
Hoover: You got your first hit in your first at-bat in Coors Field, but it took you from July 23 to August 8 to get your first major league home run off Gerritt Cole in Pittsburgh, were any of your teammates giving you a hard time about that and what was it like when you hit the first one out?
Yelich: It's nice to get that first one out of the way. Don't have to worry about it or have that monkey on your back for too much longer. Whenever you hit your first homer everyone gives you a hard time and they did with Fudge too. It's just a cool feeling to hit a home run in the big leagues.
Hoover: What was it like to finish the year with the Marlins and play with a lot of players that Miami is counting on to have in the big leagues next year too?
Yelich: Yeah we have a lot of good players there. We were able to get experience this year and find out what it was like to play in the big leagues everyday. Hope to carry that into the offseason and come back in Spring Training and hopefully have a solid year for us in 2014.
Hoover: What are you up to in the offseason?
Yelich: Not a whole lot right now, just resting up a little bit. I'm going to start working out again here in a couple weeks and get ready to do it all again in Spring Training and get ready for the season.
For the latest Suns news this offseason, fans are encouraged to visit www.jaxsuns.com and can keep up with the Jacksonville Suns on the club's Facebook, Twitter, and Instagram social media platforms, as well as the "Tales from Bragan Field" blog: www.sunsradio.com.
This story was not subject to the approval of the National Association of Professional Baseball Leagues or its clubs.
View More