Hot-hitting Mickey McDonald drives in three runs, Aviators hold off Aces, 6-5
Las Vegas outfielder goes 2-for-4 while relief pitchers Ben Bracewell and Domingo Acevedo come through late to preserve victory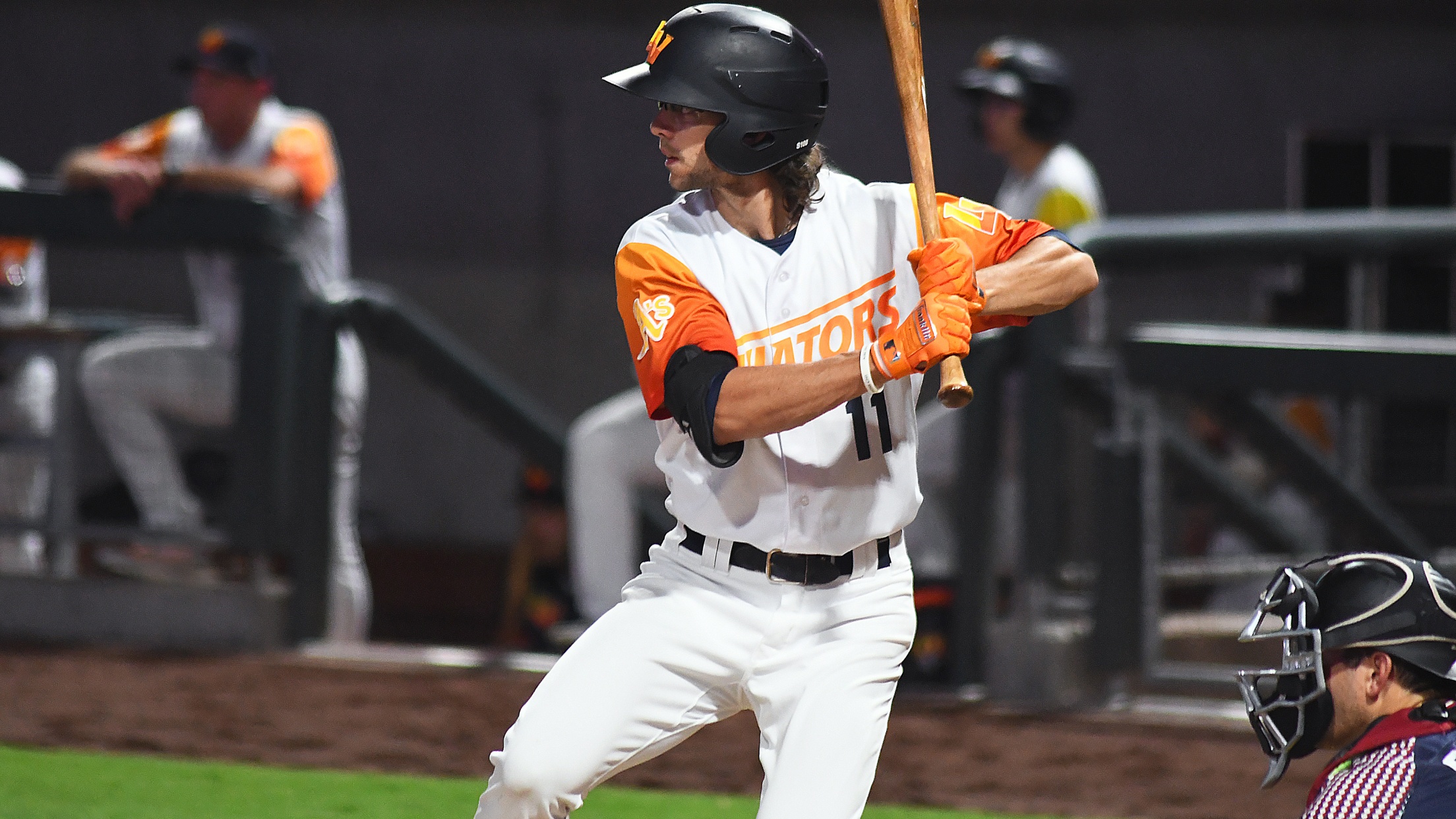 Aviators center fielder Mickey McDonald went 2-for-4 with three RBI and a stolen base in Saturday's 6-5 victory over the Reno Aces. McDonald is now batting .351 in 41 games with Las Vegas, recording multiple hits in 16 of those contests. (Steve Spatafore | Las Vegas Aviators)
Success for Minor League Baseball players essentially comes down to two factors: receiving opportunities and making the most of them. Six weeks ago, Aviators outfielder/third baseman Mickey McDonald was given his second opportunity to showcase his talents at the Triple-A level — and as he proved yet again Saturday at
Success for Minor League Baseball players essentially comes down to two factors: receiving opportunities and making the most of them. Six weeks ago, Aviators outfielder/third baseman Mickey McDonald was given his second opportunity to showcase his talents at the Triple-A level — and as he proved yet again Saturday at Las Vegas Ballpark, he's absolutely making the most of it.
One night after going 3-for-4 with two RBI, a run scored and a stolen base against the Reno Aces, McDonald picked up two more hits, three more RBI and another stolen base to help the Aviators to a drama-filled 6-5 victory over the Aces before a crowd of 7,980.
McDonald had a two-run single in his team's four-run second inning and another run-scoring hit in the fourth as Las Vegas (60-51) turned an early 2-0 deficit into up a 6-3 lead. Reno (62-47) chipped away with two runs in the seventh inning, and from there threatened to at least tie the game three different times in their final turns at bat.
However, Las Vegas relief pitchers Ben Bracewell and Domingo Acevedo successfully walked a razor-thin tightrope. After the Aces pulled to within 6-5 in the seventh, Bracewell induced a 6-4-3 double play to get out of a bases-loaded, one-out jam. The veteran right-hander then allowed a leadoff double in the eighth but retired the next three batters on a pair of strikeouts and a flyout.
The Aviators attempted to tack on a couple of insurance runs in the bottom of the eighth when with one out, designated hitter Aramis Garcia and right fielder Luis Barrera singled and doubled in consecutive at-bats. But shortstop Pete Kozma (flyout) and left fielder Marty Bechina (groundout) failed to bring either man home.
That set the stage for Acevedo, who allowed a one-out double to Reno first baseman Ildemaro Vargas, who promptly went to third on a wild pitch. Acevedo regrouped, though, using a nasty changeup to strike out the final two batters and lock up his ninth save in 11 opportunities.
While Bracewell, Acevedo and starting pitcher Brady Feigl (three runs allowed in five innings) were very integral in helping Las Vegas pick up its 17th victory in its last 24 games — and its 10th home win in the last 12 — their performances would have gone for naught if McDonald hadn't continued his clutch hitting early on.
In going 5-for-8 against Reno the past two days, McDonald is now batting .351 through his first 41 games at the Triple-A level, 37 of which have come since July 26 when he was recalled from Double-A Midland after Aviators outfielder Greg Deichmann was traded by the parent Oakland A's.
In addition to his stellar batting average, McDonald has 10 doubles, two triples, 21 walks, 32 runs, 15 RBI, 16 multi-hit games and a .910 OPS, while also stealing nine bases in as many attempts. Lost in all those impressive stats has been McDonald's versatility on defense, as he's played all over the outfield as well as filling in (flawlessly) at third base.
Not bad for a 26-year-old who is generously listed at 175 pounds and who wasn't selected until Oakland nabbed him in the 18th round of the 2017 draft. And while the A's likely didn't consider the Northern California native a blue-chip prospect four years ago, they're no doubt taking notice of him now — which is precisely what happens when minor leaguers cash in on their opportunities.
GAME NOTES: In addition to McDonald, Garcia (2-for-4, run) and Barrera (2-for-3, double, walk) had multiple hits for Las Vegas. Barrera also stole two bases and now leads the team with 10 (one more than McDonald). … Feigl finished strong in his third start with the Aviators (and first at Las Vegas Ballpark). After yielding two runs in the second and one in the third, he retired the final eight batters he faced. The right-hander gave up three hits and four walks, struck out four, and threw 88 pitches (47 strikes). … Thanks to the late-inning work of Bracewell and Acevedo, Las Vegas improved to 47-0 this season when leading after eight innings (and 45-4 when leading after six). … With his second-inning RBI single that drove in Las Vegas' first run, Kozma extended his hitting streak to seven games, during which he's batting .310 (9-for-29). Kozma has six hitting streaks of five games or more this season, including four of at least seven games. … Although he allowed an inherited runner to score in the seventh, Bracewell remains in a groove. Over his last eight appearances dating to August 23, he's been charged with one unearned run in 9 1/3 innings, lowering his ERA from 4.43 to 3.67. … Fellow relief pitcher James Naile, who followed Feigl to the mound and pitched a scoreless sixth inning, also has been terrific since August 23. In 10 games, the right-hander has given up just two runs in 8 1/3 innings (2.16 ERA). In the process, he's lowered his season ERA from 5.32 to 4.39. … The Aces, who outhit the Aviators 10-9, continue to lead the season series 12-9 (5-4 at Las Vegas Ballpark).
ON DECK: Veteran right-hander Homer Bailey (1-4, 4.84 ERA) is slated to toe the rubber for the Aviators on Sunday in Game 4 of this six-game series against Reno, which will counter with right-hander Luis Frias (2-1, 4.34). First pitch is 7:05 p.m.
Individual tickets are available through the team's ticketing page. If you can't make it to the Las Vegas Ballpark and are a Cox Cable customer, you can watch the game live on YurView, Channel 14.
Catch every Aviators game throughout the season on Raider Nation Radio 920-AM, and follow us on Twitter, Instagram and Facebook @AviatorsLV. Follow Aviators beat writer Matt Jacob on Twitter @MattRJacob.