IronPigs raise more than $26K on 'Strike Out Cancer' Night
IronPigs, Air Products, LVHN Cancer Institute and Lehigh Valley Cancer Community came together for a great cause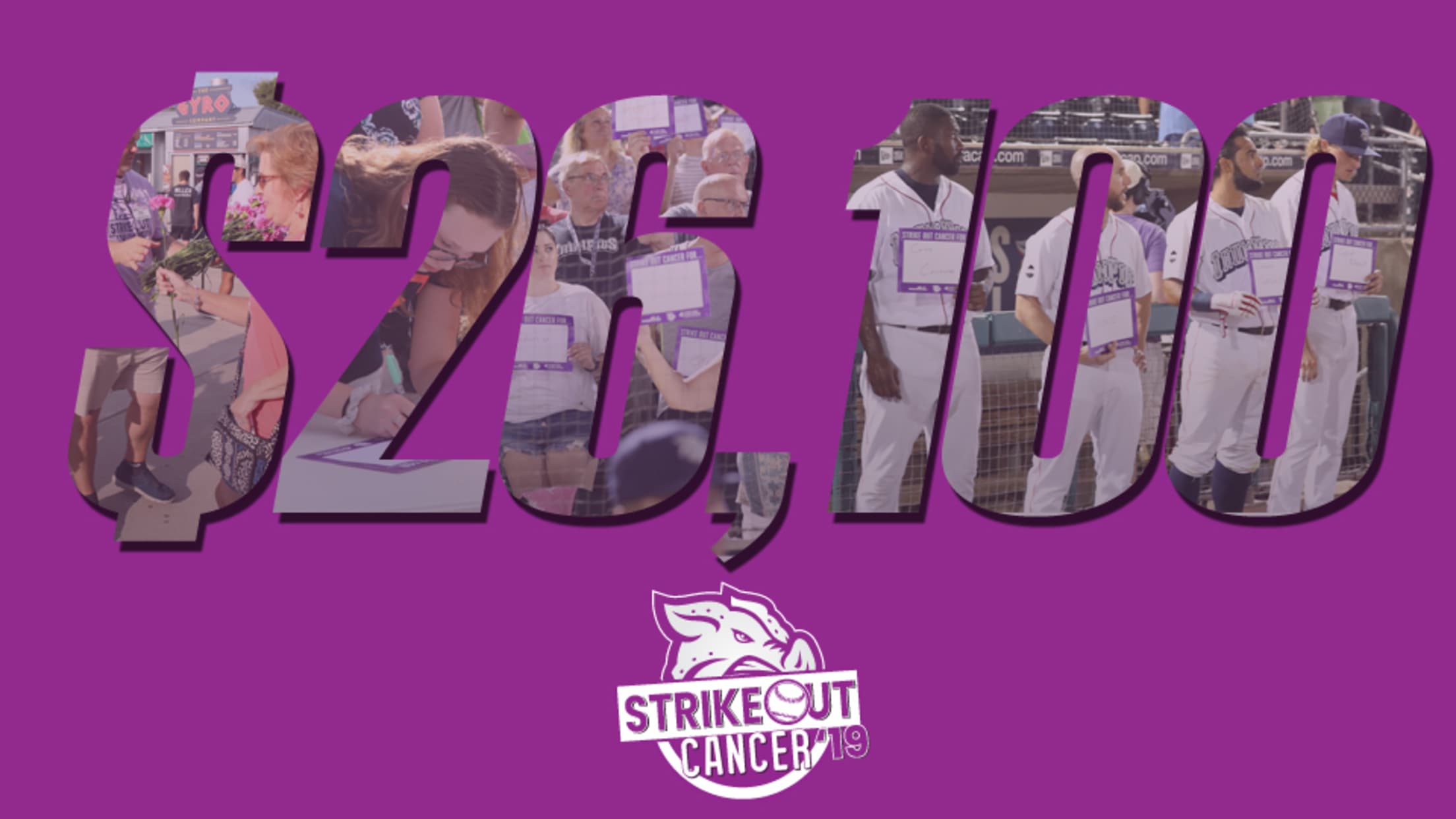 Follow @IronPigsThe Lehigh Valley IronPigs in conjunction with Air Products, the Lehigh Valley Health Network Cancer Institute and the Lehigh Valley Cancer Community raised $26,100 while donating 450 IronPigs game tickets to those fighting cancer, or aiding the fight versus cancer, and their families for the special "Strike Out Cancer
Follow @IronPigs
The Lehigh Valley IronPigs in conjunction with Air Products, the Lehigh Valley Health Network Cancer Institute and the Lehigh Valley Cancer Community raised $26,100 while donating 450 IronPigs game tickets to those fighting cancer, or aiding the fight versus cancer, and their families for the special "Strike Out Cancer Night" game on Tuesday, August 20. All proceeds from the game were donated to the "Strike Out Cancer' initiative.

For the second straight season, IronPigs fans, Air Products, the Lehigh Valley Health Network Cancer Institute, our sponsors and the entire Lehigh Valley Cancer Community made this night a memorable one", said IronPigs President and General Manager Kurt Landes. "The entire community came out in such a strong way and we couldn't be more thankful for the impact this night has made in the community and in helping to raise valuable funds for the fight against cancer."
"Strike Out Cancer Night" has now raised just over $40,000 over the past two seasons combined. Last season, over $14,000 was raised in the first ever "Strike Out Cancer Night".
Nine local organizations - Pediatric Cancer Foundation of the Lehigh Valley, Angel 34 Foundation, Life Always Facing Forward, Julia's Grace Foundation, Cancer Support Community, Dream Come True, Boutique at the Rink, Women's 5K Classic and the American Cancer Society were on-hand to help make this night memorable for the 8,551 fans who were in attendance on Tuesday evening. Each organization will share in the proceeds in helping to further their specific missions.
The highlight of the night, in the middle of the 5th inning, featured every fan in attendance standing in silence holding their "Strike Out Cancer" placard honoring their loved ones who are battling or have battled cancer.
All proceeds from the evening's 50/50 raffle went towards the Strike Out Cancer initiative along with the proceeds from all Strike Out Cancer T-Shirt sales. The IronPigs donated $4 per ticket from the tickets purchased for the night through a special "Strike Out Cancer" link.
The team also hosted a raffle and sold a unique Purple Ribbon Drink Special throughout the game with all proceeds supporting "Strike Out Cancer."
A list of additional sponsors who helped make this night possible: • Keystone Canna Remedies
• Olympus
• Buckno Lisicky & Company
• Bennett Toyota
• Joe's Battery and Tire
• Diversified Refrigeration
• PALCS
• Clemens
• Apgar Oil
• Buzzi Unicem, USA
• Piramal Critical Care
• ASR Media
• KD & Son Heating
• Jean Roth
• Lehigh-Northampton Airport
The 2019 IronPigs season is the team's 12th as the top affiliate for the Philadelphia Phillies and 12th at Coca-Cola Park. Follow the IronPigs on Twitter at @IronPigs and like them on Facebook via Facebook.com/LHVIronPigs.
The 2019 IronPigs season is presented by Capital BlueCross.