Bowa, Andretti among Pigs' 2020 VIP guests
Tickets are now available for dates featuring special visitors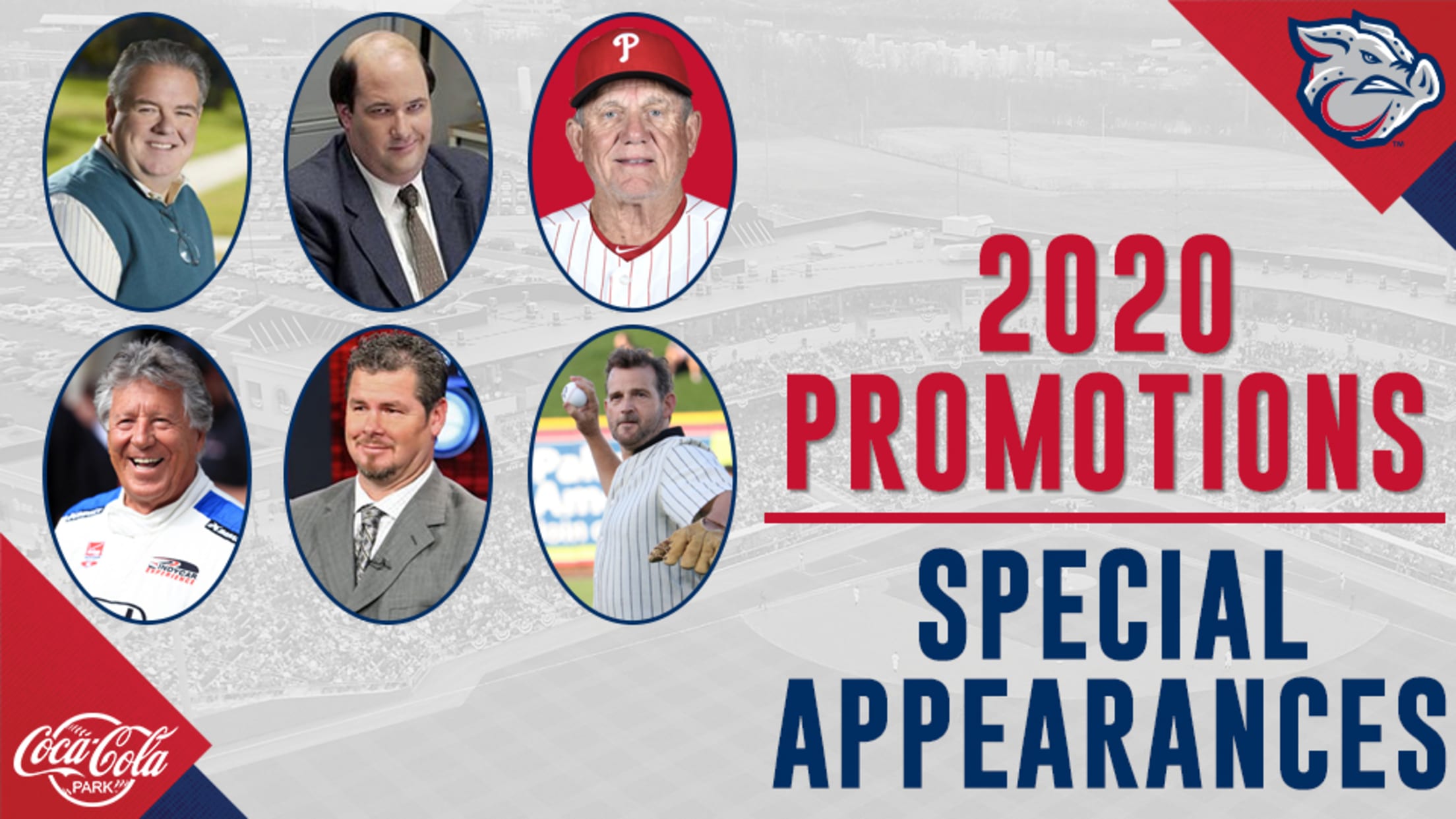 Follow @IronPigsThis week, the Lehigh Valley IronPigs are unveiling their 2020 promotional calendar. Each day, a new group of promos will be revealed with individual tickets for those game dates becoming available the same day (online only). Today, the team announces its special appearances for the upcoming season.The Lehigh Valley
Follow @IronPigs
This week, the Lehigh Valley IronPigs are unveiling their 2020 promotional calendar. Each day, a new group of promos will be revealed with individual tickets for those game dates becoming available the same day (online only). Today, the team announces its special appearances for the upcoming season.
The Lehigh Valley IronPigs are pleased to announce six special appearances including sports legends and cast members from both The Office and Parks & Recreation. Tickets for special-appearance nights are now available online.
GET TICKETS:Secure your seats for all 2020 home games here

---
Jim O'Heir who played Jerry Gergich from Parks & Recreation (Saturday, April 18) and Brian Baumgartner who starred as Kevin Malone from The Office (Wednesday, April 22) are among the six special guests visiting Coca-Cola Park during the 2020 season. Additionally, special bobbleheads and VIP meet and greets are available for O'Heir and Baumgartner. Click here for details.
Other guests include Larry Bowa, Mario Andretti, Mitch Williams and Dwier Brown.

Larry Bowa (Tuesday, June 2)
Bowa is a former shortstop for Philadelphia Phillies who was more recently seen managing the San Diego Padres and the Phillies. He is currently a Senior Advisor to the General Manager for the Phillies. The former Major Leaguer will throw out a first pitch prior to the game.
GET TICKETS
---
Mario Andretti (Tuesday, June 16)
Andretti is one of only two drivers to have won races in NASCAR, World Sportscar Championship, IndyCar and Formula One. He is the only person to be named as United States Driver of the Year during three different decades. Andretti will throw out a first pitch prior to the game.
GET TICKETS
---
Mitch Williams (Thursday, June 25)
Williams, better known as 'Wild Thing,' played in the Major Leagues from 1986 to 1997. He faced current Clearwater Threshers manager, Pat Borders, in the 1993 World Series. Williams will throw out a first pitch and be available to the general public for a meet and greet.
GET TICKETS
---
Dwier Brown (Friday, August 28)
Brown will visit Coca-Cola Park for the second consecutive season. He is best known for his role of John Kinsella in the 1989 film "Field of Dreams". Fans are invited onto the field have a catch with Brown pre-game. The actor will also throw out a first pitch prior to the IronPigs game.
GET TICKETS
Click here
to shop all available single-game tickets for the upcoming season. To pick up a 4-, 10-, 17-, 35-, or 70-game Bacon, USA ticket plan, please
click here
.
The 2020 IronPigs season is the team's 13th at Coca-Cola Park. Follow the IronPigs on Twitter at @IronPigs and like them on Facebook.The 2020 IronPigs season is presented by Capital BlueCross.