Staff Spotlight: Cory Chryst
Cory has been with the team since its inaugural season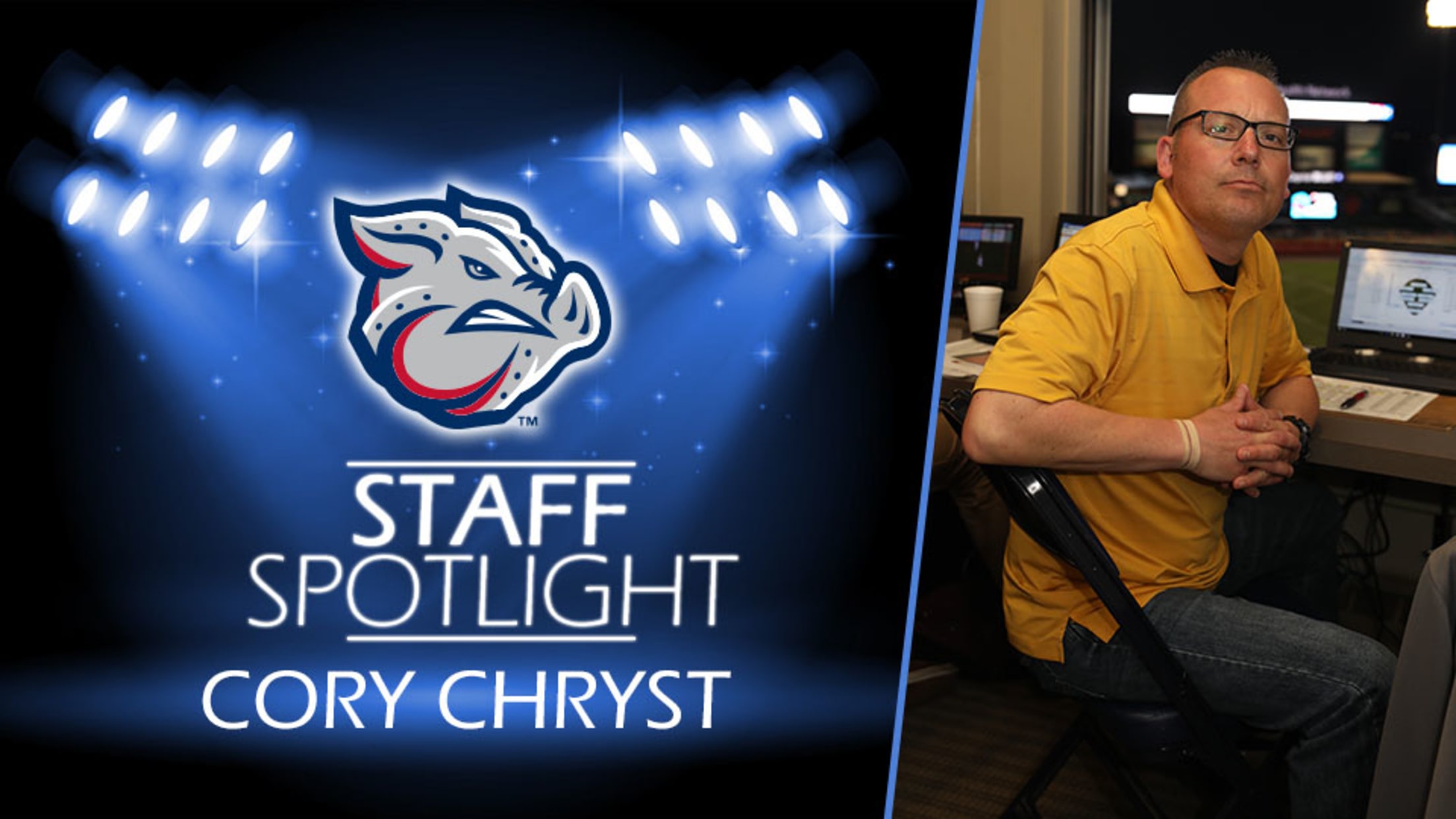 Follow @IronPigsCory Chryst has been a game day employee of the IronPigs since the team's 2008 inaugural season. is a Lehigh Valley native who grew up in Catasauqua, PA. After graduating from Catasauqua High School in 1992, he attended the University of Pittsburgh, where he earned a Bachelor of Arts
Follow @IronPigs
Cory Chryst has been a game day employee of the IronPigs since the team's 2008 inaugural season. is a Lehigh Valley native who grew up in Catasauqua, PA. After graduating from Catasauqua High School in 1992, he attended the University of Pittsburgh, where he earned a Bachelor of Arts in Administration of Justice with a minor in Psychology. Currently, he resides in south Catasauqua, a block and a half from where he grew up. Cory is extremely close with his immediate family.
What do you currently do for the IronPigs?
Since the inaugural campaign in 2008 I have been the IronPigs primary GameCast Operator. The following is what this position entails.
Double-check and verify all pre-game information.
During the game, enter the results of every pitch and game event using Major League Baseball's (MLB) proprietary software and coding language.
Work closely with the Official Scorer as well as Major League Baseball's game night support staff to ensure proper coding and scoring of all game events and accuracy of data.
After the game, enter all post-game information.
Validate all statistics in the software box score against that official box score provided by the Official Scorer and print out a final box score and game text for the club media relations staff.
What do you enjoy most about being an IronPigs employee?
This is a no-brainer. By far it is the people I have had the opportunity of meeting along the way. This has led to many friendships and relationships with current and former co-workers not only inside, but outside of the ballpark as well.
What do you do for work outside of being an IronPigs employee?
I have had the privilege of serving as the Behavior Specialist for Northwestern Lehigh High School since August of 2002. Additionally, I work between 25 - 35 Reading Fightin Phils games during the baseball season (of course this is only when the IronPigs are on the road). Once the baseball season concludes, I work numerous high school athletic events serving in such capacities as public address announcer, scoreboard operator, and/or event managemer. I am also quite involved on the collegiate level at both Lehigh University and Lafayette College. At both Lehigh and Lafayette, I've worked men's and women's basketball, swimming, lacrosse football, softball, baseball, and field hockey events.
What is your favorite thing about the IronPigs and/or Coca-Cola Park?
Other than the people I have met along the way, definitely the view from my press box seat located directly above home plate (as I like to say, it's the best seat in the house!!).
---
Quick Hitters
If you can live anywhere, where would it be?
Pittsburgh, PA, Clearwater, FL, Anywhere that has sand, water, bright blue skies, fantastic music and/or a baseball diamond
Walk-up song:
"Sometimes I Do" by Social Distortion
Favorite outside activity:
Attending various sporting events (high school, college, and/or professional), Traveling, Concerts
Would you rather win the lottery or work at the perfect job?
Work at the perfect job
Favorite sports team (other than IronPigs):
Philadelphia Phillies, Pittsburgh Steelers, Pittsburgh Pirates
Favorite sports mascot:
Diggity, FeRROUS, FeFe, Phillie Phanatic, The Chicken (formerly known as the San Diego Chicken)
Favorite actor/actress:
Morgan Freeman, Al Pacino
Favorite holiday:
Thanksgiving
Ketchup or Mustard?
SPICY Mustard (the spicier, the better)
Favorite candy:
Anything with Peanut Butter