Staff Spotlight: Heather Williams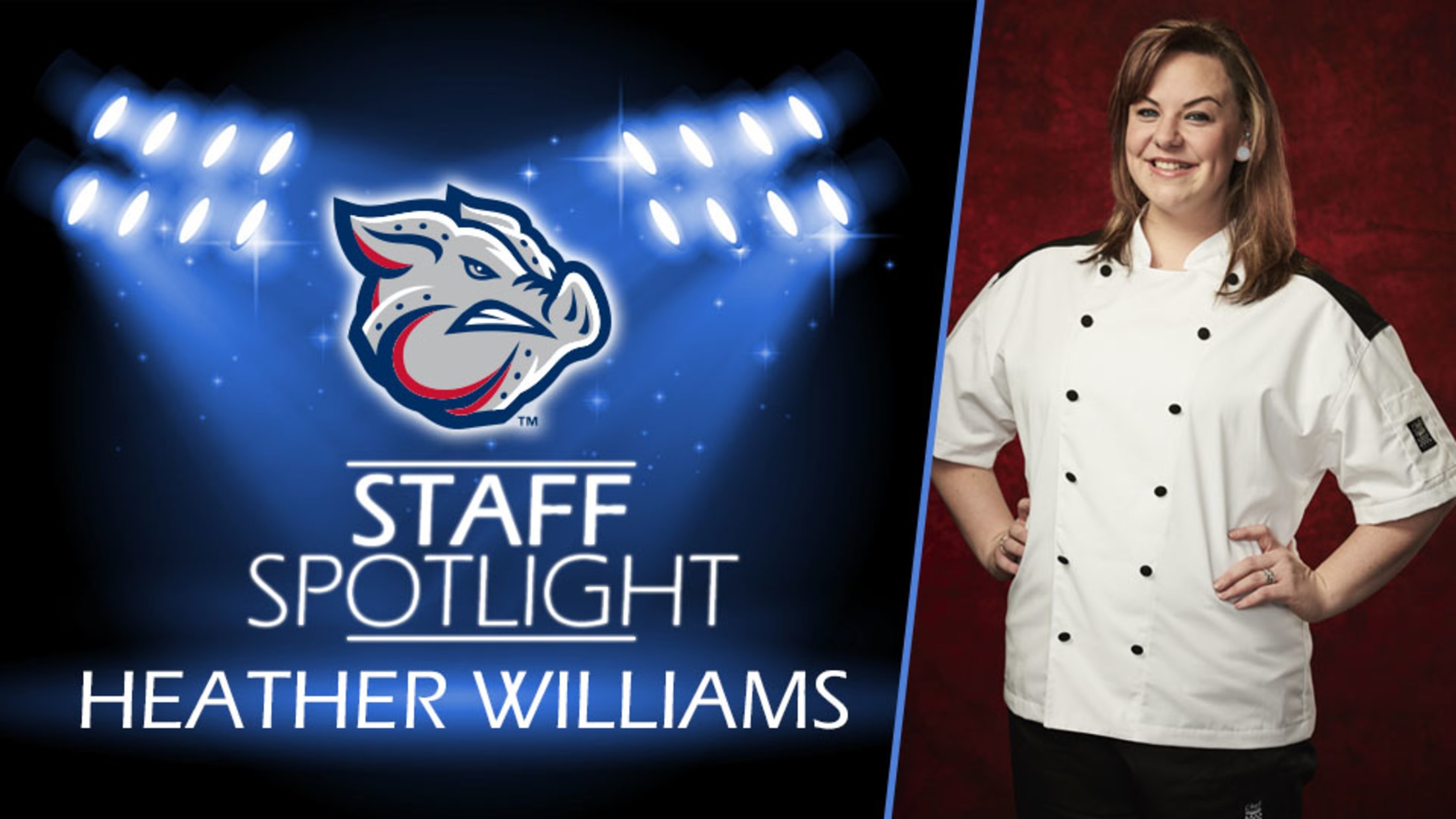 Heather Williams joined the IronPigs last July as the team's Executive Chef. Originally from Manville, NJ, she moved to Easton at age 15 and graduated from Easton Area High School before earning her Associate Degree in Culinary Arts from the Pennsylvania Culinary Institute. She is the mother to an eight-year-old
Heather Williams joined the IronPigs last July as the team's Executive Chef. Originally from Manville, NJ, she moved to Easton at age 15 and graduated from Easton Area High School before earning her Associate Degree in Culinary Arts from the Pennsylvania Culinary Institute. She is the mother to an eight-year-old boy and has two dogs -- Diamond (Olde English Bulldog) and Gizmo (Maltese Chihuahua) -- and Sid, a bearded dragon.
Get to know Heather in this edition of Staff Spotlight!
What was the main reason that interested you into becoming a member of the IronPigs?
I've always been a fan of softball and baseball. I played some sort of ball since the age of 4. T- Ball, into softball (where I ended up blowing my knee out in the beginning of my sophomore year). I was a HUUUUUUGE Yankees fan for most of my life. However, things change. I do enjoy going to the Phillies stadium. With this kind of baseball background, it was only right to become a member of the IronPigs family. I enjoy being the Executive Chef here!
What does your job entail?
I am the Executive Chef here at Coca Cola Park. This means, I cook all the food for the Executive Suites, Dugout Suites, Picnic Patio, Tiki Bar and Oasis. That's not all! I also serve the food to the Club Bar and Pig Stop. It's definitely a crazy, crazy job but I love it! My days are extremely crazy and hectic, but it's what I live for!
What have you enjoyed most about being a member of the IronPigs front office?
What I enjoy most, my staff who works in the kitchen with me and my coworkers. We all work together to make Coca-Cola Park an experience you will never forget. We want each guest to come into the park and feel important to us. This dynamic makes me enjoy coming to work every day! I would be lost without the team I have behind me and all their hard work
What's your favorite part about Coca-Cola Park?
My favorite part about Coca Cola Park ... being able to enjoy watching some baseball all while getting my butt kicked in the kitchen. It may be on the TV we have in the kitchen, but I know as I'm taking my walk to Tiki to check in, I can enjoy a few pitches.
Do you have any goals you're looking to accomplish throughout your first season?
My goals I want to accomplish within my first year here would be, making the food taste great! I want everyone in the Suites, Picnic, Tiki and Oasis, Club Bar and Pig Stop to enjoy ALL the food we put out in the main kitchen. I want it to be some of the BEST ballpark food they have ever had! Also, I want to accomplish weekly specials of food and drinks for the Club Bar!!
Quick Hitters
Favorite holiday: Halloween
Ketchup or Mustard? Ketchup
Favorite candy: MilkDuds
Favorite Food: Nice Dry-aged Ribeye, grilled asparagus and a baked sweet potato!
Favorite Non-alcoholic beverage: Sweet Tea
Best concert you've been to: My son's 1st one ( Rob Zombie and Marylin Manson)
Fall, Winter, Spring or Summer: Fall
Favorite Day of the Week: Friday
Favorite Color: Blue
Number of states you visited: 19
Go-to hang out spot when you were in college: Point Park Look Out, or the Inclines in downtown Pittsburgh.