O'Brien, Blair shine as D-backs All-Stars
Organization won titles at lowest levels, boasted bright spots at top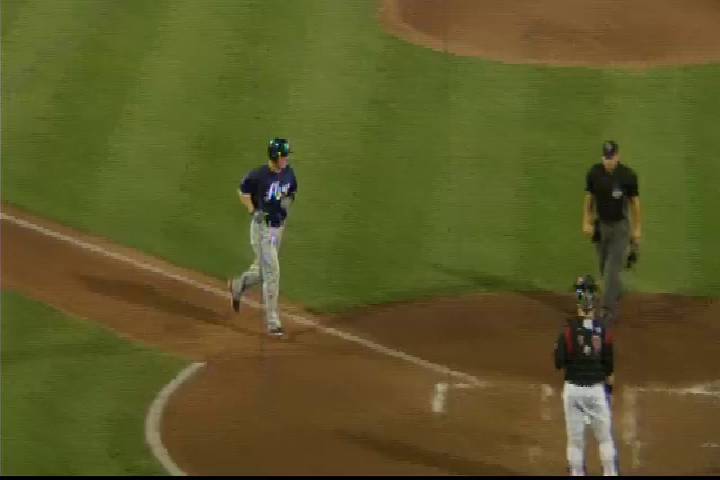 By Josh Jackson / MiLB.com | October 5, 2015 10:00 AM
This offseason, MiLB.com is honoring the players -- regardless of age or prospect status -- who had the best seasons in their organization. Starting today with the Arizona Diamondbacks, we're taking a look at each team to determine the outstanding seasons in Minor League Baseball.
The D-backs' Minor League teams showed a system moving in the right direction even as the big league team failed to finish above .500 for the fourth straight season. In fact, from Triple-A down, the organization posted a .544 winning percentage and took home two league championships.
The top two affiliates were Arizona's only full-season clubs to miss the playoffs, and both were buoyed by spectacular individual performances from top prospects Peter O'Brien, Brandon Drury, Aaron Blair and Socrates Brito. Triple-A Reno (70-74) led the Pacific Coast League with a .286 batting average and was second with 765 runs scored. A rung down, Mobile went 70-67 to finish second overall in the Southern League South Division.
Rookie-level Missoula claimed glory in the Pioneer League and Class A Short Season Hillsboro repeated as champions of the Northwest League. The Hops were helped by the addition of Dansby Swanson, this year's No. 1 overall Draft pick and MLB.com's No. 10 overall prospect. (You can read more about him on the blog.)
D-backs Organization All-Stars
Catcher -- Jose Queliz, Hillsboro (20 games), Kane County (15 games), Visalia (20 games): The 23-year-old Venezuelan jumped around three levels but was the picture of stability behind the plate. He threw out 26 of 57 (46 percent) would-be basestealers, committed five errors and allowed six passed balls while notching 36 assists over 306 innings and 53 games.
Offensively, Queliz -- who hit for the cycle in 2013 -- batted .271 with a .306 on-base percentage while totaling 55 extra-base hits.
First baseman -- Danny Dorn, Reno (75 games), Arizona (23 games): A 31-year-old veteran of nine pro seasons, Dorn hit .386 with a .444 on-base percentage, 10 homers and 26 doubles in 75 games for the Aces, all while staying mentally disciplined enough to make a couple trips to the big leagues for prolonged stints without losing his rhythm at the plate.
Arizona designated Dorn for assignment on Aug. 24 to make room for Jhoulys Chacin on the 40-man roster, and he was claimed off waivers by Toronto a couple days later. Aces manager Phil Nevin sure liked being able to write Dorn's name in the lineup when he had him.
"Big-time," Nevin said. "I had Danny for 3 1/2 years, and he was a big part of what we did this year. He was up and down, played some two months, or a month and a half in the big leagues, but he was terrific."
Second baseman -- Jamie Westbrook, Visalia (128 games): Westbrook put together a breakout season at the dish, hitting .319 with 17 homers, 72 RBIs, 75 runs scored and 14 stolen bases. This despite the 2013 fifth-round pick, who turned 20 on June 18, batting .214 in his first 14 games in the California League.
"I think at the beginning of the season, being 19 years old, it was a little bit of a tough match for him coming into that league," Rawhide manager J.R. House said. "He made big-time adjustments to his approach and mentally being able to handle failure offensively. After that, he did a great job offensively and defensively."
Westbrook committed just 12 errors over 843 1/3 innings and showed remarkable growth at second base, according to his manager.
"In the playoffs, you want to put out your best lineup, and by that point I really wanted him at second base," House said.
Third baseman -- Jamie Romak, Reno (129 games), Arizona (12 games): Romak has played in the Pacific Coast League every year since 2012, and the 30-year-old Canadian seems to get better with each crack. This year, he led the PCL with 27 homers while driving in 100 runs and hitting .284/.363/.549. He played 88 games at third base while making appearances at first and second and in the outfield.
"He figured some things out, and there were some nice pieces hitting around him," Nevin said. "The team meshed well together offensively and Jamie was a big part of that."
Shortstop -- Isan Diaz, Missoula (68 games): Drafted out of a Springfield, Massachusetts, high school as a competitive balance pick last year, Diaz was this season's Pioneer League MVP. Still a teenager, he hit .360 with a .436 OBP, bashing 12 homers and stealing 12 bases. He also became the fourth Osprey in as many seasons to hit for the cycle.
In the middle infield, Diaz posted a .945 fielding percentage in 64 games at short and played five games at second.
"He's a great kid. He works his butt off," Missoula manager Joe Mather said during the season. "As he grows, I think he's going to be a plus-infielder at both those spots."
Outfielders
Peter O'Brien, Reno (131 games), Arizona (six games): O'Brien shifted from behind the plate to the outfield at the start of the season, but he may don the tools of ignorance again before long. Wherever he fits defensively, his bat is going to play. He knocked in a franchise-record 107 runs while socking 26 homers and 35 doubles.
"His [ability to hit home runs is] outstanding. Nobody hits them farther. As far as raw power, I can't imagine anybody hitting the ball harder than he does," Nevin said. "Pete can do a lot of things defensively -- catch, play the outfield, play first base. He's a versatile guy."
Daniel Palka, Visalia (129 games): Palka's 29 homers, 36 doubles, 90 RBIs and .352 on-base percentage were impressive, but his 29 steals were the biggest surprise -- he swiped only nine bases in 118 games with Class A South Bend last year.
"It's incredibly valuable to who he is as a player, because he can turn his singles into doubles and even triples by stealing both bases. He enjoys running, so it wasn't difficult to encourage him to do it more," House said. "He wants to be an athlete and not just a slugger.
Socrates Brito, Mobile (129 games), Arizona (18 games): From start to finish, Brito was a big contributor to the BayBears' winning season. The 23-year-old ended up with a .300 batting average, 20 steals and a Southern League-leading 15 triples in his first trial against Double-A pitching. He also socked 17 doubles and nine homers and scored 70 runs, all while recording nine outfield assists.
His efforts didn't go unnoticed. He earned a September callup and was named the D-backs' Minor League Player of the Year.
Utility player -- Brandon Drury, Mobile (67 games), Reno (63 games), Arizona (20 games): Make no mistake: Drury is not a platoon player or a fill-in guy. Though he played all over the infield -- 35 games at second base and 33 at third for Mobile; 27 at second, 28 at third and nine at shortstop for Reno -- he'll settle in somewhere.
"At some point, there will be the right fit for Brandon at one position, depending on [the D-backs'] situation, although right now I can't tell you which one," Nevin said. "He's good wherever he is. Once he's set on a spot, he's going to take off and he's going to be a very good big leaguer for a long time."
The 23-year-old from Oregon batted .303 with 40 doubles between Double-A and Triple-A and reached the Majors for the first time.
Right-handed starter -- Aaron Blair, Mobile (13 games, 13 starts), Reno (13 games, 12 starts): The D-backs' Minor League Pitcher of the Year was 13-5 with a 2.92 ERA across two levels, having earned a promotion to Triple-A by mid-June. Blair made 11 straight starts for the Aces in which he lasted at least six innings, a stretch from June 28-Sept. 1.
"He's a horse, a prototypical, big stud right-hander who will pitch at the front end of a rotation," Nevin said. "He's a winner. He goes deep into games and he's a big-inning guy. He's somebody that we absolutely love here."
Carlos Hernandez deserves an honorable mention for his Northwest League Pitcher of the Year performance for the Hops.
Left-handed starter -- Anthony Banda, Visalia (28 games, 27 starts): In his first full season in the organization after being acquired in last year's Gerardo Parra trade, Banda led the California League -- and the system -- with 152 strikeouts while ranking second with a 3.32 ERA.
A key to Banda's arsenal has been a strong changeup, but leaning on his heater this year made the off-speed stuff even more effective.
"He had [the changeup when he was] with the Brewers, and I think the biggest thing he got better with, with the Diamondbacks, is utilizing his fastball, attacking hitters with it, coming inside with it and blowing it by guys," House said. "The changeup we knew he had, and that makes [the fastball] better. We knew he had a good fastball, too, and we wanted to get him to use it more. He got tougher and tougher with it as the season went on."
Reliever -- Zac Curtis, Kane County (53 games): Curtis was a model of consistency out of the bullpen. Listed at 5-foot-9 and 179 pounds, the left-hander out of Middle Tennessee State went 4-4 with a 1.33 ERA in 53 appearances, picking up 33 saves in 36 chances while striking out 75 and issuing 12 walks over 54 innings.
Curtis allowed two homers all year and held Midwest League foes to a .176 batting average, giving him a .180 average against as a pro.
Josh Jackson is a contributor to MiLB.com. This story was not subject to the approval of the National Association of Professional Baseball Leagues or its clubs.
View More